Gym Flooring Tiles. What should I choose?
Gym Flooring Tiles for fitness center and home gym floors must withstand much. You probably already chose what floor to put under your fitness equipment, barbells, and machines, whether you run a fitness center or have a private gym.
Several options are available. Usually used in gyms, deck floors, rubber floors, concrete combined with carpet, and other floor coverings are all options. Did you hear about PVC tiles?
Easy to install on almost any surface
The first great benefit of interlocking tiles is the ease of installation. It doesn't matter whether you own a big gym or a small one or if you're just a home workout enthusiast—anyone who thinks not just functionally but also economically will appreciate DIY installation.
PVC tiles can cover any surface. Our basic assumption is that the original surface is hard and flat. Then, it's just a matter of sweeping or vacuuming the concrete before you can lay the tiles. Almost anyone can handle the installation with our customer reviews, so you don't have to pay flooring companies for their work and services.
The PVC system is like lock paving, except interlocking. Each tile has locks on all four sides that fit together perfectly. A rubber hammer is all you need to form a strong connection. As a result, you can lay up to 200 square feet of floor in one hour.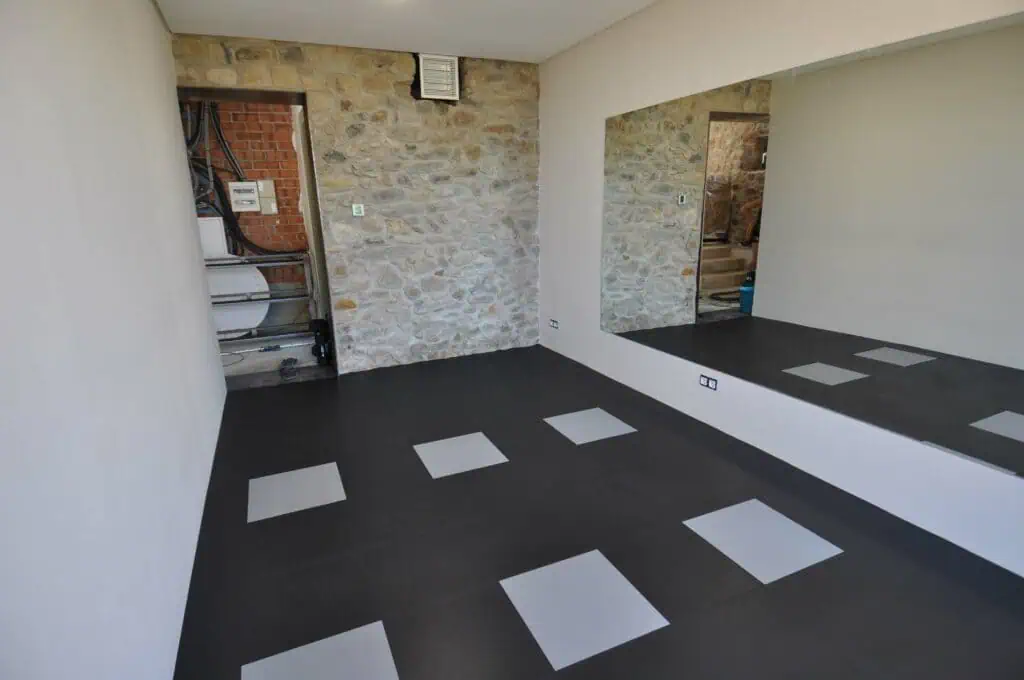 It's easy to maintain, and you can use it immediately
Do I need anything special to clean it? Or maybe I'll have to wait to use it? The good thing about PVC tiles is that they're ready to use after laying. Maintenance doesn't require special tools. Get rid of the dusty carpet in your gym if you've had one in the past. When you choose PVC, you'll have no problem using a vacuum cleaner to keep your gym clean. Simple mopping and an ordinary cleaner will handle spilled drinks or sweat.
Gym Flooring Tiles – No worry about dumbbell impact anymore
Your clients have probably already dropped used equipment on the floor because of negligence or laziness in putting it on stands or the ground. In addition, concrete floors can be damaged by dumbbells or other heavy fitness equipment. In the worst-case scenario, only cracks will appear; the real problem starts when the concrete drools or falls over. Afterward, you're stuck flattening the floor again, which is hard on your business financially and time-wise.
Because Gym Flooring Tiles are also designed for heavy industry, they can withstand bumps and shocks. With a load capacity of 3,000 lbs, it can take forklift trucks. Besides protecting your original surface, it provides sound and thermal insulation as a PVC product. Then, it's just a matter of replacing the broken tile with another one if some of the tiles get damaged by accident.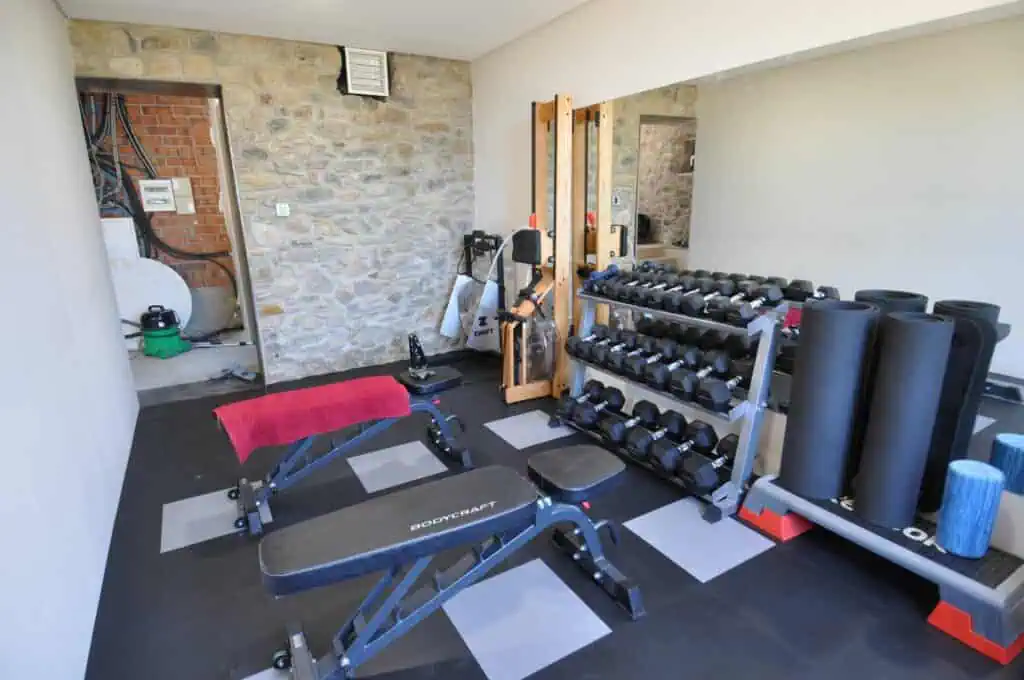 No more slipping
Solid ground under your clients' feet is essential when doing squats. PVC tiles also have anti-skid parameters, so you don't have to worry about slipping. There are four patterns to choose from, each meeting strict European anti-skid standards.
Diverse colors and mobility of Gym Flooring Tiles
Combining up to 12 colors is another benefit that gym owners will appreciate. You can divide your gym into different zones with these Gym Flooring tiles, which are 20″ x 20″(including locks). With racks, dumbbells, and so on, your clients will quickly see the cardio space and the heavyweights. Moving the floor with tiles is easy if you move your fitness machines or racks. With PVC flooring systems, you can lay and disassemble it multiple times without losing strength.
Up to 12 years warranty
Maybe you've already seen rubber tiles or had your own experience with them. PVC tiles look like them and can be confused with them, but they have one huge disadvantage. Because most of them are soft, they change shape after a while or when the weather changes. You won't have to worry about undulation and damage to your locks with Gym Flooring Tiles. We guarantee a high level of quality with our 12-year warranty.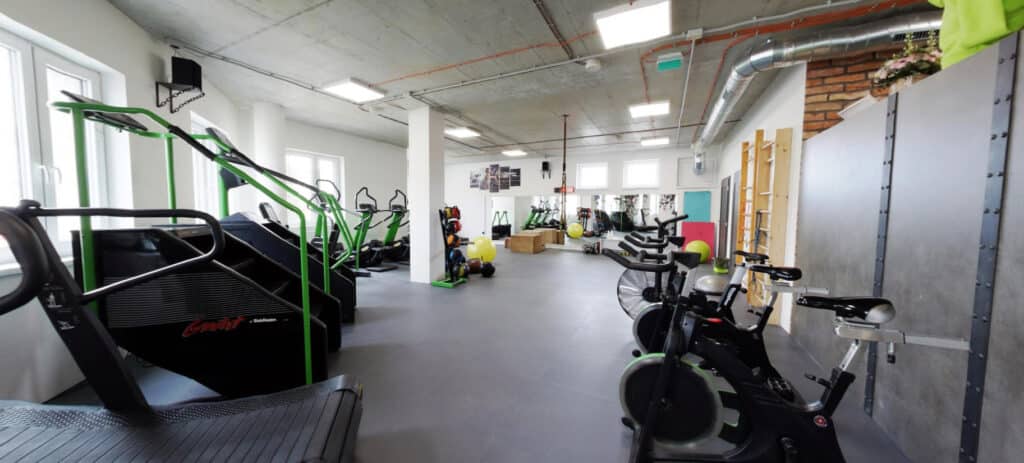 Sport Tiles Advantages
Any sports enthusiast will love the safe, level surfaces provided by PVC solid top court tiles for playing and practicing nearly any sport. Gym Flooring modular court tiles are easy to install and maintain and provide a long-lasting, commercial-grade sports tile.
Building or renovating an indoor court has never been easier or cheaper
Interlocking sport tiles are durable, chemically resistant, and built to last
Keeping you safe – a smooth and seamless playing surface
No need to remove any existing floor – click on place court tiles
Simple to maintain – just vacuum or sweep dry debris, and wipe wet spills with soap and water
With a variety of colors, you can create unique patterns and designs
Please let us know if you're interested in our flooring system but haven't seen it yet. Seeing the quality and durability of the material Gym Flooring Tiles are made from will give you a better idea. Please fill out the Free Estimate form to get more details or Contact our Rep.