Surface Preparation – Adhesive Removal, Grinding, Shot Blasting
Using grinding as a Surface Preparation, we can remove any old flooring, like epoxy, black mastic, or vinyl tiles adhesive. Concrete grinding can level the slab below and, at the same time, create a perfect surface for a new floor.
In fact, sometimes, you need to remove old adhesive residues after scraping an old vinyl floor. Thus, without proper equipment, it can be a very time-consuming task to remove adhesive. But with our HTC's concrete grinders and PCD diamond tools, removing adhesive or glue is quick and easy.
Concrete Surface Profile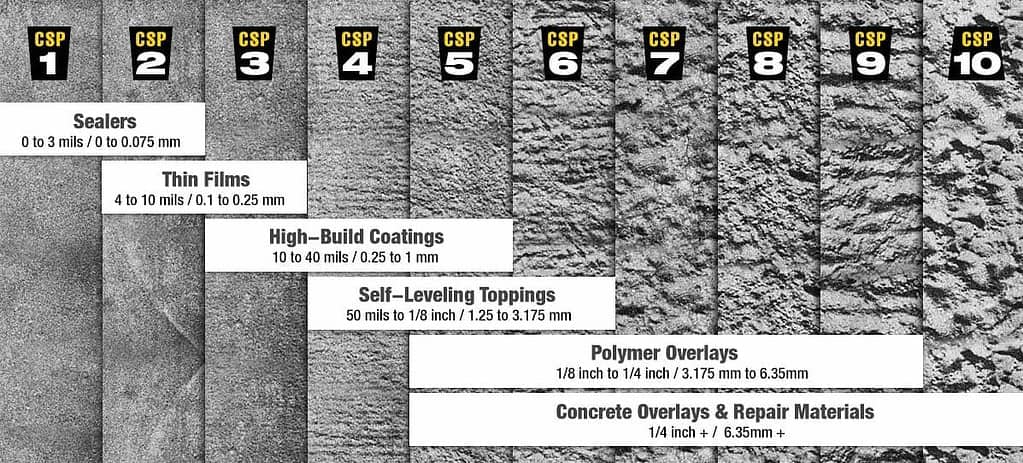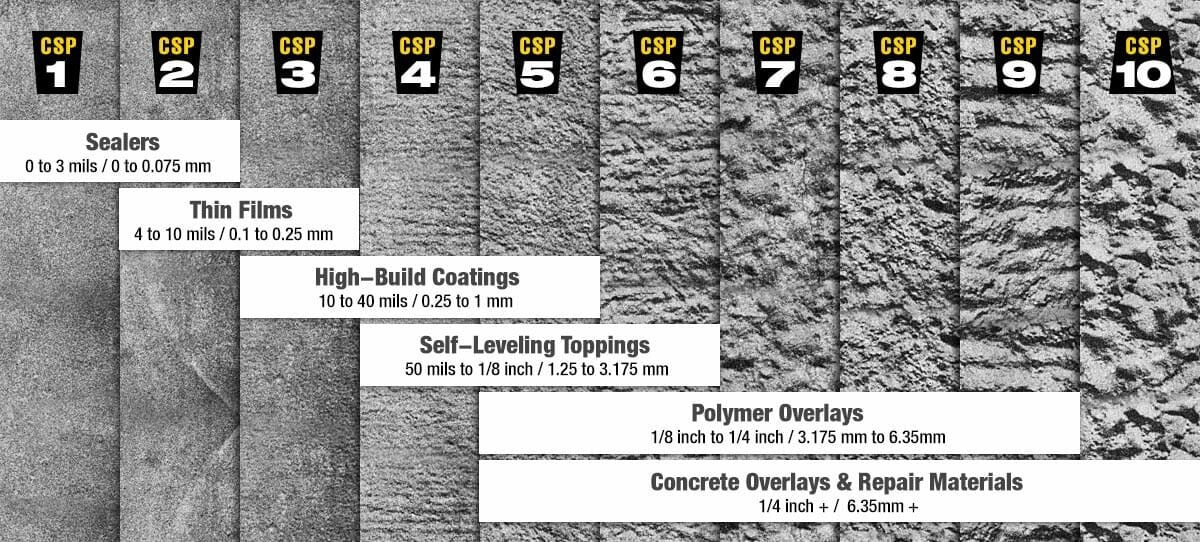 Concrete can vary in properties a great deal. Surface preparation is preparing concrete surfaces for the installation of coatings, overlays, stains, or other finished flooring surfaces.
Floors must be effectively prepared, and clean the concrete of any topical materials (adhesive, patch, etc.). Create a necessary Concrete Surface Profile (CSP) acceptable for the new flooring product being installed.
When trying to properly bond concrete overlays and coatings, the CSP is essential. When a thick overlay is used, the CSP needs to be higher. A smoother CSP of 2 to 4 will work fine when using a thin coating.
The appropriate CSP will range from 4 to 6 for thicker self-leveling and polymer overlays. The concrete grinder is a highly effective adhesive remover and glue remover.
Methods of Surface Preparation (From least to most aggressive):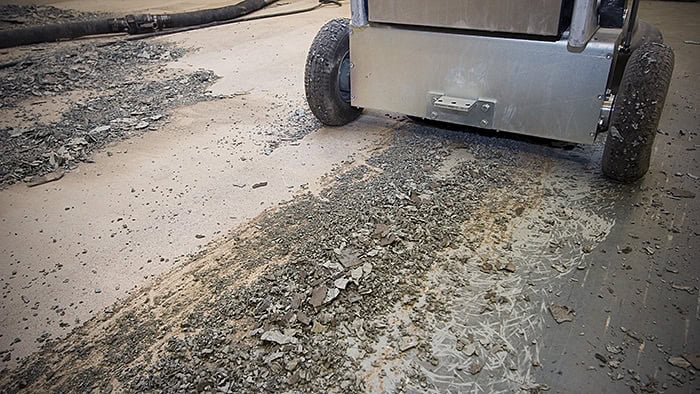 Tiles Scraping
Diamond Grinding
Dustless Shot blasting
Scarifying and Shaving
Dustless Shot blasting
Shot blasting utilizes machinery which propels thousands of steel shot particles at the surface, removing the top layer. All contaminants go back into the system for recycling.
Shot blasting is one of the best surface prep methods for self-leveling materials application, underlayment, and other cementitious surfaces—shot blasting leaves virtually no dust behind due to the self-vacuuming system.
Furthermore, shot blasting is the fastest way to profile bare concrete. Indeed, DUOMIT guarantees the highest level of mechanical concrete floor grinding, surface preparation, removal of the tile floor, thin-set mortar, and epoxy resin removal.
At the same time, we offer concrete floor surface prep using special shot blast machines, power tools, scarifiers, or ride-on scraper. Besides, Add-on services are oil grease and staining with penetrating paint thinner.
Scarifying Surface Preparation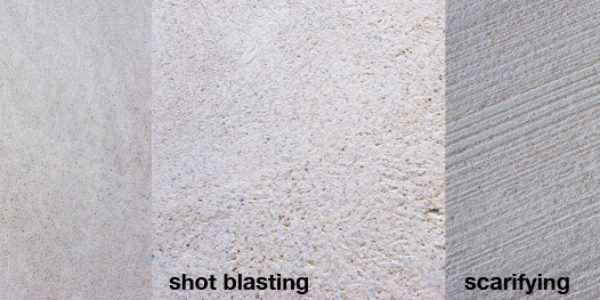 Scarifier is a milling machine or surface planer, removing concrete faster and more aggressively than concrete grinders as it uses the crushing action of multi-tipped cutting wheels or flails. That rotates at high speeds to chip away at the concrete surface.
Moreover, shaving concrete is a precise preparation method for removing an existing floor coating or a thin layer of concrete. Concrete shaving consistently removes material at a uniform depth from 1/32 inch to 1/4 inch.
Lastly, our work scope – vinyl tile removal, removal of the ceramic tile, concrete shot blasting services on your existing old slab. Substantial shot blasting utilizing concrete slab preparation before installing a surface coating.
Surface Cleaner
Above all, denatured alcohol is a degreasing agent that works best as a spot cleaner. For removing hard surface dirt and stains that traditional cleaning agents fail to remove—stains from hard surfaces like wall tiles, wood, metal, and plastic.
Lastly, coating and membrane removal quickly and effectively prepares base materials for receiving new base and finish coatings. Unlike other coating processes, diamond grinding removal selectively removes coatings such as paints, epoxy, and urethanes without damaging the surface.
Request a Free Estimate from your Flooring Contractor in New York and New Jersey.