Insulated Metal Wall Panels for Steel Buildings
Each project follows a different set of parameters and may require a different set of Insulated Metal Wall Panels. In fact, we offer a selection of panels to accommodate the needs of any project. Our wall panel systems will suit any demanding commercial and industrial applications.
Firstly, the wide panels install quickly and easily. Concealed fasteners within the sandwich panel side joint and the attractive profiles break up the flat expanse of metal on large projects such as manufacturing plants or warehouses.
Since DUOMIT, as an experienced installer, offers several different solutions. Provided that, insulated wall panels for exterior use for a variety of metal building constructions. Superior in quality and durability while providing a modern look for your building.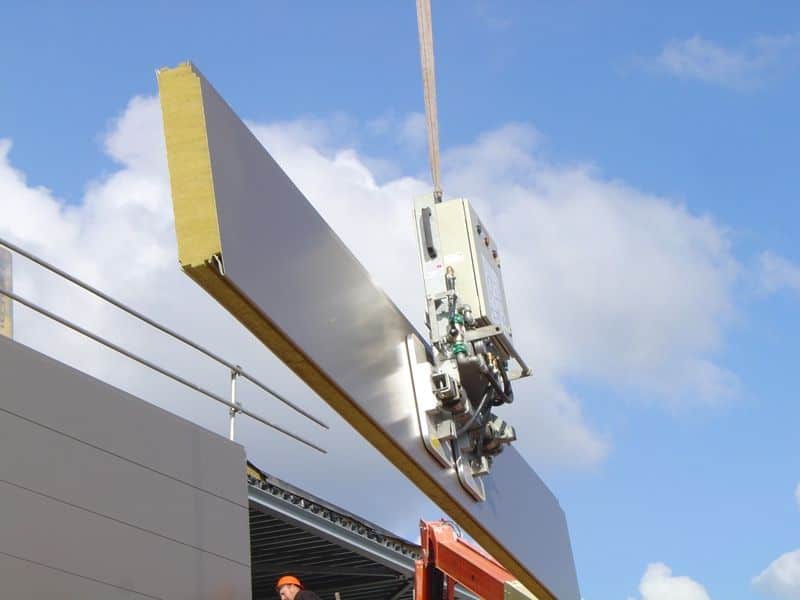 In short, Insulated Metal Panels (IMP) are premier building products on the leading edge of innovation and utilizing state-of-the-art equipment. Moreover, our panels deliver superior insulation, long-term building performance, and construction efficiency to eco-conscious builders and designers.
On the whole, Insulated Exterior Wall Panels can be installed vertically and horizontally, allowing for that perfectly desired architectural look. Our standing seam roof profile leads the industry in weather-tightness. Our fire-rated offering can give up to a three-hour fire rating. Lastly, all profiles are available in a myriad of different colors.
Whether the project requires structural or fire resistance, insulated panels are the perfect solution for creating a high-performance building design.
Exterior Wall Panels Features
High R-Value – Provides levels of thermal performance (R-value) and airtightness over the building's service life. The insulated wall panels are exterior of the building structure to provide the best thermal envelope by reducing thermal bridging typical of cavity wall systems.
Tested & Approved – All insulated metal roofing and wall panels have been extensively tested for compliance with various industry standards and building safety codes.
Energy Efficiency – Insulated Metal Panels have a core of continuous, rigid insulation for industry-leading R- and U-values with superior airtightness performance.
Indoor Environmental Quality – Insulated wall and roof systems help ensure a stable interior environment.
Eased Construction – Indoor metal wall panels are simple to detail and attach, reducing schedules and installation errors.
Life-Cycled Benefits – Insulated Metal Panels offer the longest service life of a typical commercial building. The durable metal panels are cost-effective and reduce energy maintenance, and offer multiple end-of-life reuse options.
Building Certification and Green Targets – Composite Panels contribute to LEED certification programs and the path to Net-Zero Energy.
Read more about QuadCore Insulation and Benchmark Certified Installer.