Cold Storage Panels Installer New York
Walk-in cold-rooms supply chain solutions include the insulated cold storage panel systems for walls and roofs and Insulated Doors. The diverse product line offers a highly efficient perimeter for temperature extremes, from blast freezers to pharmaceutical stability rooms.
Insulated Metal Panels function as walls, ceilings, and roofs for the cooler, freezer, and food processing buildings, in new and retrofit construction. Panels are ideal for dry goods warehouses and other controlled environment buildings where temperature control and insulation values are critical.
DUOMIT install insulated metal wall panels that can be applied to atmospheric controlled environments. Where, in all cases, high-cost finished product protection and hygienic control is of utmost importance. The use of roofing and wall panels are designed to fit the needs of any thermally controlled building envelope.
Compare Features & Benefits
Superior Insulating Value across the entire wall and roof area is assured with panels. They actually increase in "R" value and increase energy efficiency and thermal performance. This unique feature provides a cost-effective building design and increases the insulating qualities of the roof panels.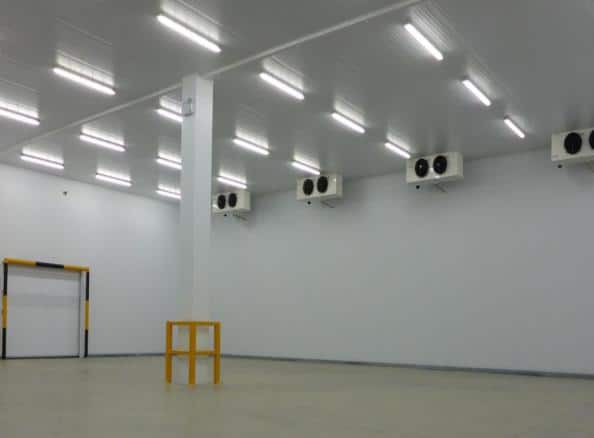 One-Step Installation process assures rapid completion of the storage facility. Factory fabricated composite panels with foam core are attached directly to the supporting structure. Multiple steps to construct the insulated wall and roof are eliminated. Faster industrial building completion means reduced construction and interim financing costs.
Impermeable Exterior and Interior Faces ensure the highest insulating values are maintained for the life of the building. Exterior walls are manufactured with impermeable faces. When installed the insulation is completely encapsulated by metal trim that creates an impermeable membrane on all sides of the panel. The aged "R" values are comparable to the initial "R" values many years after the building's original completion.
Class 1 Polyurethane Foam meets the requirements of the major model building codes for cold storage construction. Unlike a roof system with expanded polystyrene cores, they will not produce a self-propagating fire. Local building codes may require automatic fire suppression systems for most installations.
Panels are Lightweight, yet very strong and durable attributing to reduced costs for erection and structural support.
We provide precise technical support and customer service of insulated metal roof panels. Superior wall applications to our clients in New York City.