Concrete Polishing in New York City
Why Polished Concrete Floor Is the most natural, durable, and versatile?
Most people search for the best floor upgrade for their offices or homes. Today, polished concrete floors are now the world-leading technology. The polishing concept has been refined over the years, becoming a structured and efficient process by experienced concrete contractors. Polished concrete can handle the toughest treatment when done properly and has a nearly unlimited service life.
In fact, owners can use concrete polishing almost in any facility as far as a natural and beautiful surface creates a positive impression in shop environments. Moreover, its evenness and durability are appreciated in warehouses, factories, or public areas. An easy-to-clean surface makes the floor popular for shopping centers, schools, museums, and other highly trafficked zones.
Where Could Polishing be Used?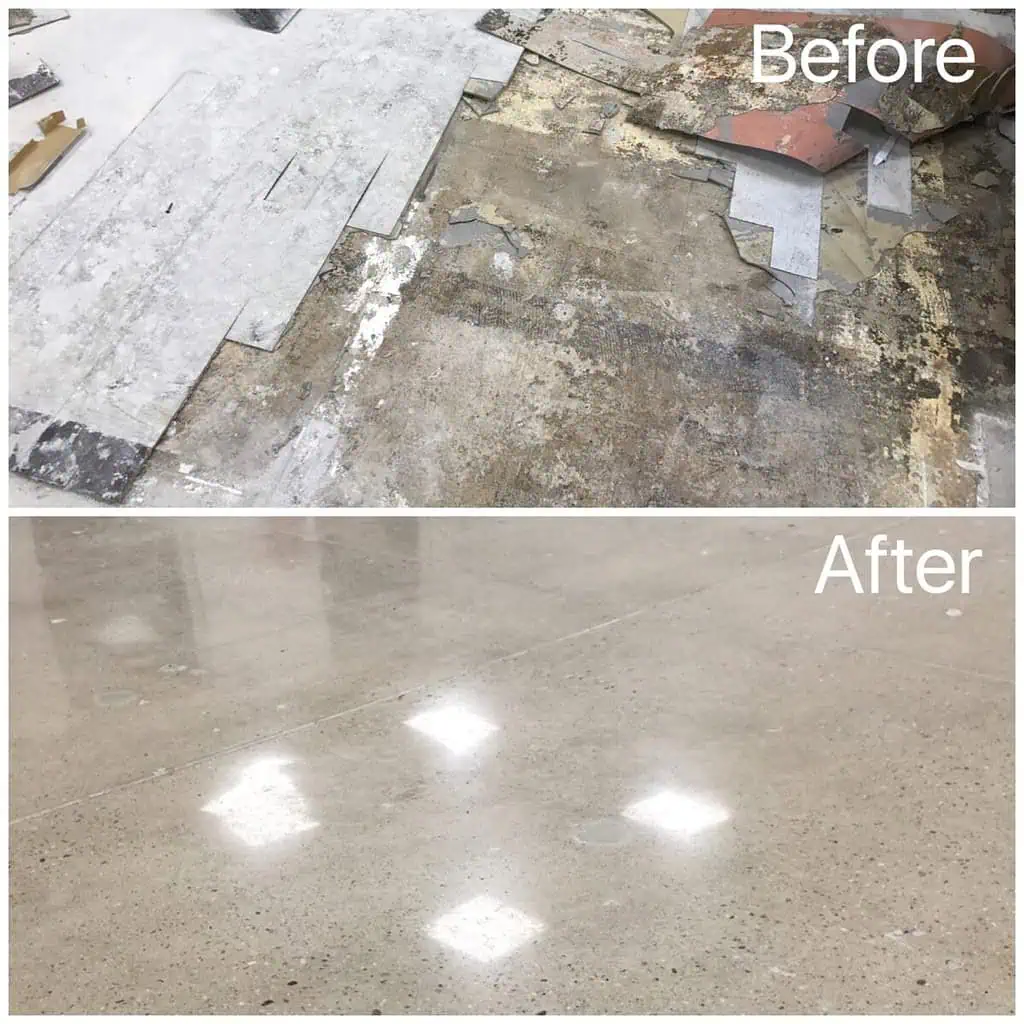 The most common areas of use are:
Industrial and warehouse environments
Public buildings
Shops and showrooms
High-end architecture
Good to know that your floor surfaces will always be easy to keep in excellent condition. Firstly, the easiest way to keep your floor clean is by using an auto-scrubber in combination with our polished concrete maintenance tips.
Manual cleaning with a vacuum cleaner or wet mop also works well. Secondly, the floor gains a natural sheen just in a few years. Thus, additional re-polishing will be necessary to bring back its original high gloss.
Placing polished concrete floors in the same class as common floor paints is like saying a Dodge Ram is the same as a Bugatti Chiron because they are both cars.
What Is Polished Concrete Cost?
This is not a myth that polished flooring is a cost-effective option – for the short term and in the long run. The polishing cost per square foot is surprisingly low comparing to other kinds of flooring.
You can look at polished concrete floor costs from $3 to $8 per square foot, depending on the project's complexity and location.
Also, when comparing different polishing finishes, consider exposed aggregate concrete as the most expensive, as it is usually at the higher end of the pricing range. This solution is also a smart alternative for new construction since the contractor can do grinding floors in only 5–7 days after casting.
How does polishing work?
As a matter of fact, the highest quality of concrete polishing is achieved in industrial or commercial buildings. Furthermore, all used flooring materials are the most environmentally sustainable and "Green."
For instance, we use a multi-step polishing process up to #3000 grit by using progressively finer diamond tools. In this case, we hone and polish the surface mechanically.
Moreover, based on the existing conditions of the concrete, we choose appropriate penetrating densifiers and sealers to enhance soft or weak concrete. Thus, we safely treat your natural floor and create a secure working environment.
Why Concrete Polishing is a Great Option?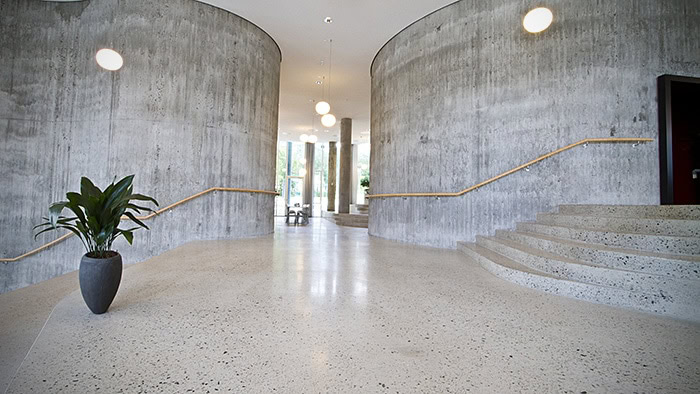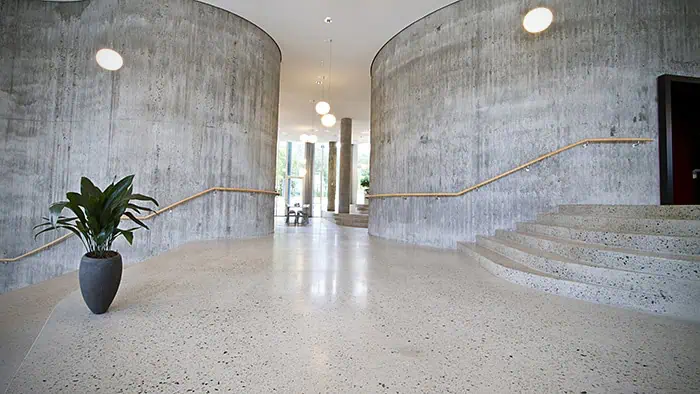 Because it's a highly even and smooth surface to walk or drive on, in fact, it produces no dust at all. Also, it's slip-resistant and complies with the highest standards for handling electrical equipment. Lastly, it has the highest-rated fire safety of all existing flooring.
Installing polished concrete, you will achieve the most smooth surface, resulting in minimal vibrations when moving goods with forklifts. Besides, we are providing a better working environment for forklift operators accordingly.
It also reduces maintenance costs and forklift parts wear. Also, a smooth floor is essential for the installation of VNA storage systems with high tolerances.
Once you've decided to do polishing, our crew will be working with something already on-site – your old floor. There are no unnecessary removal and no demolition.
Moreover, with our powerful remote-controlled grinders and dust extractors with high-performance vacuuming, operations will be smooth and enjoyable. With professional concrete finishing an active floor maintenance plan, and monthly deep cleaning, polished cement floors can last for 20 years or more with no hassle.
Concrete Polishing vs Overlay
Thanks to recent advances in concrete treatment and special equipment, we are pouring special self-leveling concrete overlays. They provide superior durability and performance of a newly poured concrete topping polished to a high-gloss level that never needs waxes or coatings.
In fact, more and more offices or retailers choose polishing concrete overlay as an alternative to tile, VCT, or synthetic coating. Furthermore, clients can choose a level of sheen, from high-gloss to satin normally, that meets their aesthetic and maintenance needs.
Concrete Overlays are ideal for covering up existing floors with poor conditions such as unevenness, large holes, cracks, and other damages.
Surely, this surface will give a more level and even finish than the polishing of existing concrete. Also, clients can add aggregate, colors/dyes, saw cuts to get a more decorative or terrazzo-like finish.
DUOMIT works with top GCs of New York City and its suburbs. We update our crew with cutting-edge technologies to provide superior floor installation services.
After all, our mission is to make New York City a better place, one polished or epoxy floor at a time. We take pride in our work. Where commercial floors require high-end surface finishes with long terms warranties. Please shoot us a message and request a Free Estimate.
If you are interested, know How much concrete do you need? Please don't spend any more time here and check our Concrete Calculator. You can also review our methods of damaged marble repairing and polishing. More about different Styles of Polished Concrete.
Pros
Great customer service, no delays.
Concrete Polishing

SUMMARY

I would recommend Duomit without any hesitation. Quality work, open communication, NO hidden costs, and I truly believe they take pride in every job.