Food Processing Plant Floors – NYC Market Solutions
Why are Food Processing Plant Floors important? To begin with, turning the existing fresh fish or meat shops into one suitable for quality food processing is always a challenge. Specifically when it came to a high-performance floor finish. The floor coating systems have a full exposure to wear from forklifts, constant cleaning, thermal cycling, organic acids, etc. In addition, it should be USDA-approved slip-resistant urethane concrete or epoxy floor.
In fact, the expectations of a reliable concrete floor covering are equally large. Therefore, reactive resins flooring from DUOMIT offers a welcome solution in kitchens, washrooms, hallways, cold-storage rooms, cellars, and storage areas. Moreover, we define the best flooring for meat processing, food, and beverage processing facility. Thus, they fulfill the need for hygiene and safety for the kitchen facilities and are outstandingly durable combined with a speedy installation.
From seafood processing facilities and test kitchens to the heavy-duty floor needs in fish processing warehouses. Fish production requires specific floor coatings. We deliver the industrial floor coatings America's Food processors trust daily.
Safe and Attractive Solutions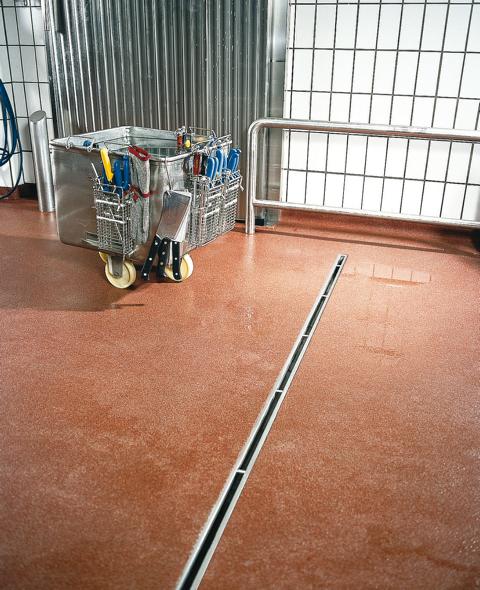 As a matter of fact, limiting the risks of contamination, protecting workers by installing no-slip flooring, and weather harsh cleaning and sanitation chemicals. Also, avoiding possible breaks and cracks caused by thermal shock, absorbing impact, and enduring abrasion.
For fish processing facilities, the flooring requirements are extensive. If you fail to have a proper coating, there is a myriad of trouble that can follow. Our highly skilled commercial flooring installers have extensive knowledge and experience specific to the fish and seafood processing and manufacturing industry.
Furthermore, our flooring aims to help your company's food production facilities and kitchens meet their business goals. Thus, we will save your company time and money by using floors that can be:
easily cleaned
chemically resistant
waterproof
resistant to thermal shock
antimicrobial.
Durable Surface for Food Processing Plant
FDA and USDA regulations
Frequent Cleaning Schedules
Wet Conditions
Narrow Repair Times
Worker Safety, OSHA compliance
To prepare for the new floor system, the existing concrete slab needs to accommodate new trench drains. The concrete should be sloped to the drains to eliminate standing water and areas that harbor bacteria, alleviating compliance concerns. Maintaining a sanitary environment is critical—that is why a seamless floor system will do the best for your facility.
As a result, you will get easy to clean floors, resistant to thermal shock and extremely durable – urethane mortar coating. By choosing DUOMIT as your Contractor, you will get all that and more, with the added benefit of a great-looking floor!