The importance of a good brewery floor
Why brewery flooring is important? While floors in some industries are primarily dependent on appearance, this does not apply to companies in the food and beverage industry.
Breweries have many rules and regulations that they have to comply with. Not just with the way they work in general but also its configuration. Everything from the manufacturing process of their products to the type of flooring system must meet legal standards.
Although the choice of flooring for a brewery may not seem important, it is essential because it must meet several requirements, such as:
For hygienic reasons, the floor of a brewery should be made of a non-porous material, without cracks or gaps. The flooring system should also have antimicrobial properties. This is to prevent the collection and growth of bacteria and other harmful organisms.
The floor covering must also be resistant to moisture and chemicals to not degrade too quickly with repeated exposure. If soil degrades too quickly, it becomes not only unsafe but also more prone to bacterial growth.
It is crucial for breweries that a coating system works well, both wet and dry. Due to the nature of the industry, a floor covering is likely to be exposed to high levels of moisture and must be able to withstand such conditions over the long term.
In addition to performing well in both wet and dry conditions, the floors in a brewery must have slip resistance. This is a safety issue because if a base is not slipping, it can cause serious injury to employees and visitors from the brewery.
Because of the pressure on the industry to go "green" in their facilities, soils should also have a low environmental impact.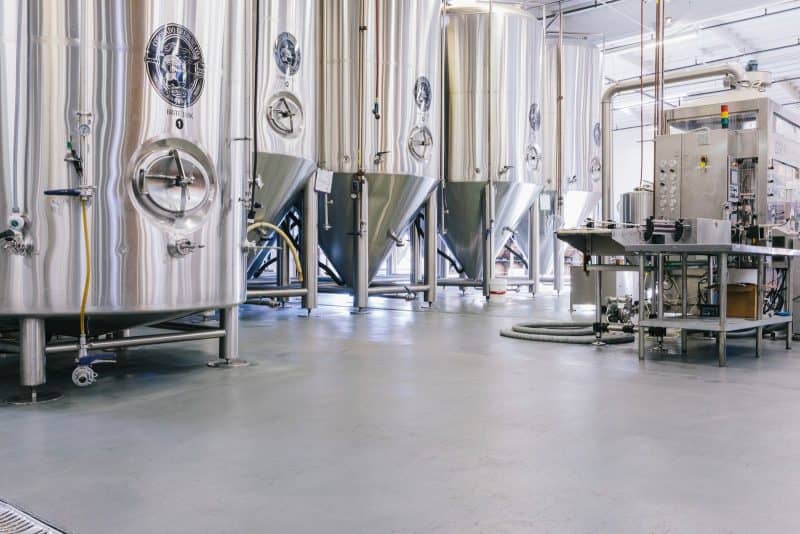 Brewery Floor Coatings
Microbreweries have successfully challenged the great brewers with their unique flavors and individual branding and spawned a new restaurant and beverage production generation.
DUOMIT has made a name for itself by designing and installing immaculate flooring for breweries and concrete products that exceed compliance standards and provide the sustainability to withstand stress in any microbrewery room.
Our urethane concrete, epoxy floor coating, and polished concrete solutions are ideal for this industry. Prepared floors and production areas benefit from seamless, moisture-proof surfaces with adequate drainage that can withstand high-pressure disinfection and aggressive chemicals.
Commercial kitchens in brewery restaurants require industrial brewery flooring that prevents erosion and contamination of food preparation and cooking by-products. In addition, a non-slip surface offers additional protection against hazards in the workplace.
Polished concrete comes in many different styles and offers the opportunity to create attractive entrances and dining areas.
Choosing the right floor for the brewery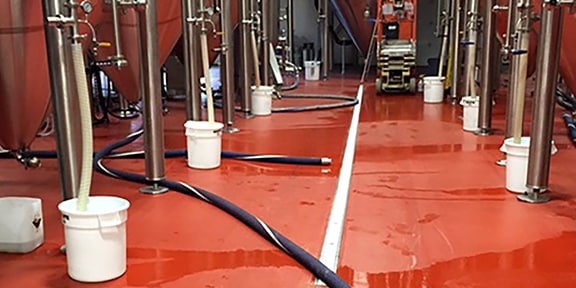 No matter what type of brewery you have, your floors should have these characteristics:
Suitable for wet and dry conditions
No cracks or crevices
Pore-free
Moisture and chemical resistance
Antimicrobial flooring
Resistant to temperature changes
Your floors should also be non-slip and easy to clean with the proper drainage system. It's a good idea to create and maintain your floors using chemicals and processes as environmentally friendly as possible to avoid breaking regulations or harming the environment.
Which brewery drains should I use?
Brewhouse drains are essential, and a suitable type to use is slit drains. These are clean, efficient drains that run the entire length of the floor. They can withstand heavy traffic and are very easy to clean.
Other less effective options are sloping drains and grating drains. Depending on how many pedestrians you have and who is planning to enter the floors, you may want to adjust your focus.
Highly trafficked areas with large equipment may be better off with a traffic-rated ditch drain. More traffic means the drainage needs to be more durable than other areas. Additionally, if you plan to have guests on the floors, you may want to choose more excellent flooring.
There are many things to consider when installing and maintaining your brewery floors, and they are all equally important. By choosing the best type of flooring, the best flooring, and the best drains for your situation, you can get the most out of your brewery floors.
Read also about Floor Failures. Please request your Free Estimate now or contact one of our representatives.