Seamless Kennel Flooring For Animal Care
When it comes to animal examination rooms and veterinary clinics, you need a special kennel flooring that will withstand the daily abuse of claws and paws while remaining attractive and sanitary for animals and humans alike. Our kennel flooring and veterinary flooring are easy to clean, abrasion-resistant, durable, and comes in many color options to match your practice.
Kennel Flooring for Animal Cares of Brooklyn
Most of the animal care clinics construct new facilities to serve the area's needs better. An important goal for any new animal care is to create a warm and attractive atmosphere to provide a sense of comfort to those having to surrender a pet. The floors are important to completing this look.
Many existing kennel flooring is in bad conditions and has a potential moisture issue within the concrete. The standard solution for this issue would be to install a moisture mitigation system first. However, this can add an amount of time to the install phase. Also, the floor has to be slip-resistant and functional. Moreover, it should stand for conditions in waiting areas and surgical rooms, indoor/outdoor kennels. Also, ease to clean and sanitize daily is another important factor.

Renovation of Veterinary Offices
As a matter of fact, many local donors are investing funds in kennel centers and beginning renovation and expansion projects in 2021. They plan to improve sheltering and adoption capacity, incorporate a grief center, add training rooms, and add veterinary exam rooms.
They are struggling to find who will install the flooring system in their new animal care facility. Because they don't need just regular epoxy flooring, it will not survive. Instead, they need state-of-the-art materials and need to meet the standards that OSHA requires.
One of the options, Dur-A-Flex's Methyl Methacrylate (MMA) flooring system that provides a decorative terrazzo-like appearance. It's also great because of its high strength capabilities and fast cure. In addition, the flooring system bonds great to concrete, and the coefficient of friction are easy to adjust. Below are the system's specs for the animal dry runs, holding rooms, and surgery areas.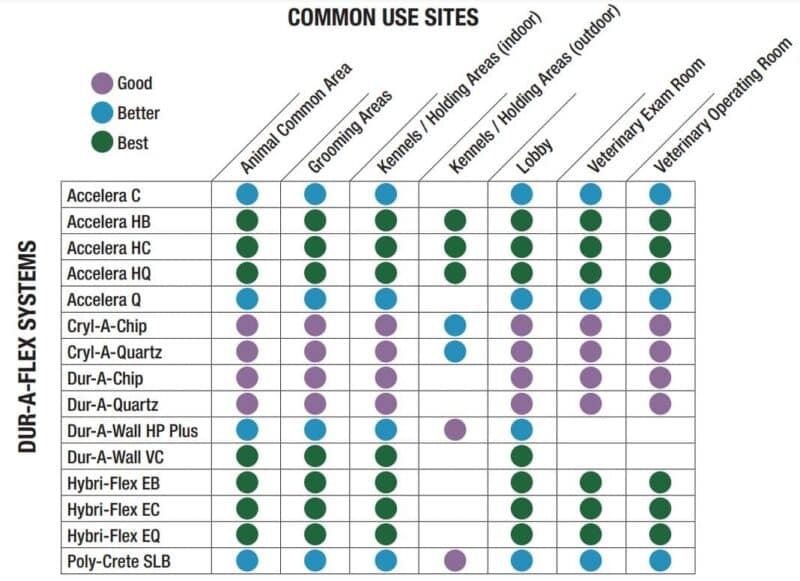 Animal Care Flooring
Our seamless flooring and decorative coatings offer pet care facilities a range of looks that will match any décor you may choose. Furthermore, we install the most durable and attractive floors and walls to ensure safety and functionality. Also, all our flooring solutions are seamless and chemical resistant. Thus, giving you low maintenance and a bacteria-free environment while minimizing any mold and mildew issues.
Common use in any animal care setting:
Animal Common Area;
Grooming Areas;
Boarding And Dog Daycare;
Kennels and Holding Areas;
Veterinary Exam Rooms;
Veterinary Operating Rooms and Surgery;
Offices and Exercise Areas
Horse Stalls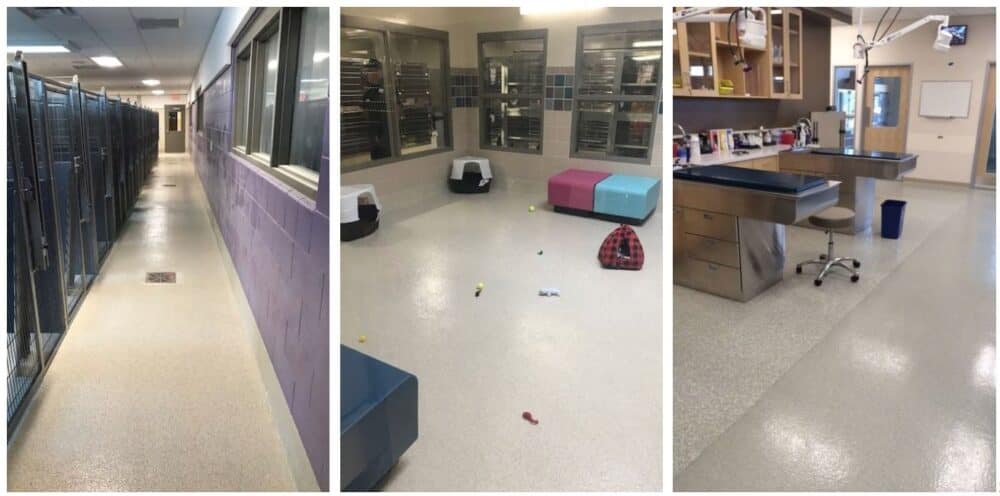 Our fluid-applied flooring will be the best fit for your new pet clinic. In fact, this is not a decorative 3d flooring or fancy dance club floor. Lastly, there you will need a robust shop floor that withstands a bad impact on the surface. Request a Free Estimate today to get a consultation from one of our pros.