Concrete Floor Flatness Surveying – New York
There are two basic floor categories: random traffic or wide open and defined movement traffic. Currently, fewer than 1% of the US floors are classified as defined traffic or super flat floors. Floor Flatness Surveying is one of the top priorities of quality finishes.
Generally, In very narrow-aisle warehouses, forklifts travel 6-foot wide aisles between storage racks with the aid of rack-mounted rails or a wire guidance system embedded in the floor.
Moreover, while moving down the aisles, these lift trucks can raise their forks to retrieve or place products at various levels. Thus, for these forklifts to perform as intended, defined traffic floors must be extraordinarily flat and level, or high tolerance floors. The warehouse floor is the all-important surface that affects the speed, efficiency, and often the safety and movement of the distribution center operatives and their manually operated hardware.
High-tolerance Floors
As a matter of fact, ACI 302.1R-04, "Guide for Concrete Floor and Slab Construction," defines several classes of floors based on their intended use and the suggested method used for final finishing. Class 9 are super flat floors and require critical surface tolerances. Profile quality is among the most important characteristics of any concrete floor. FF/FL Numbers have been formalized in ASTM since 1987 (ASTM E 1155M) and in ACI since 1989 (ACI 117).
The FF/FL System provides the specifier, contractor, and owner with a convenient and precise method for communicating the profile requirements, testing the results, and equitably resolving any out-of-compliance work.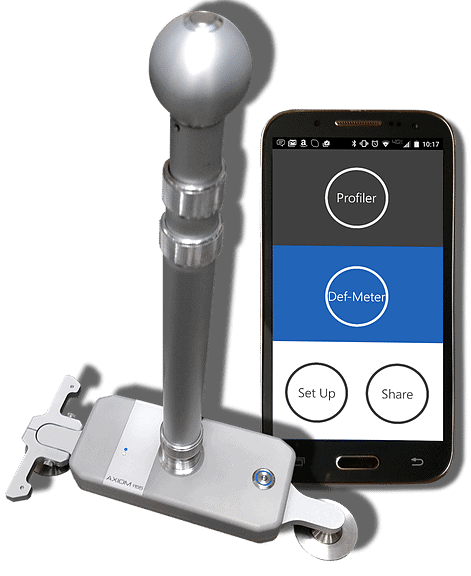 In fact, DUOMIT offers professional flatness surveying to owners, developers, contractors, and end-users looking for the best industrial concrete floor slab they can get. We use the latest in digital flatness testing equipment, designed and built in the USA, to check both Defined and Free Movement floors.
Furthermore, ASTM 1155 floor profiles (FF/FL) and joint stability measurements can be obtained with special Software. Thus, view results right from the phone or import them into Desktop Report Generator to create professional reports for customers.
Lastly, a streamlined app is designed to provide the client with a suggested layout pattern when gathering measurement data according to ASTM E1155-14 and E1155M-14.
Why Floor Flatness is important
Firstly, random-traffic super flat floors should support traffic in all directions. So, they are typically required for gymnasiums, ice rinks, warehouses where air-pallets are used, and television or movie studios where camera dollies must operate.
Secondly, super-flat floors generally exhibit FF and FL numbers above 50 in the direction of travel. They require specialized construction methods and cost more to build than floors in standard warehouses, lightly trafficked industrial buildings, or commercial office buildings.
Proper floor flatness is essential for the following reasons:
Operations are more efficient if lift trucks operate at max speed
Poor surface regularity will cause excessive vibration on a lift truck and increase maintenance
Reduced damage to stock
It gives control of the general quality of a floor when constructed
Safety, Health, and driver fatigue.
Lastly, the most important category of industry where high tolerance concrete floor is essential is within aisles of high-density warehouses where defined path, very narrow aisles (VNA) trucks operate.
Specifier's Guide to the F-Numbers
Finally, a more detailed explanation of the FF/FL system will help you incorporate the power trowel system into your floor projects both quickly and easily.
| | FF | Qmax, mm | FL | z, mm | Intended use |
| --- | --- | --- | --- | --- | --- |
| Conventional | 25 | 4.6 | 15 | 20 | conventional, non-special construction |
| Moderately Flat | 35 | 3.3 | 20 | 15.7 | foot traffic |
| Flat | 40 | 2.9 | 25 | 12.6 | conventional warehouse |
| Very flat | 60 | 1.9 | 35 | 9 | high-elevation, high-speed conventional warehouse |
| Super flat | 80 | 1.4 | 50 | 6.3 | TV studio, ice rink |