Epoxy flooring has been used for decades in commercial settings, but it's only recently become widely available for homeowners. It's durable and easy to install, making it an excellent choice for many applications.
What is Epoxy Floor?
Epoxy flooring consists of two main ingredients: resin and hardener. Resin is a liquid mixture of polymers, while hardener is a solid material that reacts with the resin when mixed. Once the two are combined, the epoxy becomes a solid substance.
Like most people, you no doubt have never dealt with epoxy paints before and consider it just another type of paint like a varnish or semi-gloss. However, placing epoxy coating in the same class as ordinary garage floor paints is like saying a Dodge Ram is the same as a Bugatti Chiron because they are both cars.
What You want to Know About Epoxy Floors
An epoxy coating is commonly a two-part resin that you blend instead of a single component. An epoxy flooring will stick better to your old surface or any concrete slab than any traditional water-based, oil, or enamel paint. Think epoxy glue kind of adhesion vs. blue tape adhesion.
The most fabulous thing about your floor is that it might get much more chic lit. This is because no ordinary paint can match an excellent high gloss finish. Also, it will be mold proof and waterproof. A good quality cured epoxy floor is just about easy to clean and resistant to any stain. It is very much like cleaning your Teflon pot. A line of epoxy coatings is available in six standard colors, with custom colors available for large orders.
Are There Different Types of Epoxy?
As a matter of fact, decorative color flakes are the most demanded on the market of epoxy floors. Moreover, they are famous for a granite-type look. In addition to all above, the best in epoxy flooring is an easy application and can last for you up to 15 years!
We've made every kind of floor there is with every type of material. Thus we have extensive experience and know what works and what doesn't. Therefore, we know precisely that all types of epoxy are mainly used for industrial and commercial coatings. The best floor epoxy is 100% aliphatic solids type.
What's the difference? It means that what you get is what you pay for. In epoxy floors, anything below 100% solids will dry up away as it sets. The part that evaporates is either water in water-based epoxy or solvents in the case of solids paints.

What Is The Difference Between Epoxy Paint and Coating?
That is to say, if epoxy has 90% solids, 10% of the coating will drop away as it cures. The epoxy primers typically have lower solids because they are produced thinner to soak into the concrete. Thus it's normal for primers to be more insufficient in solids.
Contractors can install epoxy floor coatings over concrete or plywood to achieve a smooth, high-performance, durable surface. They can withstand heavy loads and last for many years. Many commercial buildings and industrial sites rely on epoxy coatings to maintain safe conditions for workers and equipment.
Most contractors apply all kinds of epoxy floors, including traditional commercial epoxy. Besides, they are available in designer multi-hued or solid colors. High-quality metallic epoxy or designer epoxies are in high demand because of their stunning look and application versatility. In addition, they are providing the client with a durable and seamless floor.
Our techniques can create subtle, natural finishes similar to the floors we create with self-leveling base and micro toppings. Moreover, we can develop concrete surfaces that make a bold design statement.
Epoxy floor coating is mainly for interior use since it does tend to discolor with direct exposure to UV. However, it is a sensational flooring choice due to its unique appearance and excellent strength and durability, even in high-traffic areas.
Epoxy Flooring Near Me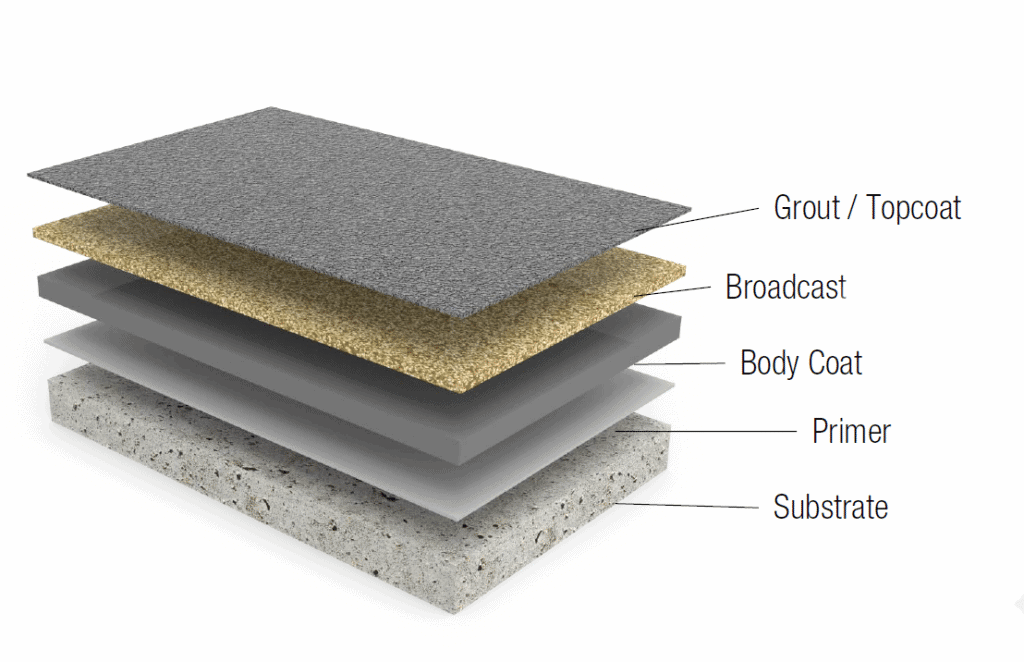 We specialize in designer epoxy solutions, and commercial and industrial coatings for offices. As well as retail stores, restaurants, office spaces and art galleries in New York and New Jersey.
As a result, our clients are industrial warehouses, distribution facilities, schools, hospitals, clinics, fire and police stations, and garages. Commercial applications are commonly in solid colors, ranging from light gray to dark grey. Indeed, these floors are durable and lengthen the life of a base by preventing damages.
Epoxy floors are the best solution for any high-traffic area that may see wear and tear. Therefore, the right floor coatings are easy to clean and help to prevent light damage.
High-solid epoxy doesn't have any water or solvents to evaporate like other water-based paints. Thus epoxy coatings are much more durable and last longer than regular floor coatings.
Advantages of Epoxy Coatings
Epoxy floor coatings extend general service life. It stands up to the constant stresses of light foot traffic and heavy equipment loads during daily operations. The new layer of protective coating is as solid and durable as the subfloor minimizes and relieves cracking or sinking.
Easy to clean and maintain. Thus the only routine maintenance required is a once-a-week water wiping or swabbing. In addition, the epoxy coating increases abrasion and chemical resistance.
Ability to coat multiple times and build thickness by adding aggregate (sand, quartz, paint chips)
Usually much thicker ~30 mils vs. traditional coatings 3-5 mils
Highly durable, high gloss
How long will epoxy floors last?
Epoxy systems have high-impact strength and are abrasion-resistant. So you could hear from some installers refer to epoxy as "a coating for life". But, unfortunately, this is a kind of false advert, due to many weaknesses of epoxy flooring.
In the case of residential, some epoxy coatings have been known to last for 20 years. However, this is not valid for commercial spaces, where it's subject to much higher rates of foot and vehicular traffic and accidents and spills. In addition, all kinds of loadings can wear epoxy down much faster.
For this very reason, most commercial applications of epoxy floors last between 5 to 10 years, though they last even longer.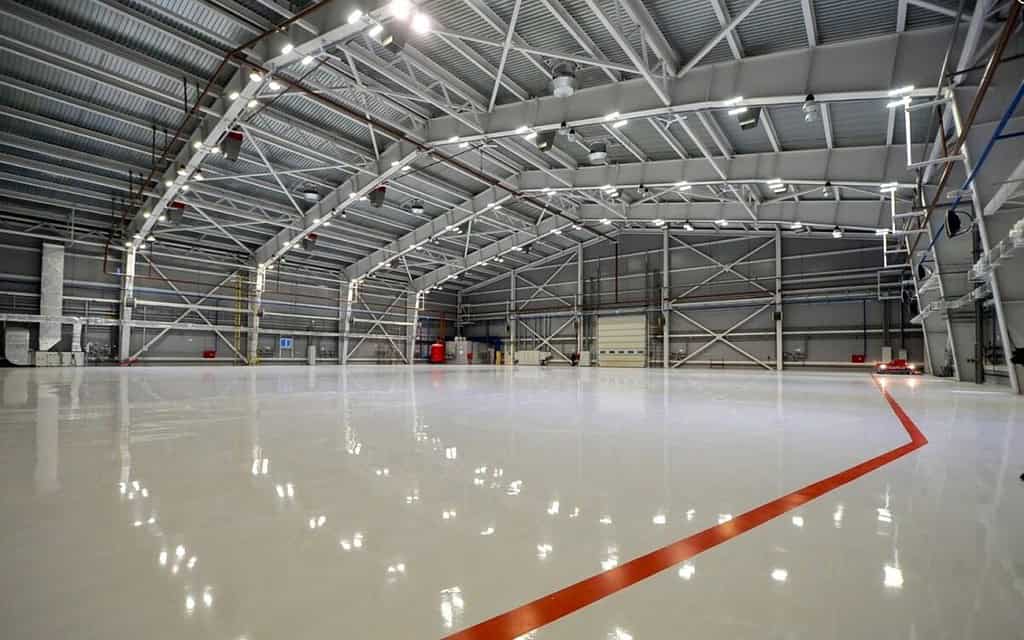 What is Quartz Carpet Floor?
Quartz Flooring consists of built-up layers of epoxy and colored quartz sand. Thus due to the heavy layer of quartz and solvent-based epoxy, impact resistance is more remarkable than paints. Furthermore, its colored pattern helps maintain a clean look and hide all dirt and debris. Typical applications include parking decks and car garage floors. A contractor can apply quartz floors 32 – 128 mils thick.
DUOMIT is a full-service concrete floor restoration, industrial and commercial epoxy floor installer. We create a seamless floor coating for you and are capable of quickly responding to support you with different concerns. Request your Free Estimate today!
Want to learn how to clean and maintain epoxy floor coating? If you liked the article, you might be interested to read more about Concrete Stains.
Pros
Professionalism, Punctuality, Quality, Responsiveness, Value
Epoxy Flooring

SUMMARY

Really great experience all around. Quick and professional.