Epoxy Flooring Contractors in New York
Epoxy Floor Coating is mainly used for industrial and commercial flooring. Epoxy Flooring can be applied over concrete floors or plywood to provide a smooth and high-performance durable surface.  That can withstand heavy loads and last many years. Many commercial buildings and industrial sites rely on epoxy floors to maintain safe and easy to clean conditions for workers, equipment, and inventory.
DUOMIT epoxy contractors install all types of epoxy floors including traditional industrial epoxies. Available in designer multi-hued or solid colors. High-quality Metallic Epoxy or designer epoxy flooring is in high demand because of its stunning designs and installation versatility. Providing the client with a durable and seamless floor.
Our techniques can create subtle, natural finishes similar to the floors we create with self-leveling floor and micro toppings. We can create concrete surfaces that make a bold design statement.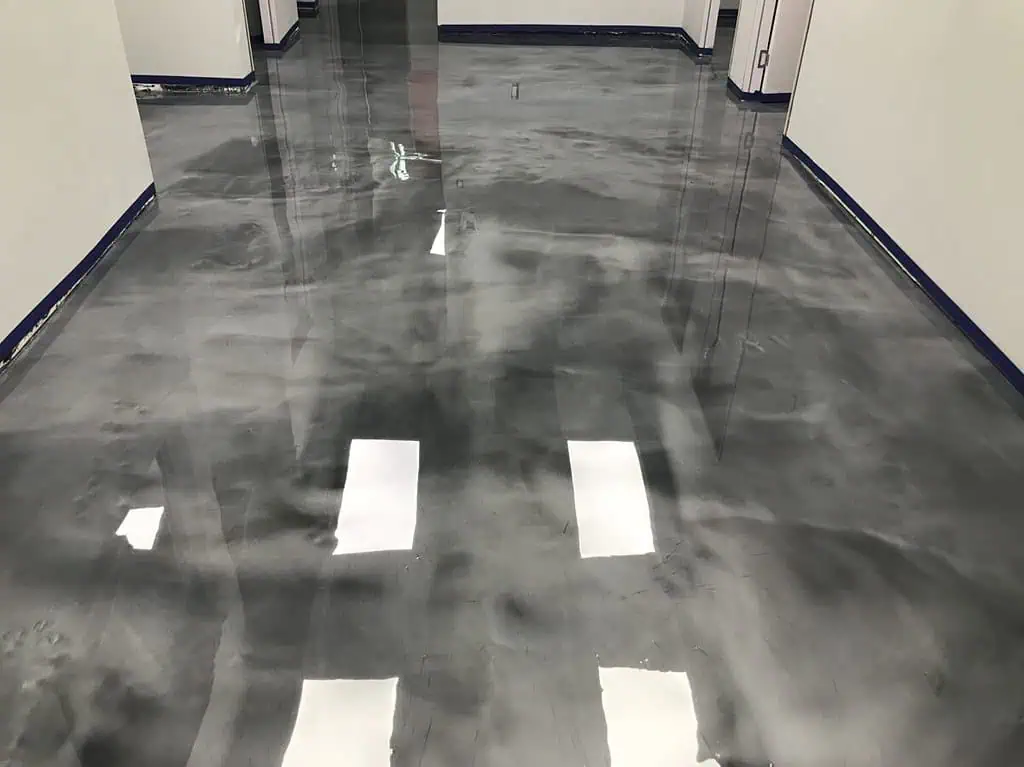 Metallic epoxy is flooring for interior use since it does tend to discolor with direct exposure to sunlight. It is a sensational flooring choice due to its unique appearance and excellent wear and durability even in high traffic areas.
Designer Epoxy Solutions
We specialize in designer epoxy flooring, commercial and industrial epoxy flooring for offices. As well as retail stores, restaurants, office spaces and art galleries in New York and New Jersey.
Our flooring projects are industrial warehouses, distribution facilities, schools, hospitals, clinics, fire and police stations, and garages.
Commercial applications are typically solid in color, ranging from white, gray, beige, or other basic colors.  These floors are durable and lengthen the life of a floor by preventing damage.
Epoxy floors are the perfect solution for any high traffic area that may see wear and tear.  Proper floor coatings are easy to clean and will help prevent light damages.
High-solids epoxy doesn't have any water or solvents to evaporate like other water-based paint coatings. Thus epoxy coatings are much more durable and longer-lasting than traditional floor coatings.
Advantages of Epoxy Floor Coating:
Easy to clean and maintain
More abrasion resistant, chemical resistant, and stain resistant than its water-based counterparts.
Ability to coat multiple times and build thickness by adding aggregate (sand, quartz, paint chips)
Usually much thicker ~30 mils vs traditional coatings 3-5 mils
Highly durable, high gloss
Epoxy Quartz Carpet Floor
A Quartz Carpet Floor consists of built-up layers of epoxy and colored quartz sand. Due to the heavy layer of quartz and solvent-based epoxy, impact resistance is greater than epoxy floor paints.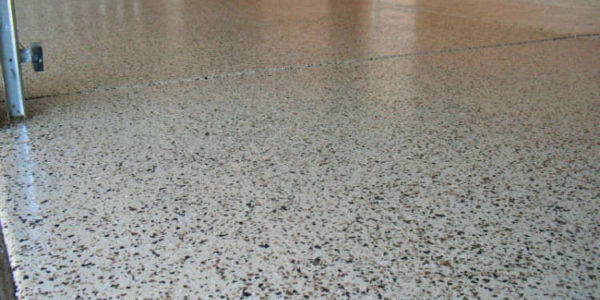 Its colored pattern helps maintain a clean look and hide the dirt and debris. Typical applications include parking and car garage floors. Quartz floors can be installed 32 – 128 mils thick.
DUOMIT is a full-service concrete floor restoration, industrial flooring, and commercial epoxy contractor. Capable of quickly responding to requests for help with the various issues that parking garage owners and managers face. Creates seamless flooring systems, instead of weak epoxy paint. Stop doing garage floor paint for foot traffic.
Our garage floor repair services include complete rip out and replacement of deteriorated washes, apply epoxy. And also caulking, concrete decking repair, concrete patching, waterproofing, sealing etc.