Epoxy flooring, a popular choice in commercial settings for decades, is now widely available for homeowners due to its durability and easy installation process.
What is Epoxy Flooring?
Epoxy flooring is created by combining a liquid mixture of resin polymers with a solid material called hardener. When these two ingredients are mixed, they form a solid substance.
It is common for individuals to assume that epoxy paints are similar to traditional colors like varnish or semi-gloss. However, it is essential to note that epoxy coatings are significantly distinct from standard garage floor paints.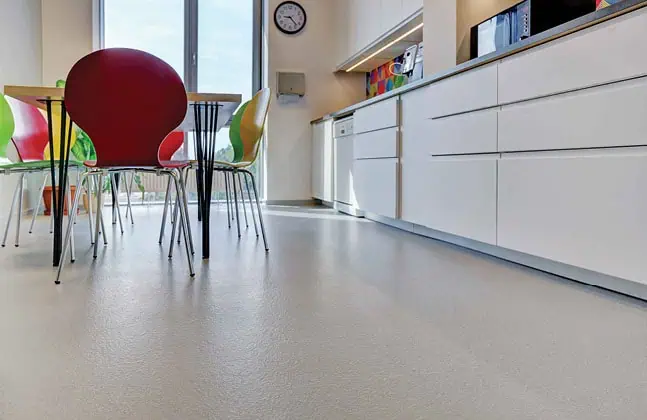 Benefits Of epoxy floors
An epoxy coating is a two-part resin that must be blended instead of a single component. Epoxy adheres to old surfaces or concrete slabs better than traditional water-based, oil, or enamel paint. It provides stronger adhesion, similar to epoxy glue, rather than blue tape.
Epoxy flooring is a highly sought-after solution for its many functional benefits and aesthetic appeal. One of its most notable features is its chic and glossy finish, which adds a touch of sophistication to any space. Another advantage of epoxy flooring is its ability to resist mold and water damage, making it an ideal choice for areas prone to moisture buildup.
In addition, it is straightforward to clean, requiring only a simple sweep or mop to maintain its pristine appearance. Customers can choose various standard and custom colors to match their design preferences. An epoxy floor is an excellent investment for those seeking a durable and visually appealing option.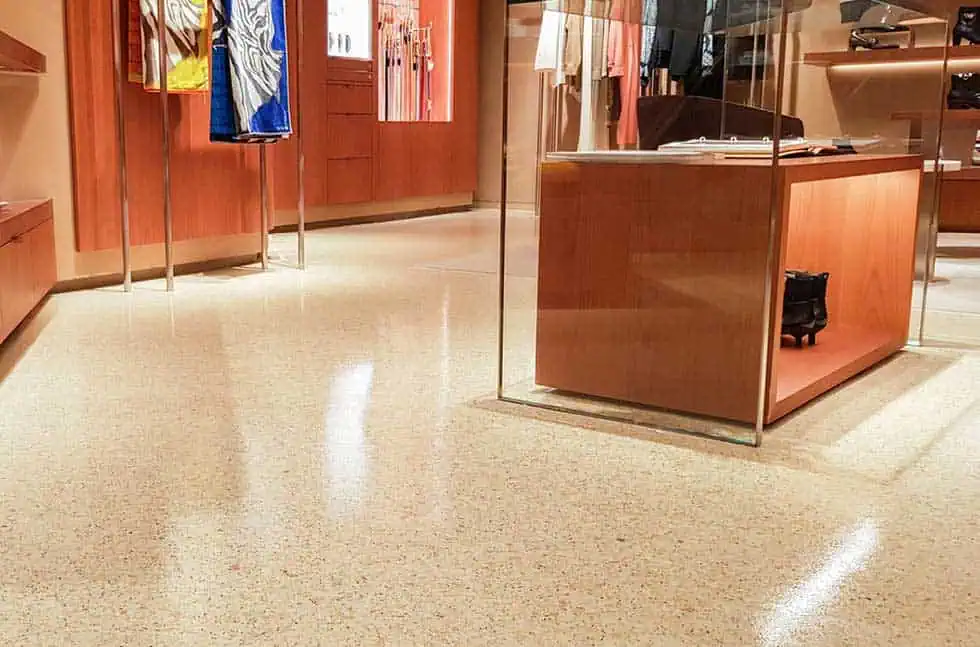 Available Types of Epoxy
Decorative color flakes are in high demand for epoxy floors due to their granite-like appearance and easy application, making them a top choice for flooring that can last up to 15 years.
Our team boasts a wealth of knowledge in developing various flooring options that utilize multiple materials. We understand that epoxy is used primarily for industrial and commercial coatings, and we recognize that the most optimal form of epoxy for flooring purposes is 100% aliphatic solids.
Understanding the concept of solids' content regarding epoxy floors is essential. "100% solids" refers to the amount of epoxy coating remaining on the floor after it cures. Anything less than 100% solids will result in some of the material evaporating during curing.
The evaporating component is water in water-based epoxies, while in solvent-based epoxies, it's solvents. This means that if you opt for a lower solids content epoxy, you may have a thinner and less durable coating than anticipated. Choosing a high-quality, 100% solids epoxy is always best for maximum durability and longevity.

A Difference Between Epoxy Paint and Coating?
If the epoxy coating is 90% solids, 10% will evaporate during the curing process. Epoxy primers usually have lower solids content as they are produced in a thinner consistency to penetrate the concrete. Hence it's normal for primers to have lower solids content.
Epoxy coatings are popular among contractors for achieving a smooth and durable surface on concrete or plywood. They are instrumental in commercial buildings and industrial sites where heavy loads are expected. Epoxy coatings ensure workers and equipment are safe and secure, providing a reliable and long-lasting solution.
Regarding epoxy floors, contractors can provide a wide array of options to suit the specific needs of their clients. These options include commercial-grade flooring solutions, as well as designer floors that come in a variety of multi-hued or solid colors.
Among the most popular choices are metallic and designer epoxies, which are highly versatile and durable and boast stunning visual appeal that is sure to impress. Regardless of the specific type of epoxy floor, you may be looking for, you can count on contractors to provide expert guidance and support every step.
Epoxy flooring is ideal for indoor use as it may discolor with direct UV exposure. Nevertheless, it is an excellent flooring choice due to its distinct look, outstanding strength, and durability, even in high-traffic areas.
Is Epoxy Flooring a good idea?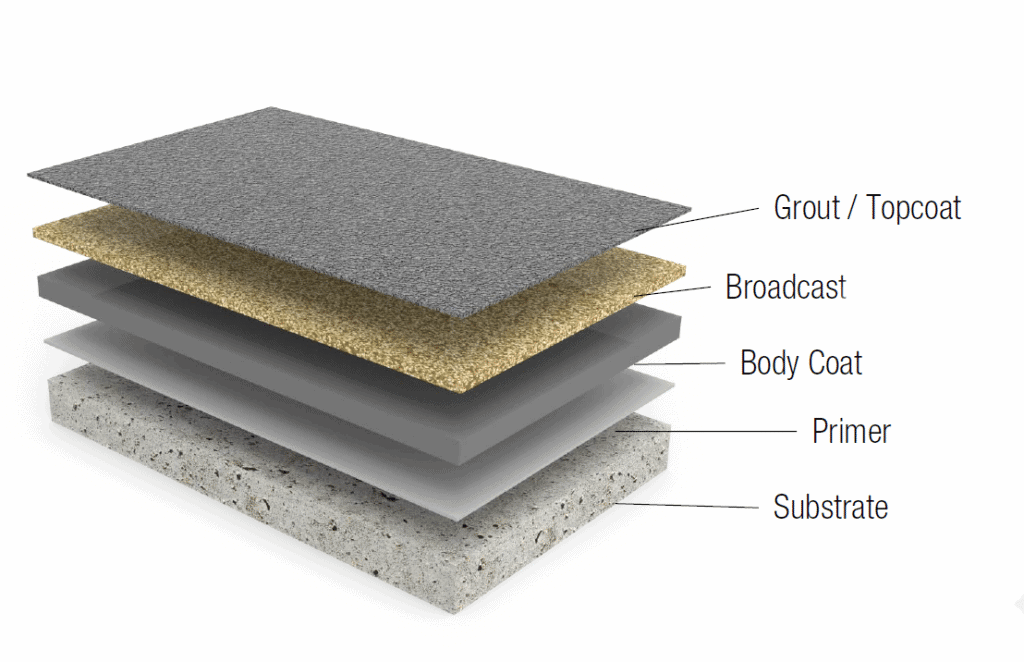 We provide designer epoxy solutions and commercial coatings for various commercial spaces, including offices, retail stores, restaurants, and art galleries in New York and New Jersey.
Our clients include industrial warehouses, distribution facilities, schools, hospitals, clinics, fire and police stations, and garages. Commercial applications typically use solid colors ranging from light gray to dark gray. These floors are durable and protect the base from damage, extending its lifespan.
Epoxy floors are ideal for high-traffic areas, as they are durable and easy to clean. They also protect from light damage.
Unlike other water-based paints, high-solid epoxy doesn't contain water or solvents that evaporate. Therefore, epoxy coatings are more durable and last longer than regular floor coatings.
Advantages of Epoxy Flooring
Epoxy coatings prolong the lifespan by withstanding light foot traffic and heavy equipment loads, preventing cracking or sinking.
It only requires once-a-week water wiping or swabbing. The epoxy coating increases abrasion and chemical resistance, making it easy to clean and maintain.
Adding aggregate (such as quartz or chips) through multiple coatings is a great way to achieve the desired thickness. With patience and attention to detail, achieving the desired results is possible.)
Typically, it is significantly thicker, around 30 mils, compared to the traditional coatings that are only 3-5 mils thick.
The quality of this product is exceptional, as it is built to last and boasts a sleek, polished appearance.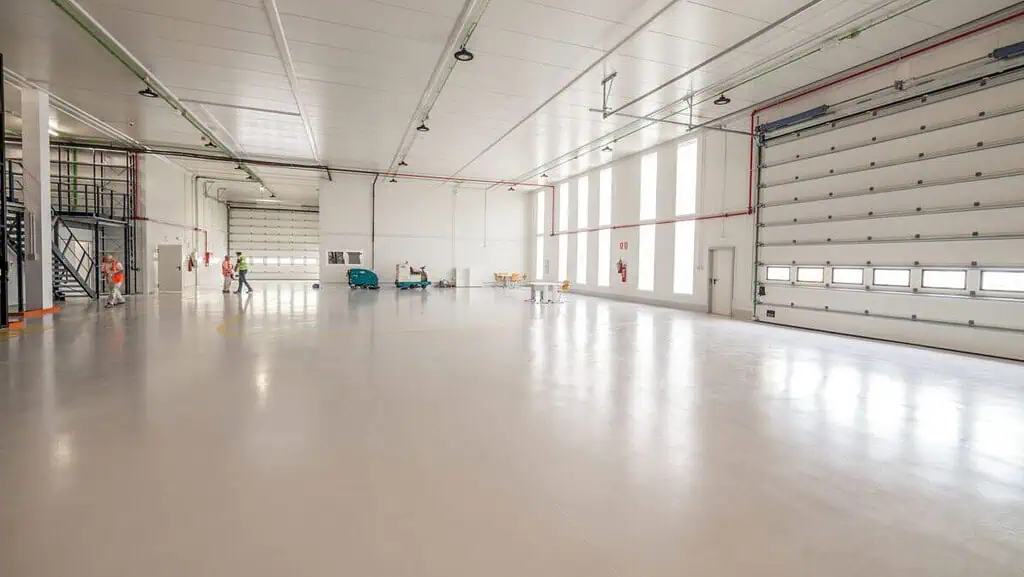 How long will the epoxy flooring last?
Although the epoxy solution is highly valued for its exceptional durability in withstanding heavy impacts and resisting abrasions, it is not without its own set of limitations and weaknesses that must be taken into consideration.
In residential settings, some epoxy coatings can last up to 20 years. However, commercial spaces are subject to higher foot and vehicular traffic rates, accidents, and spills. Additionally, various types of loadings can cause the epoxy to wear down at a faster pace.
It has been observed that the average lifespan of commercial epoxy floors ranges from 5 to 10 years. However, some floors can have a longer life expectancy.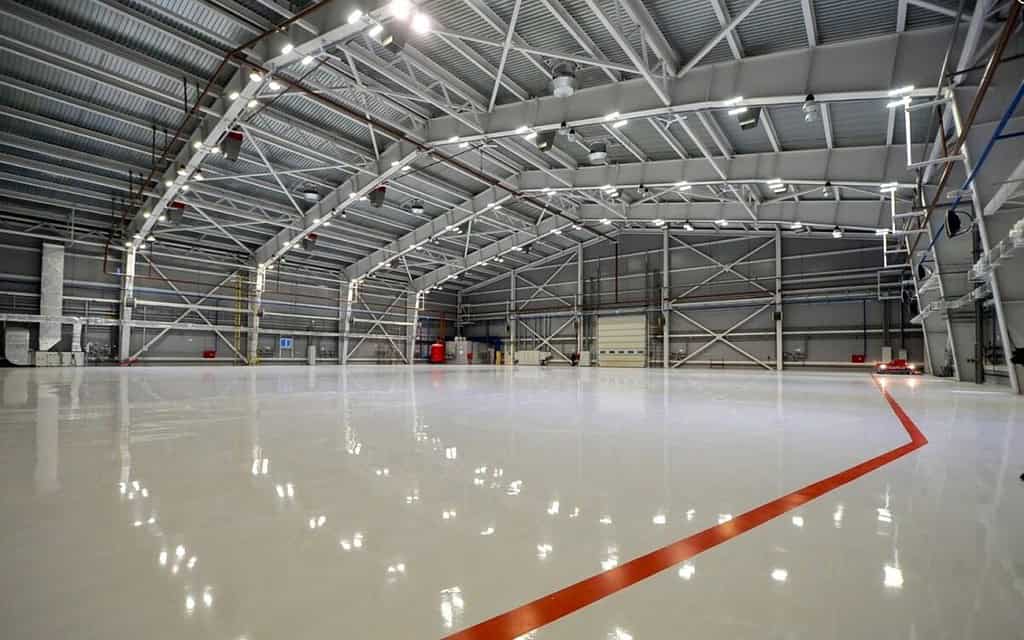 What is Quartz Epoxy Flooring?
Quartz Epoxy is created by layering epoxy and colored quartz sand, resulting in a durable surface that offers superior impact resistance compared to regular paint. Additionally, the colored pattern conceals dirt and debris, making it ideal for use in parking decks and car garage floors. This type of flooring can be applied by contractors in thicknesses ranging from 32 to 128 mils.
DUOMIT is a full-service concrete floor restoration, industrial, and commercial epoxy installer. We create a seamless floor coating for you and can quickly respond to support you with different concerns. Request your Free Estimate today!
Want to learn how to clean and maintain epoxy floor coating? If you liked the article, you might be interested to read more about Concrete Stains.
Pros
Professionalism, Punctuality, Quality, Responsiveness, Value
Epoxy Flooring

SUMMARY

Really great experience all around. Quick and professional.