Concrete Stain Colors – Solid and Semi-Transparent
Water-Based Semi-Transparent Concrete Stains
Firstly, The result achieved the below concrete stain colors with Surecrete's Eco-Stain, a water-based semi-transparent concrete stain floor concrete color. These stain colors are applied on gray concrete with stain applied at full strength, no dilution with two applications, and are sealed with a penetrating color-enhancing sealer.
Secondly, Eco-stain can be applied at full strength or diluted up to 10 to 1 to achieve different colors. The applicator can use eco-stain concrete colors either indoors or out. Also, These examples are for web use only; colors may vary depending on a concrete application. It is a great product for easy-to-use stained cement floors, and many of our dealers offer free shipping on these items.
Colored Concrete Coating in the Office?
Epoxy Flooring: Durability and Elegance of your discolored office's concrete. 
Transform your Commercial Spaces with Epoxy decorative overlay.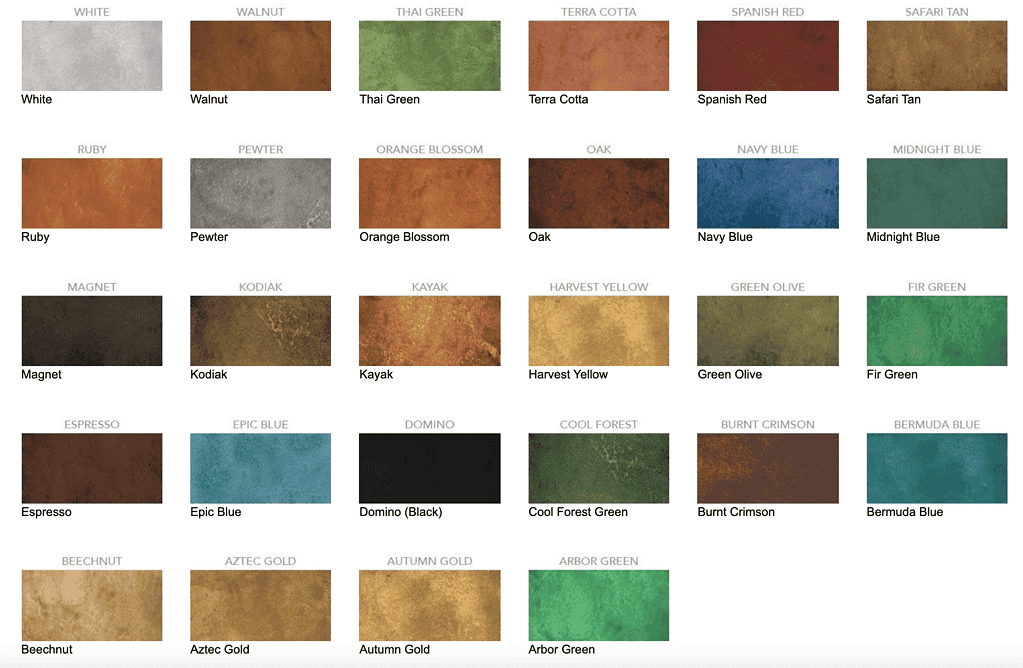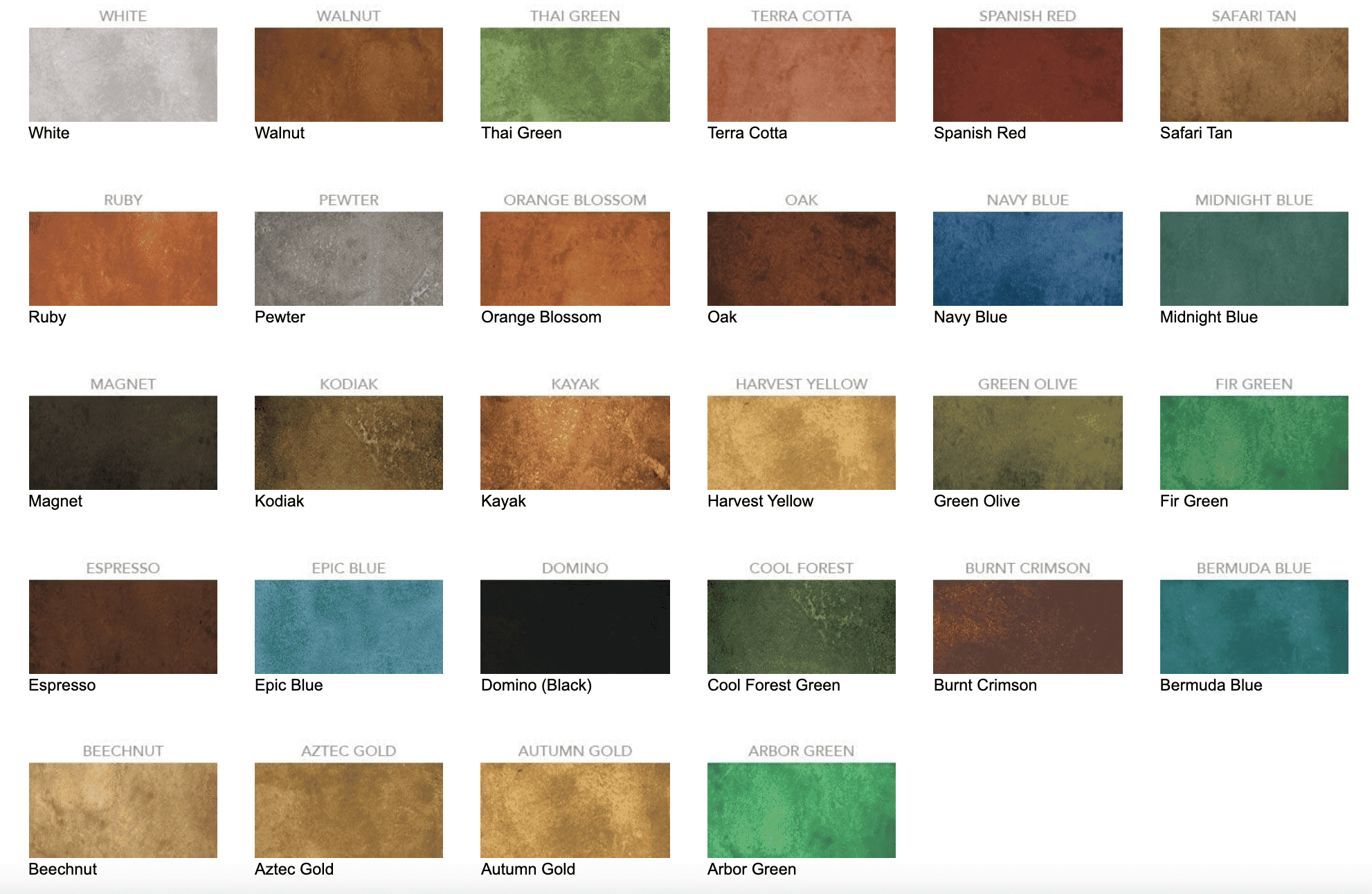 Acid-Based Semi-Transparent Concrete Stain Color
Concrete Acid Stain Color Chart
The acid concrete stain color below was achieved with Surecrete's Sure-Stain, a semi-transparent colored acid stain interior concrete and exterior. If you want to stain your cement with natural earth tones with a low residue, Sure-Stain could be the right choice.
Stained color samples on this chart represent the color of the finish as closely as possible. An installer can use Surecrete's SureStain acid concrete stain indoors and outdoors. Color variations may occur due to differences in cement, aggregates, and application methods.
See the acid stain color chart below—a great product for staining concrete with earthly-colored floor stains.


Water-Based Concrete Accenting Concrete Stain Color
The concrete stain color below is achieved with Surecrete's Eco-accent, a semi-transparent secondary accenting exterior concrete stain. This water-based concrete accenting stain can give a secondary color for accenting designs and patterns in stamped concrete coloring.


Solid Color Paint Concrete Stain Color
Below are Surecrete's standard best concrete paint colors. These are the most commonly used colors in the decorative cement floors industry. Surecrete can manufacture these colors in both water-based and solvent-based acrylics for outdoor use.
Coloring your driveway, sidewalk, or patio has never been easier when using our solid color paints. It is manufactured to withstand weather conditions for long durability, with outstanding UV stability concrete product stains and coatings.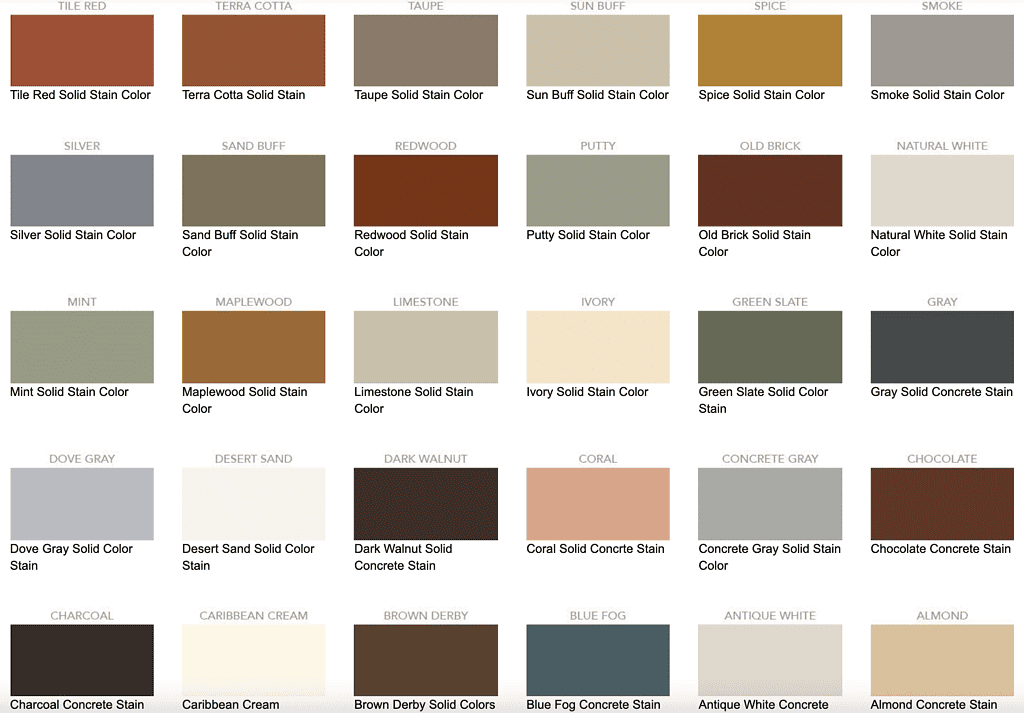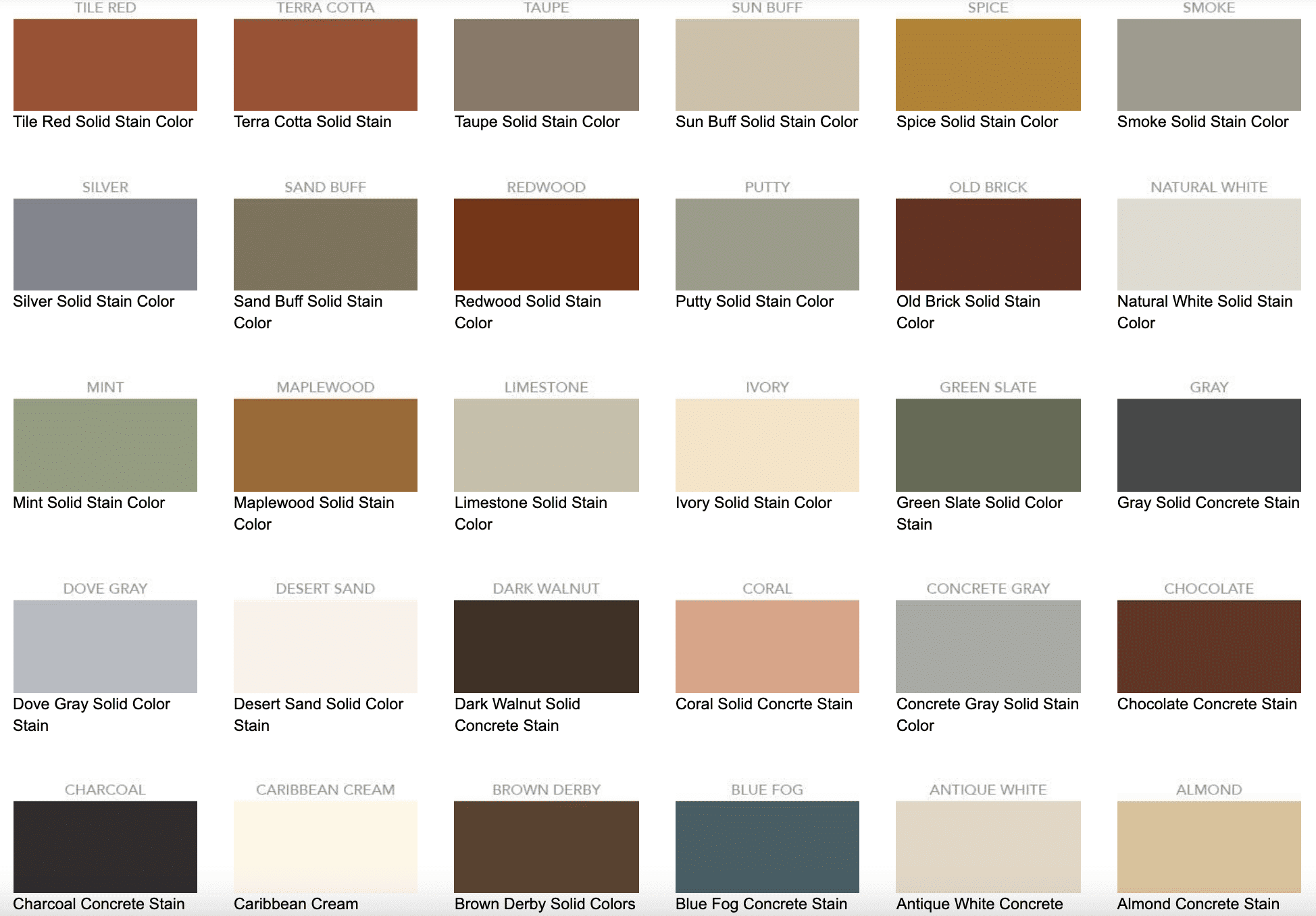 Solid Concrete Color Paints
Whatever your project entails, Surecrete products has virtually unlimited solid concrete stain colors available. Through our exclusive on-demand tinting system, Surecrete can provide just about any color you can imagine. 

The below solid color options include but are not limited to our water-based acrylic sealer and our solvent-based acrylic sealers. Surecrete's acrylic sealers roll out just like wall paint. However, they are designed explicitly for cement-based surfaces. 

As a matter of fact, Our solid-colored acrylic stains are like nail polish, a sealant that still allows the nail to breathe. The concrete is allowed to release moisture while protecting moisture from penetrating it. All of our colors are made to be UV stable and are manufactured to withstand the harshest weather conditions including, heavy traffic, freeze-thaw conditions, and high heat climate areas. 

These solid concrete colored stains can be applied on driveways, pool decks, and sidewalks in commercial and residential applications. These cement paint colors are for web use only, so; please sample your area to get the exact color match you are looking for. 

And yes, you can use our concrete paint for patios and pool decks. Surecrete is the place for all your stain concrete floor needs.
Solid Color Concrete Stain and Coatings
SEALERS AND COATINGS FOR OUTDOOR CONCRETE
Choosing and renewing the right sealer is the best way to maximize the long life of an outdoor concrete structure, from a driveway to the counters of a poolside bar. Although builders generally project a life of 30 years or more for an outdoor concrete structure, weather and other environmental factors affect the concrete's condition during its lifetime. Seasonal freezing and thawing cycles, poor water drainage, and environmental chemical content all contribute to outdoor concrete deterioration.
Choosing the right sealer is as important as choosing the right exterior finishes for your property's walls, roofs, and landscaping. Sealers keep your concrete structures clean and easy to maintain. Like other exterior protective coatings, concrete sealers anticipate and solve problems before they begin, enhancing curb appeal and increasing value to prospective owners.
Clear sealers can add visual depth and gloss while protecting structures from wear. Use colored sealers to define areas, like your pool deck or children's play area, to integrate your home into its natural surroundings and to signal the excellent level of maintenance future purchasers can expect throughout your property.
DAMAGE FACTORS
The fluid essential to transforming dry ingredients into durable structures is also the major agent of its long-term deterioration. Water expands and contracts during freeze/thaw weather cycles with enough force to damage concrete's structural integrity.
Both weather and groundwater create water problems. Water is the vehicle for damaging chemicals like ice melt, and it can render naturally occurring soil salts more corrosive to concrete. Sealers use one of two strategies to address water damage: repellence and respiration. Originally focused on creating an impermeable waterproof surface, sealers increasingly focus on penetrating surfaces while allowing the natural dissipation of accumulated water.
Sealers also address the ultraviolet light damage. Just as paint fades on siding, color in sealants and the surfaces they protect can be different by light exposure. An experienced professional can advise you on which strategy makes the most sense for sealing concrete on your property and provide information on how often your choice of sealer will need renewal.
Less expensive acrylic sealers may need reapplication every couple of years, while epoxy or polyurea sealers may last up to 10 years between applications.
WATER-BASED VS SOLVENT-BASED SEALERS
In fact, The range of concrete sealers available in any area controls by US Environmental Protection Agency and local environmental agency regulations for paints, varnishes, sealants, and all other interior and exterior "architectural coatings." In the case of sealers, the regulation aims to limit adverse reactions between petroleum-based polymers and their surroundings.
Responsible manufacturers respond with water-based solvents, new color-stabilization strategies, and new formulations to improve the bonding between sealer and concrete. Most sealers come in both water-based and petroleum-solvent-based formulas. For example, an innovative manufacturer like SureCrete Design Products will address multiple issues in a single product.
Your pool deck may share common problems, but their configuration is unique: full-day blazing sun, frequent sharp temperature fluctuations, alkaline soil, that funny runoff spot from the garage roof, lots of child swimmers, and a California address.
Therefore, a deck sealer must address UV-light, temperature-fluctuation, breathability, and safe-footing problems. Experienced professionals can provide a product that addresses your complexity of problems with balance and solid knowledge.
A BEAUTIFUL JOB
Lastly, With technical issues under good control, you can concentrate on the beauty good sealers bring to your outdoor concrete. Enhance its resemblance to stone with clear or colored sealers, from matte-finish to high-gloss. Use pigmented sealers in local natural colors to integrate your patio into its surroundings or define your pool as an oasis.
Finally, Use color to make your terrace and entry paving an extension of your house. Define your outdoor dining area, children's play yard, and pool area with the exciting colors and textures you can create with sealers. SureCrete offers custom-color mixing and can match products to the palette of major paint manufacturers.
Be sure to visit our video section on how to stain concrete. Decorative Concrete Videos
Read more Xtreme series Color Chart Surestain Color Chart Metallic Epoxy Color Chart Master Color Chart Integral Concrete Color Chart Epoxy Flakes Color Chart Eco Stain Color Chart