Waterproofing Installer – Construction Solutions NYC
The first step is to find a commercial waterproofing installer in NYC you can trust when dealing with water leaks. At DUOMIT, we have made a name for ourselves as the hard-working commercial waterproofing company in the business.
We provide top-quality commercial waterproofing services at competitive prices. We are full-service waterproofing contractors. Our mission is to find leaks at their source and fix them so they never return. To learn more about our commercial waterproofing services in New York City. We will devise a customized, cost-effective treatment plan that will address your specific circumstances. This may include any of the following services:
Basement Waterproofing
Construction Waterproofing
Exterior/Interior Waterproofing
Mold and Mildew Control
Restoration and Structural Repairs
Protect your property investment. Fill out the form today for professional waterproofing services in NY/NJ. From a contractor, you can trust at a price you can afford.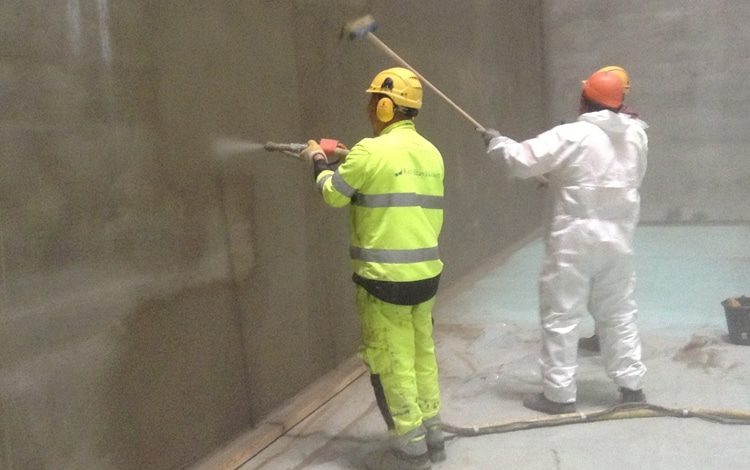 Waterproofing Basement
As a matter of fact, wet basements may not be entirely usable and might endanger the building foundation. Therefore, we offer different methods to permanently waterproof basements. First, the exterior with polymer-modified thick film sealants, mineral sealing slurries, or cold self-adhesive waterproofing membranes.
Secondly, which treats the entire external wall area and protects it from water penetration, the Applicator can install the waterproof spray inside the basement. This method is called "curtain injection."
In this situation, the Contractor can waterproof the basement from the inside without excavating the building soil. This means that the basement wall is permanently waterproof without the necessity of doing any earthwork. This waterproofing is possible even when the wall has active leaks or water problems. Subsequently, an open-diffusion restoration plaster applies after successfully repelling water.
Isolation Membrane for Decks
In general, this field poses the highest demand for water-resistant flooring materials. Therefore, it must resist the weather, be waterproof, and provide specific structural stability. In addition, members are usually comparably prominent outside the construction movements, so it is necessary to use waterproofing systems with high crack-bridging capabilities.
Protection of Tanks and Pipes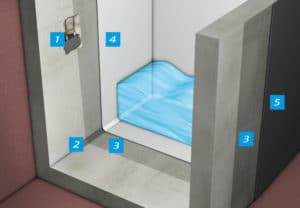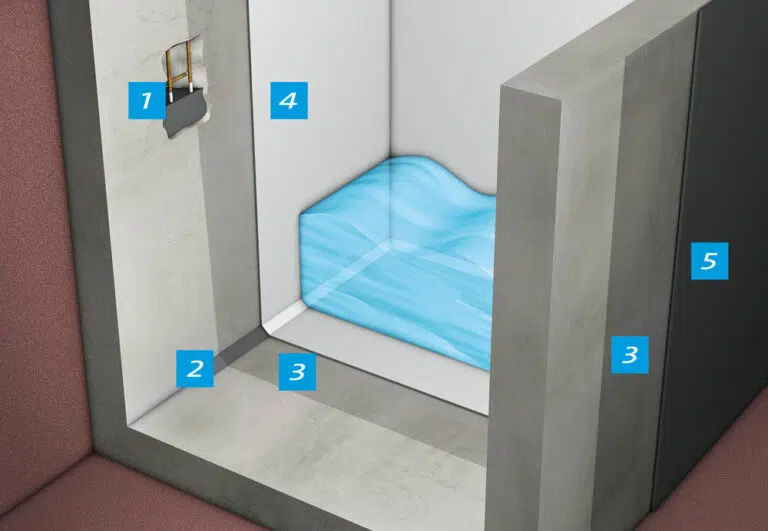 In fact, leaking sewage pipes in wastewater treatment plants leads to considerable damage, often discovered late. It is essential to mitigate the different types of damages with waterproofing systems when restoring such damage. Also, the damage analysis reveals if locally limited waterproofing of the leakage is sufficient. Or if the entire area has to be protected from chemical attacks.
Tanks and pipes in sewage systems
Water tanks
Moisture Vapor Reduction Systems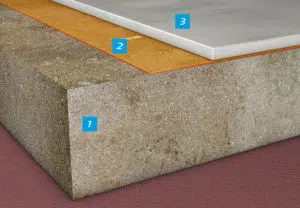 Lastly, Moisture Vapor Reduction Systems – 100% Waterproof Flooring was scientifically designed to minimize the amount of moisture coming through a concrete slab. Furthermore, it Exceeds the requirements for two-component resin-based membrane-forming moisture mitigation systems for use under resilient floor coverings (ASTM F3010-13). Air barrier and wall cavity under a laminate floor or luxury vinyl flooring.
Concrete Vapor Barrier
Moisture Vapor Reduction System under resilient flooring systems
Moisture Vapor Retarders under cementitious underlayments
Heavy-duty corrosion protection with Silicate Mortar
Corrosion protection of steel
Contact DUOMIT if you need a suitable solution. Our company is a certified waterproofing installer of different materials for commercial and residential projects.