Epoxy Flake Floor Applications
What is Epoxy Flake Floor?
What is an epoxy flake floor? Many people looking for an answer on the internet. As a matter of fact, any old concrete floor needs to be treated and renovated properly. Let's see more details in the article and find out the best options for your floor.
Epoxy Flake Floor is sometimes the only choice when you have extremely damaged concrete with many cracks and spalls. In fact, hygienic and durable epoxy flake flooring is a decorative coating, seamless, and customizable option. For example, the full broadcast of vinyl chips hides absolutely all defects and gives you a terrazzo finish with the use of a mix of color flakes.
Chemical resistant and low-maintenance seamless flooring has been successfully used in hospitals, hotels, casinos, and schools. Moreover, they are very popular in stadiums, veterinary clinics, laboratories, garage floors, and government buildings. And become a popular decorative floor finish for dining areas and retail stores.
Anti-microbial epoxy resins will guarantee exceptional protection from bacteria and withstand spills from oils, detergents, acids, and other surface contaminants. The flakes are a way to spread out the decorative outcome of the concrete surface.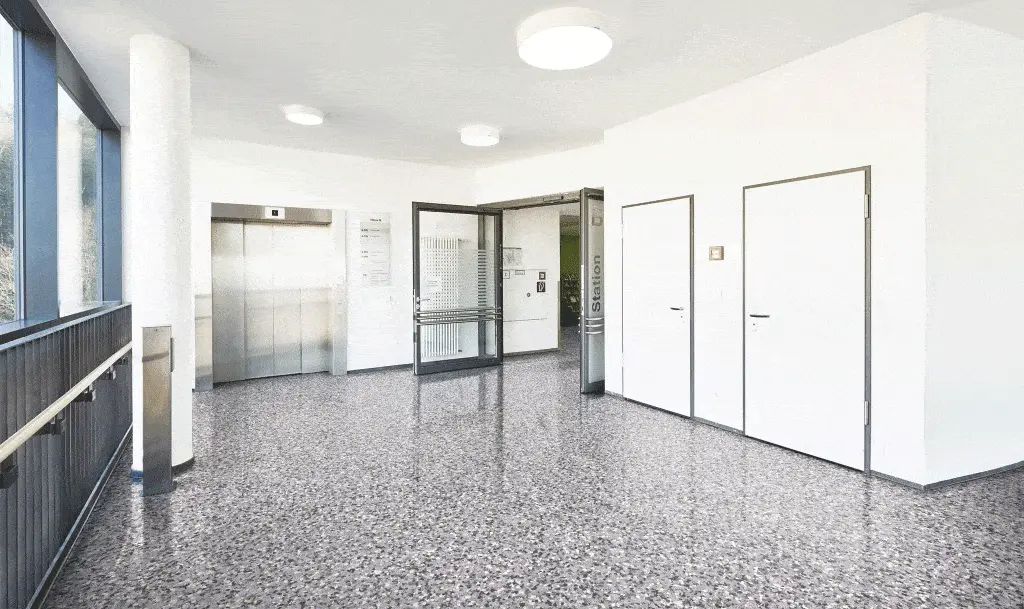 How to Apply Flakes System?
In fact, the epoxy flakes system uses 100% solids epoxy resins as a standard or metallic epoxy floor. Also, it includes an additional layer of flakes applied within the epoxy to create visually stunning one-of-a-kind floor finishes. Flakes system is a fluid-applied flooring and always consists of a satin or gloss finish. A long-wearing polyurethane topcoat is the results in a unique, slip-resistant, or smooth, durable floor. Moreover, you can always vary the floor's roughness by using a different technique of topcoat application.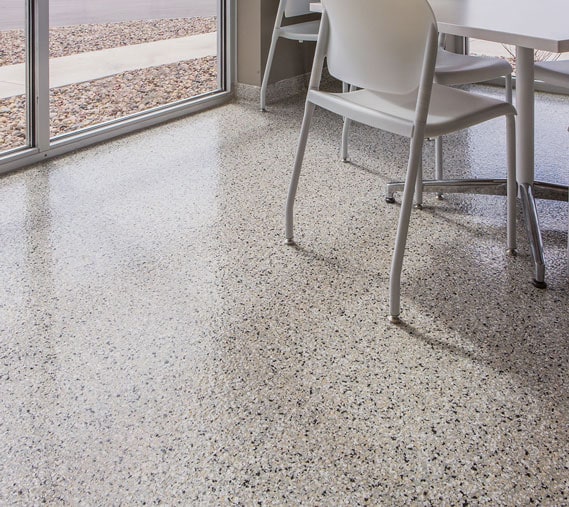 Full chip broadcast floors include layers of chips broadcast into the fresh epoxy base, then covered by a polyurethane topcoat.
These small pieces of color can help create awesome custom floor coatings with just a little design, often referred to as color chips, color flakes, or epoxy paint chips. Also, some distinct advantages to using them. They also bear to build many questions about floor coverage rates, color combinations, the size of the flakes, and how to apply them. Our clients can choose from small and macro chip sizes.
Full chip broadcast flooring may include 1 (one) solid color flakes or a combination of 2-4 colors, or even custom color flakes. The texture and color of the flake's pattern are masking dirt and debris while maintains a clean look.
This easy-to-clean flake epoxy floor helps to hide all imperfections in the subfloor.
What are the Advantages of Chips Resin Floor?
Firstly, the flakes system is a decorative resinous floor, may include a wide range of flake designs and sizes. Secondly, these high-quality, seamless floors consist of a base coat, decorative flake chips, and polyurethane topcoat. Lastly, a variety of chip colors give a terrazzo-like look with minimal cleaning and maintenance.
In general, flake flooring guarantees great adhesion to various concrete substrates. Also, it provides UV stability, superior abrasion, and chemical resistance over pre-engineered floors.
Garage Floor Epoxy Chips
In fact, for many projects, from retail to garage floors, epoxy flake floor is a perfect option to bust any old concrete to a durable, attractive, and long-lasting surface. As a result, pre-blended colored mixes of flakes with a high-quality epoxy resin for garage concrete are the best option for any professional applicator.
The colored chips blend consists of multiple colors combined with a proprietary installation process that makes every floor unique from others. Furthermore, most of the epoxy garage floor flakes supplies in 1/8-inch or 1/4-inch sizes provide you a variety of choices that you can combine or apply however design fits your concept.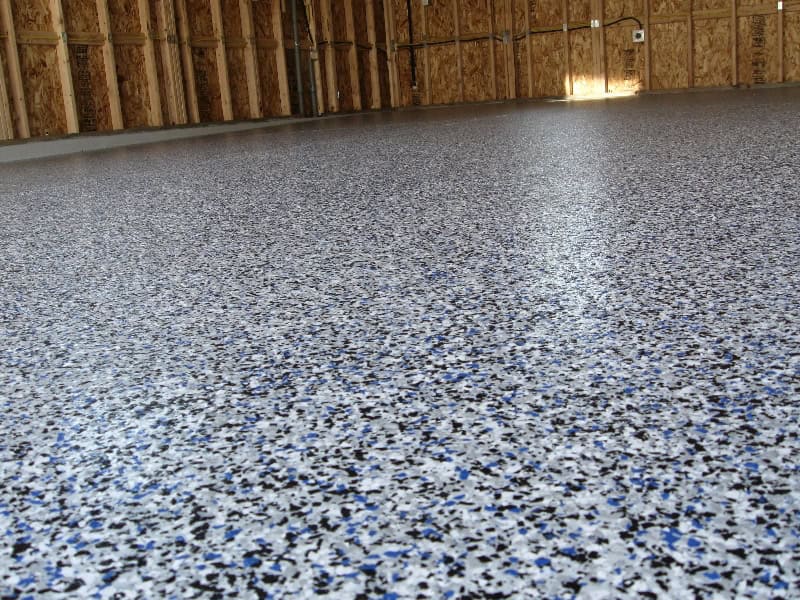 One thing to keep in mind when deciding your color choice is the color of the base coat of your floor. Tans and greys are the most popular base floor colors, but you can choose white and other colors. If you are making an office floor to full refusal, it's still important to have the same color range of the base coat as the color of flakes. We use standard Torginol rates:
Light coverage – gives 10,000 sqft from 20 lbs box
Medium coverage – gives 2,000 sqft from 20 lbs box
Heavy coverage – gives 500 sqft from 20 lbs box
Full coverage – gives 100 sqft from 20 lbs box.
Every Epoxy Floor Application Looks Like a Professional High-End Coating
In fact, most flake coatings are straightforward to make if you have enough experience and knowledge of the technology. Due to great adhesion, the epoxy flake floor has various garage concrete floors, commercial and industrial concrete surfaces. These applications include enough chips to broadcast them over the fresh high solid epoxy resin to the point of rejection.
This results in a pretty epoxy flooring that looks awesome every installation because the flakes build a uniform blanket on the entire concrete floor.
Above all, designers can enhance their high-performance environment by adding multi-colored custom floor and texture to complement any décor. Resinous flooring provides a flexible surface that deadens the noise of carts and foot traffic. An installer could achieve waterproofing options by adding a Vapor barrier layer.
Finally, Epoxy Flake Floor is sanitary and designed for commercial, retail, and institutional facilities. Growing popularity among designers, architects, and floor owners. Proven by unique properties that deliver complete customization to residential, commercial, and industrial floors with an endless texture and range of color styles.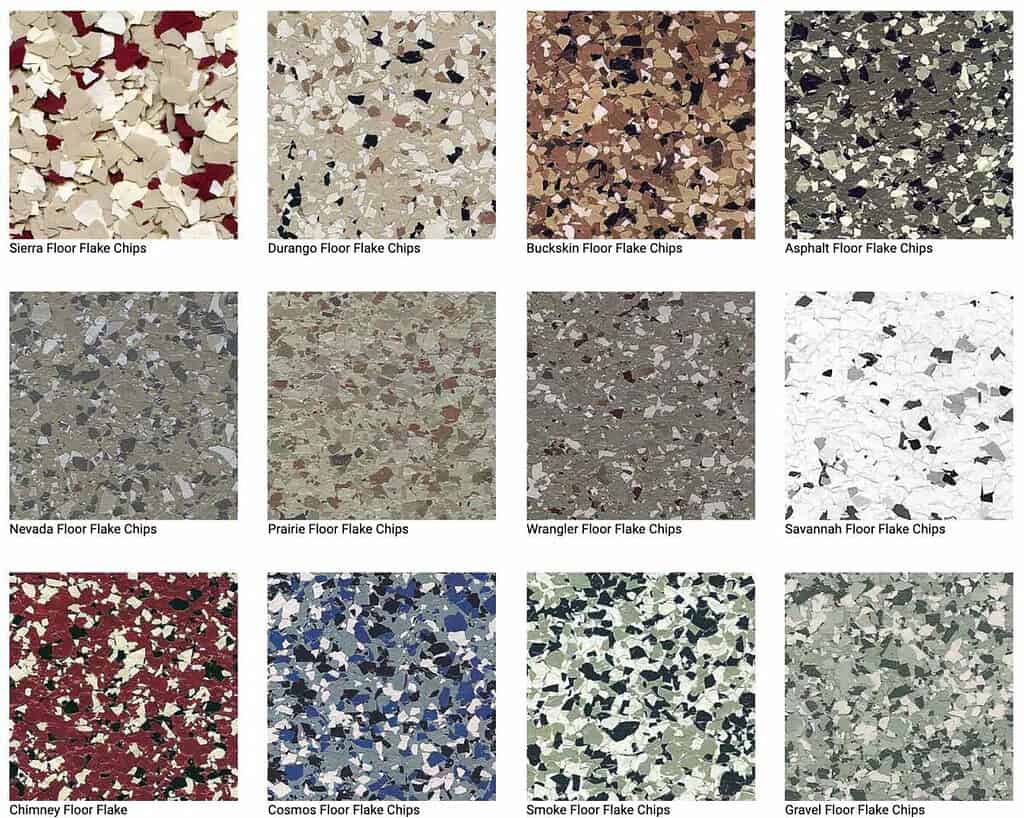 You learned how to choose a design for an epoxy floor with flakes and choose the desired effect and colors you want. Whether you are hiring a contractor to do it or doing your garage coating yourself, you can feel assured that you know the right coverage rates and color flakes for your taste.
If you liked the article, please feel free to read more interesting stuff on our blog. You may also read Garage Floor Ideas and 3D Flooring Epoxy.