Gym Flooring – Refinishing Services NYC
Why is Gym Flooring Refinishing needed? Firstly, any Gymnasium Flooring needs to be refinished every 8 to 10 years. Secondly, the gymnasium is oftentimes the focal point of any athletic facility, and the gym floor provides the most dramatic visual impact. There are several terms used to describe the process: sanding, refinishing, resurfacing.
They all involve sanding the floor down to the bare wood and applying sealer, stain, and topcoat. They all restore the luster of the older wood floor surface. It will ensure the long life and performance of the gym floor. Also, it is a great time to rebrand a gym floor's image with new logos or a new floor layout.
Furthermore, a complete hardwood floor refinishing involves sanding all of the game lines and finishing off the floor down to the raw wood. At this point, any damaged boards are subject to repair. We do the floor refinishing with a remote-controlled sanding machine, with a minimum of three cuts using a coarse, medium, and fine sandpapers.
All sanding dust and grit we remove using big industrial vacuums with HEPA filters, as required by OSHA. Then we apply an easy to clean water-based polyurethane topcoat that will finalize the technology.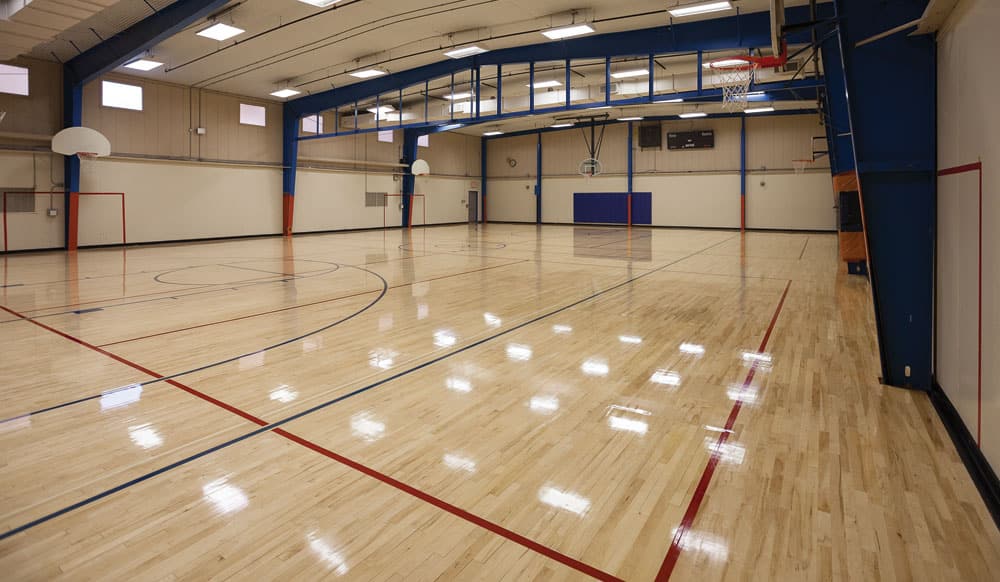 Floors for Aerobics Rooms, Volleyball Courts, Basketball Courts and Athletic Facilities
A wood floor is one of the most expensive and prestigious floor types and is an investment that a guard should protect. A wood floor maintained following a Floor Program will deliver years of beauty, performance, safety, and durability. It is also easy to follow and cost-effective. This program will extend the life of your wood floors.  
In fact, our solutions the most environmentally safe, VOC-compliant water-based wood floor coatings and high-performance, VOC compliant oil-based wood protective floor coatings on the market. We can clean, abrade, and recoat your wood floors utilizing existing equipment in your facility.
Our specialization in:
Basketball Court Refinishing
Gym Floor Screening and Recoating
School Gym Floor Resurfacing
Custom Logo Designs Gym Floor
Game Lines Gymnasium Floor Maintenance and Repairs
In general, we understand the technical needs (friction, shock absorption, vertical deformation, etc.) dictated by your floor's primary use. We also understand the importance of aesthetics – a custom floor with team colors and your logo can inspire your athletes to greatness and intimidate visiting teams!
Above all, our services guaranty a customized gymnasium flooring that matches your school/corporate colors. No matter how big or small the play area, your gym flooring matters! Therefore, we don't provide rubber mats, rubber rolls, shock-absorbing foam flooring, foam tiles, rubber floor tiles, puzzle pieces flooring mats, and interlocking tiles.
Contact the DUOMIT Now! We will ensure that you get the right sports flooring options for your gymnasium. DUOMIT provides a full line of gym flooring services throughout New Jersey and New York.