Epoxy Terrazzo Flooring – Luxury Custom Solutions
Epoxy Terrazzo Flooring is among the oldest and most flexible tenable floor options. It is defined as a composite material poured in place or precast. That consists of marble chips and/or other aggregates combined within a binder material, sealed or polished to a beautiful shine.
Today this type of flooring covers an endless group of colors. It is well known for being durable and sustainable. Surely, flexible enough to entertain designs from very simple and classic to extraordinarily intricate and complex. As a result, from the royal palaces to today's international airports, hospitals, and schools, terrazzo is a flooring canvas with infinite possibilities.
What is Epoxy Terrazzo?
Epoxy Terrazzo is a decorative floor system with endless design possibilities with a wide range of colors. Its sanitation advantages result in the improved indoor air quality of buildings such as hospitals and schools.
Epoxy terrazzo uses an epoxy matrix to bind the stones and is one of the best thin-set systems. Thus, this decorative floor uses a resin composite; it rises only 3/8 inch above the concrete slab. This means it's also lighter than other cement systems. Other great benefits include the large group of colors and pattern possibilities.
Modern stones and the founding of epoxy polymers provide even more tenable and durable systems than cement floors. In other words, we can combine post-consumer and pre-consumer recycled content with epoxy resin to create truly ageless flooring.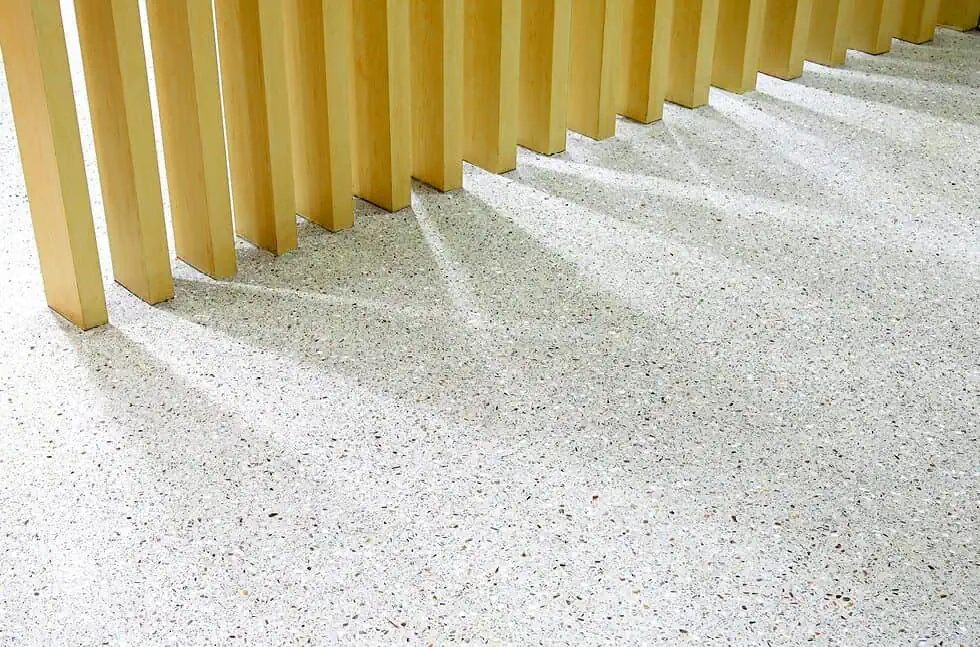 Firstly, epoxy terrazzo is a non-porous coating with no grout joints. Thus, it does not allow microbial growth and does not support the accumulation of water. Besides, the epoxy stone system absorbs water at a rate of 1/10 that of a cementitious floor, resulting in increased stain resistance. This lack of water absorption and porosity can minimize cleaning and maintenance processes.
In fact, you can't use all-purpose sealers or purely surface waxes; this can result in slippery surfaces. Also, avoid any cleaners containing crystallizing salts or acids; this can harm your floor. At the same time, it does not need daily vacuuming or steam cleaning.
What are the Benefits of Terrazzo Flooring?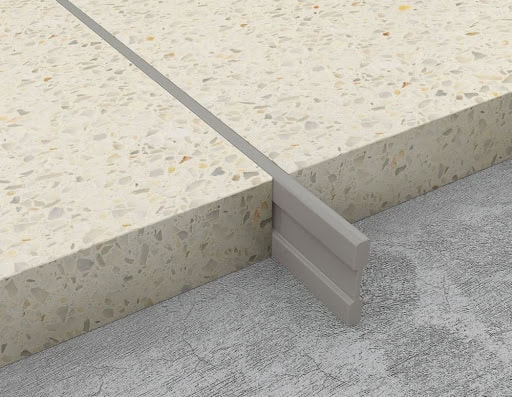 Surely, the greatest benefit of terrazzo for interior designers and architects is how flexible the material can be from an application point of view. You can create any logo, text, medallions, or virtual pattern imaginably.
Durability. They have an outstanding durability and performance record for over a thousand years. This system will last the life of the structure. In many older buildings, a contractor can restore the floors to their original luster with minimal costs of replacing the finish.
Low Maintenance. Both cement and thin-set epoxy terrazzo floors have small maintenance costs. Annual stripping and resealing can apply environmentally friendly water-based products.
Furthermore, daily routine maintenance includes dry and wet mopping, with casual spray buffing. A carpet needs daily vacuuming and periodic steam cleaning with the lowest life-cycle costs and minimum chemical resistance.
Why Terrazzo is Your Sustainable Flooring
A large community out there believes that for a material to be acknowledged as eco-friendly, it must be 100% natural. This gives epoxy terrazzo, with its resinous, synthetic matrix left out of the line. We are here to cast off some light on the matter. If you need a sustainable floor choice? Here are the facts you want to know.
The US Green Building Council has made it notably easy for us to define whether or not something is an eco-friendly option. They've created some specs called "LEED Standards."
Terrazzo installation comprises natural aggregates, recycled glass or plastic, and processed cement or epoxy binders. The binders form approximately 25%-30% of the volume of the terrazzo floors.
The rest of the floor is composed of aggregates, fillers, and pigments. At the same time, initial life cycle assessments of embodied energy emerge extremely friendly due to the endurance and low energy usage for cleaning.
Recycle Content. Some glass aggregate suppliers currently supply post-consumer recycled glass to the market. Some slab marble and granite quarries have supplies of post-industrial stone left from slab granite and marble processing. Plastic chips normally contain as much as 20% recycled plastic. Lastly, aluminum divider strips may also incorporate recycled metal.
VOC Off-Gassing. Finally, both cement-based and thin-set epoxy systems comprise zero VOC building materials. In fact, terrazzo shows little or no off-gassing over the life of the bent floor. The non-porous terrazzo finish does not support microbial growth. Nor allow moisture to accumulate, helping to maintain a mold-free environment with healthy indoor air quality.
Local Sourcing. Terrazzo Composite manufactures on-site, minimizing post-commercial waste and transportation costs. In contrast, many of the marble and ceramic floor tiles used in the United States are European or China.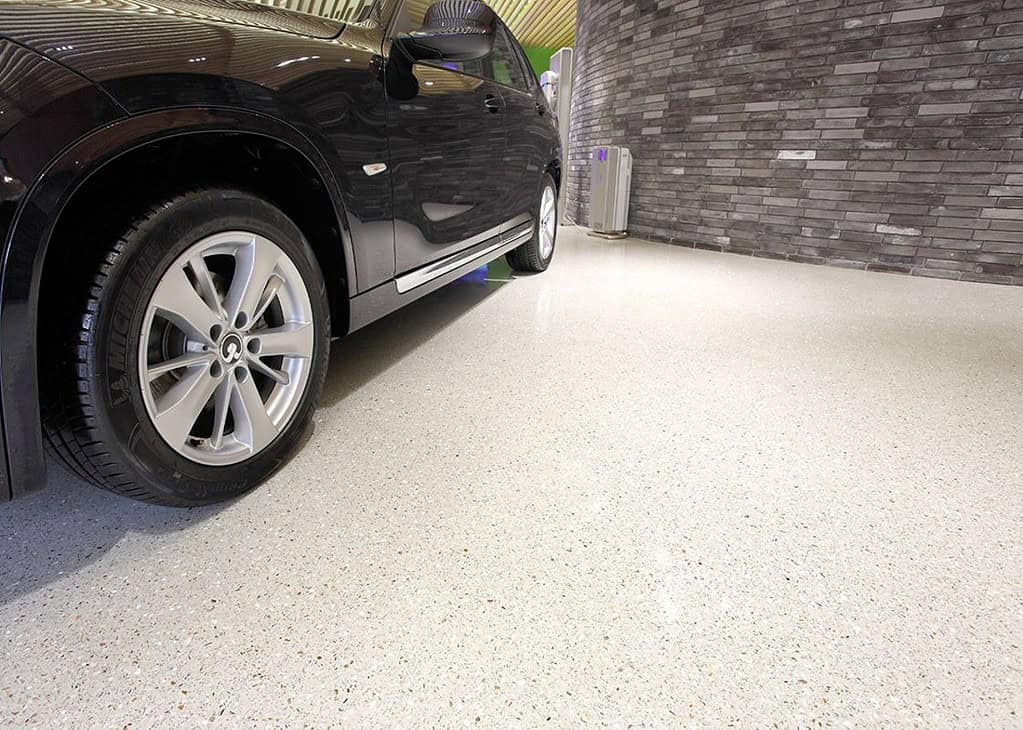 Epoxy Terrazzo Cost
At the time of specification, it is crucial to consider long-term cost-saving efficiencies because floor costs can add up to 35 times the initial installation price during the life of a commercial building.
Based on NTMA's 40-year lifecycle cost analysis of competitive floor coverings, compared with competitive floor coverings, seamless epoxy terrazzo systems performed better than their competitors.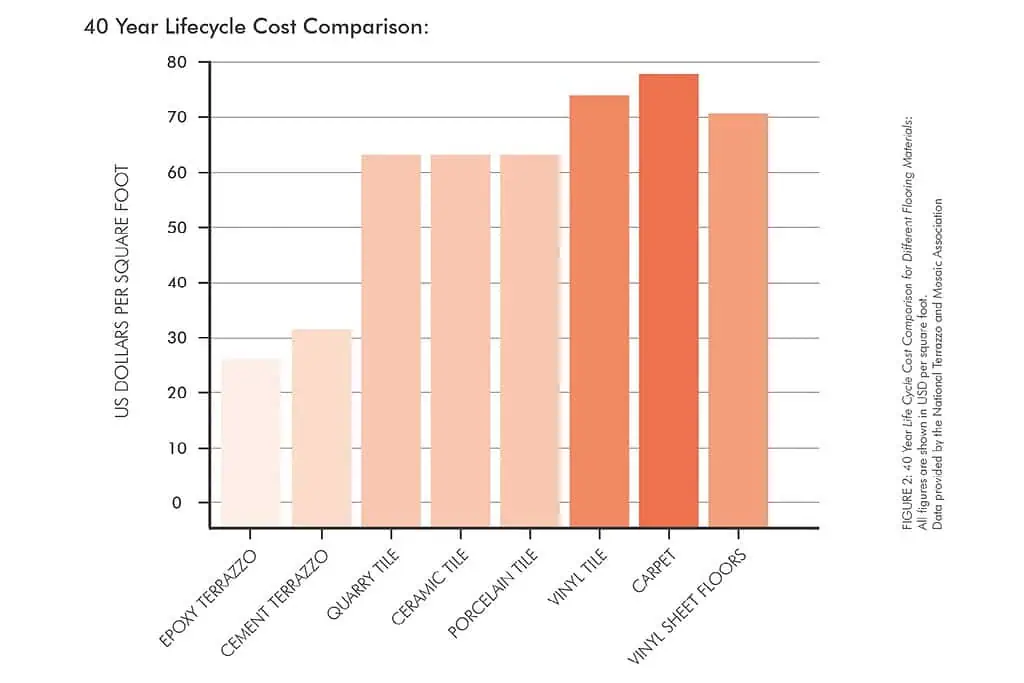 The aggregate or "chips" used in this kind of floor play a major role in how much epoxy terrazzo flooring costs. Shards of pottery glass will not be pricy, but large slabs of marble and Father of Pearl aren't cheap.
The number of aggregates can make a variation. For example, a cleaner floor that isn't fed up will be less expensive than a slab full of colored stones. If you want a custom design, you must review the cost of tools like dyes and metal dividers.
All of the above is part of the material cost, with epoxy and everything else you add to the mix. Besides, that will include a quartz pad to prep the subfloor, but it all goes down to your concrete at the end of the day.

From our experience, you can expect to pay labor costs from $20.00 to $50.00 per square foot to have epoxy terrazzo poured on-site. Well, that's a wide range. Based on many factors, the price can vary significantly from area to area.
Finally, you can expect to pay another $35.00-$75.00 per square foot for materials. As a matter of fact, every single project is different from the others. If you want pricing from a professional in your area that can tackle epoxy terrazzo, fill in the Free Estimate form.
Read also about our Quartz Flooring and How to Clean Epoxy Floor?
Pros
Flooring, General repairs & maintenance, Repair flooring
Epoxy Terrazzo Floor

SUMMARY

Professional and skilled team DUOMIT did a great job - epoxy terrazzo flooring. Respectful and customer-oriented. Highly recommend!