Epoxy Terrazzo Flooring Installers – Luxury Custom Solutions
Epoxy Terrazzo Flooring is one of the oldest and most versatile sustainable flooring options. Specifically, it is defined as a composite material poured in place or precast. Also, consisting of marble chips and/or other aggregates combined within a binder material, which is polished to a beautiful finish.
Terrazzo today covers a limitless array of colors and is known for being durable, sustainable. Surely, flexible enough to accommodate designs from very simple and classic to extremely intricate and complex. As a result, from the royal palaces to today's international airports, hospitals, and schools, terrazzo is a flooring canvas with infinite possibilities.
What is Epoxy Terrazzo?
Epoxy Terrazzo uses an epoxy matrix to bind the aggregates and is one of the best thin-set systems. Thus, this system uses a resin composite; it has a rise of only 3/8 inch above the concrete slab. This means it's also lighter than other terrazzo systems. Other great benefits include the vast array of color and pattern possibilities, durability.
Modern Terrazzo flooring systems and the advent of epoxy polymers provide even more sustainability and durability than cement terrazzo floors. In brief, with epoxy resin systems, we incorporate post-consumer and pre-consumer recycled content to create truly timeless terrazzo flooring.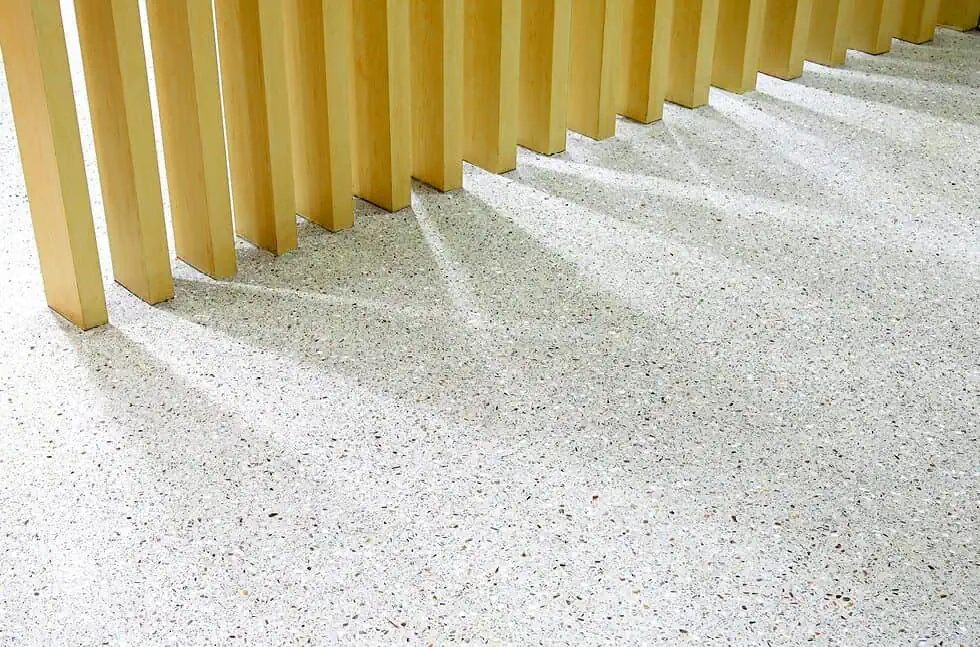 Epoxy Terrazzo is a non-porous system with no grout joints. Thus, It does not support microbial growth and does not allow the accumulation of water. Also, Terrazzo absorbs water at a rate 1/10 that of cementitious terrazzo, resulting in greatly increased stain resistance—this lack of water absorption and porosity results in only minimal cleaning processes.
Usually, without the need for the use of harsh cleaning chemicals. Unlike materials like carpeting, tile, or wood, seamless Epoxy Terrazzo is monolithic and does not contain grout joints like terrazzo tiles.
For this reason, it does not need daily vacuuming, grout cleaning, or steam cleaning. Epoxy Terrazzo is a decorative flooring system with endless design possibilities with a wide range of colors. Terrazzo's sanitation advantages result in the improved indoor air quality of buildings such as hospitals and schools.
What are the Benefits of Terrazzo Flooring?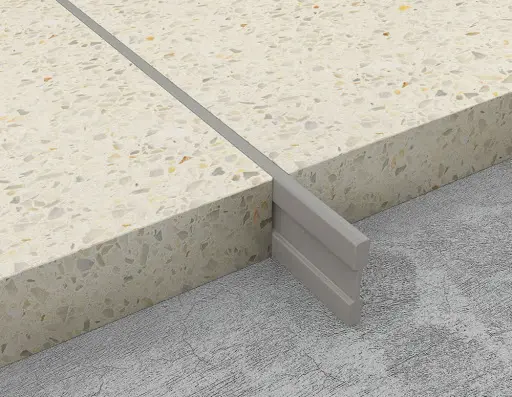 Durability. Terrazzo floors have an outstanding record of durability and performance dating back over a thousand years. The floors will typically last the life of the structure. In many older buildings, the Contractor can restore the floors to their original luster with minimal costs of replacing the finish.
Low Maintenance. Both cement and thin-set epoxy terrazzo floors have meager maintenance costs. Annual stripping and resealing can utilize environmentally friendly water-based products.
Routine maintenance includes dry and damp mopping, with an occasional spray buffing. In comparison, a carpet requires daily vacuuming and periodic steam cleaning with the lowest life-cycle costs and exceptional chemical resistance.
Composition and Embodied Energy.
Terrazzo installation is composed of naturally occurring aggregates, recycled glass or plastic, and processed cement or epoxy binders. Above all, the binders constitute approximately 25%-30% of the volume of the terrazzo floors.
The remainder of the floor is composed of aggregates, pigments, and fillers. At the same time, initial life cycle assessments of embodied energy appear extremely favorable due to the longevity and low energy usage for maintenance.
Recycle Content. Several glass aggregate suppliers are currently providing post-consumer recycled glass to the marketplace. Several slab marble and granite quarries have supplies of post-industrial stone left from slab granite and marble processing. The plastic chips actually contain as much as 20% recycled plastic. Aluminum divider strips may also incorporate recycled metal.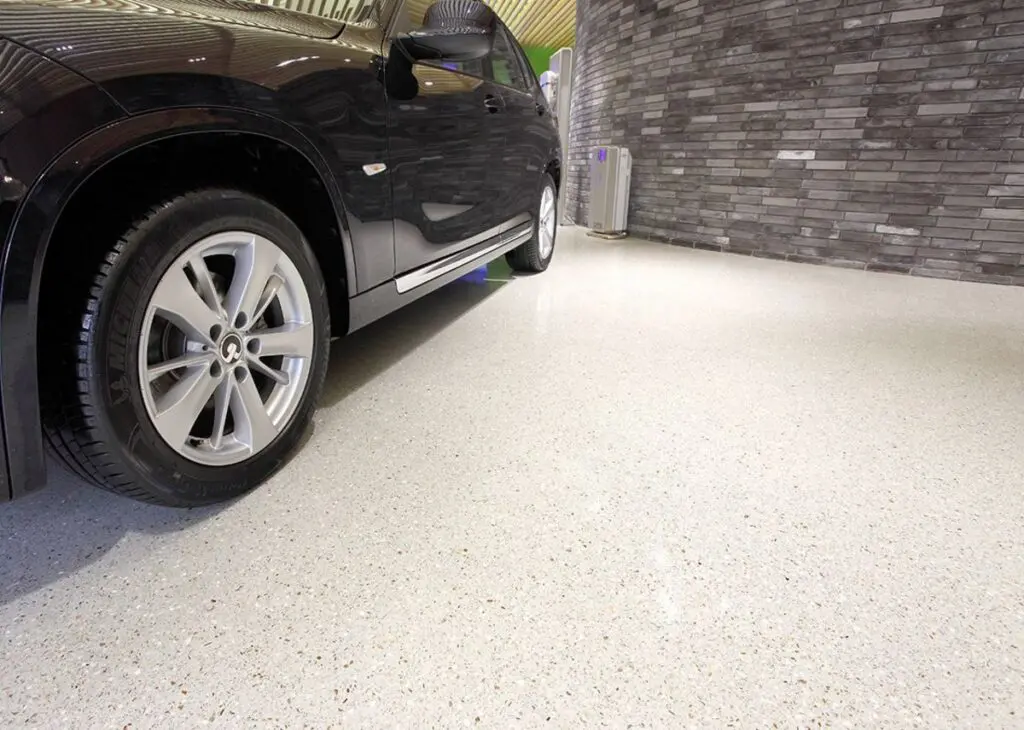 VOC Off-Gassing. Both cement-based and thin-set epoxy terrazzo systems comprise zero VOC flooring materials. In fact, terrazzo exhibits little or no off-gassing over the life of the curved floor. The non-porous terrazzo finish does not support microbial growth. Nor allow moisture to accumulate, helping to maintain a mold-free environment with improved indoor air quality.
Local Sourcing. Terrazzo composite material manufactures on-site minimizing post-commercial waste and transportation costs. In contrast, much of the marble and ceramic floor tiles in use in the United States are European or from China.