Epoxy Flooring Cleaning and Maintenance Guide
How to clean the epoxy floor? Why cleaning and maintenance of your epoxy flooring are essential? As a matter of fact, fluid-applied floors need as much attention as your red hardwood or VCT tiles. The correct maintenance and cleaning are crucial to ensure that your epoxy coating remains as attractive as possible. It will maintain its slip resistance or electrical conductivity properties and provides years of satisfaction.
In fact, right after installation and curing, you have to protect the surface temporarily. This step will prevent any damage caused by ongoing construction traffic or atypical operations within the facility. Once you complete these activities and before the floor goes into standard service, we recommend maintaining the floor with a cleaner, using the most suitable equipment for the area concerned.
As a matter of fact, epoxy coatings improves from a regular, thorough cleaning and maintenance program. All floors are becoming somewhat defaced by traffic and wear. Regular removal of dirt from the surface will prolong the life of the coating.
New Epoxy Floor Temporary Protection
Any Epoxy flooring systems typically require seven or more days to fully cure and reach their optimum wear and chemical resistance properties, depending upon curing conditions. During this period, the customer has to protect the coating by restricting traffic and covering the floor with protective paper or plywood.
Be aware that some types of Masonite boards or composite can leach a dye while wet. We do not recommend using these materials as floor protectors in wet environments.
Refinishing of Old Epoxy Floor
Some owners prefer to refinish their self-leveling epoxy floor if they become worn in heavy traffic areas or when you move the equipment from place to place of a regular maintenance program.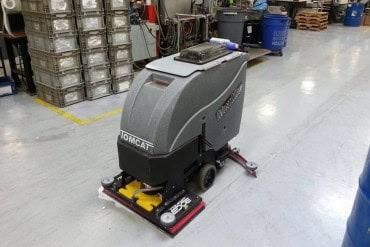 This procedure is a simple operation with most floors, involving surface preparation, plus additional finish coats to restore the original new appearance. Contact us for detailed information on refinishing. Periodic refinishing can, in some cases, be less expensive than a regular cleaning program.
How to Clean Epoxy floor – Precautions
Do not expose Epoxy flooring systems to steam or boiling water. Always test a cleaning reagent on a hidden part of the floor. Also, follow the cleaning solution manufacturer's recommended dilution directions.
Make sure any stubble brushes used are not too rigid, causing abrasion of the flooring surface. Certain sanitizing cleaners will contain corrosive chemicals. Consult the chemical resistance chart before use.
General Maintenance and Cleaning of Epoxy
The frequency of maintenance depends upon the volume and type of traffic. Flooring systems with a smooth surface are more accessible to mop and clean than flooring systems with a profiled slip resistance surface. The following recommendations are as a guide in establishing an acceptable maintenance program:
Frequently sweep or dust with a sweeping commercial compound.
When the flooring system requires mopping, wash the floor with warm water and free-rinsing, low-sussing detergent, following detergent manufacturer's directions:

Wet mop the solution onto the floor.
Scrub to loosen the dirt.

Power scrubbing is a must for high-profile or slip-resistant floors. Be cautious, however, that the bristles are not so stiff that they will scuff the floor.
Smooth surface floors can usually be mopped clean with wringer systems and rag mops.
The slip-resistant flooring will need a scrubbing brush, such as a power sprayer or a deck brush, to remove dirt from the profiled surface.

Flush off dirty wash water with squeegee or wet vacuum, and discard per detergent manufacturer's directions. This step is especially critical for profiled or slip-resistant floors. Dirt will redeposit on the floor if you don't remove wash water.
Do not re-use soil water.

Rinse thoroughly with clean, free running water, where space permits. Pick up with dry/wet vacuum or squeegee it to drain to remove all residual detergent and soil.
Keep your surfaces dirt and grit free
In fact, the variety of cleaning bactericides and chemicals available is comprehensive; therefore, making suitable selections can be confusing. The correct choice of chemicals is essential, and you might seek a specialist's advice. Some cleaners can affect the color, gloss, or texture of your flooring system. We highly recommend testing each cleaner in a small area to understand better how the cleaner performs and affects the flooring system.
Importantly, in areas subject to oil spillage, fats, foods, etc., schedule thorough and frequent cleanings. A simple hot cleaning reagent often sets the fat residue into suspension until the cleaner cools down the fat re-crystallizes, leaving a slippery film on the surface. As a precaution, use a free rinsing soap with enough water.
A slip-resistant finish is available for most epoxy flooring systems. As the degree of friction increases, however, the ease of cleaning decreases, necessitating a more extensive cleaning regime.
Important Cleaning Tips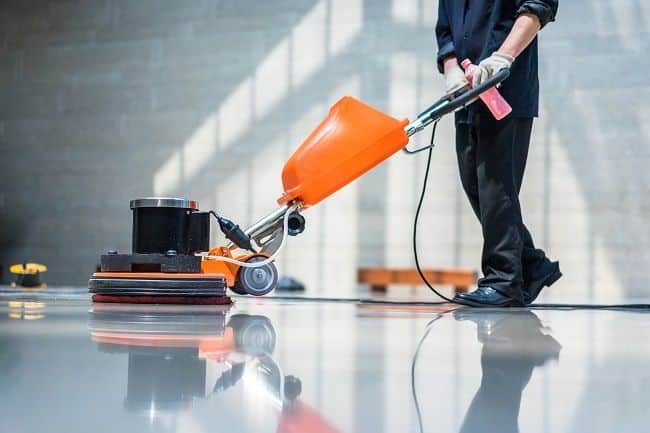 Temporary floor protection after the installation process will prevent early damage.
The initial cleaning procedures are necessary to achieve the maximum aesthetic value of flooring.
Extra floor care during equipment installation will avoid any floor damage.
A sacrificial film of floor finish can deliver as an easily maintained first line of defense. However, it should never be working where ESD coatings are installed.
Regular maintenance with the appropriate cleaning detergents will prolong the original appearance of the floor.
Workers should clean up spills as soon as possible to avoid damaging the floor surface.
Beware that operational or industrial processes do not impart a non-conductive film on ESD floors. The presence of spray lubricants, paints, or silicone release agents will impact the performance of the coating system.
Prevention of damage through best practices in use and maintenance will prolong the performance, durability, and attractiveness of floors.
With care, your epoxy system will provide you with years of hard wear while retaining its beautiful appearance.
clean epoxy flooring – Tips
Surely, the best cleaning method to clean epoxy flooring is diluted ammonia. All you need is to mix a gallon of hot water with 2-3 Oz of ammonia and use a microfiber mop. What you don't want to do is use any vinegar or citric acid-containing cleaning detergents. Citrus acid or vinegar is going to reduce the glossiness of the epoxy finish.
It would be best to prevent using soap cleaners that might leave a cloudy film on the epoxy surface. This build-up will also make your epoxy more slippery, especially when wet. If the epoxy flooring cultivates stains or rust spots, they should be gently scrubbed with a soft scrub pad or soft deck brush.
Moreover, do not use harsh chemicals or abrasives, and try to skip scrubbing too hard. Lastly, Simple Green or Tri-sodium phosphate (TSP) are your best friends and the most effective options for grease stains.
Finally, if you decided to go with any of these options or need a consultancy, request a Free Estimate from your Flooring Contractors Near Me. Read more about Concrete polishing or Epoxy Basement Floor, and Polished Concrete Floor Maintenance Guide. DUOMIT is your concrete floor solution provider in New York City.