Concrete floors Cons, Pros & Ideas
Unique finishes make concrete floors low-cost and still attractive, but they have certain requirements.
As a matter of fact, concrete floors are the best alternative to VCT, carpet, tile, wood, or marble flooring. Also, you can stain nearly any color on concrete floors, resurface it in various finishes and textures, and polish it for a smooth, glossy look. Plus, concrete is strong, easy to clean, and long-lasting.
Find concrete flooring contractors near me.
If your business or home has concrete subfloors, transforming them and applying a decorative finish is an environmentally friendly and affordable option. Learn more below.
Concrete Floor Cons
Concrete is hard for the foot, a feeling that some find unpleasant. But at the same time, it's also strong — a dropped glass clearly won't survive.  Comfy rugs can increase convenience if there are elderly folks or small children in the household.
In below-ground basements, moisture moving up from the ground may make concrete improperly wet and damage any surface finish, such as paint. A proper vapor barrier helps to protect it from any outside problems areas like poor soil drainage or leaky gutters.
Like it or not, even high-quality concrete may be cracking over time. That happens due to the large expanse that has to endure moisture, temperature, and settling changes. Patching materials and colored cement paste can help hide cracks.
While concrete itself is a "green," inert material, making cement produces carbon dioxide and needs a lot of energy. Concrete has the most integral energy compared to other building materials, such as wood, steel, and glass.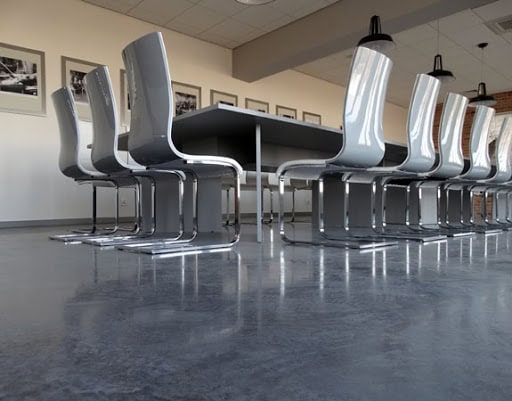 Concrete Floor Pros
The same features that make concrete floors so strong also make them easy to clean. A correctly sealed concrete floor eliminates stains, dirt, spills, and hard impacts. A little sweeping and damp mopping is all that's required to keep them looking like new.
Present techniques for concrete finishing push forward concrete floors from prosaic to deluxe. Integral colors adding while fresh concrete is mixing give concrete a wide range of funky colors. Surface treatments such as concrete stains, acid etch stains, and simple paint turn dull concrete into beautiful finishes. Also, you can use stamps or rubber stencils to make textured concrete. A stained concrete finish can resemble natural stone, tiles, and brick if you combine the right coloring agents and dyes!
For concrete poured over an existing slab or new construction, you have the option to add radiant heating — hot water pipes or electrical cables embedded in the concrete to create comfy and warm floors.
How to clean concrete floor
Cleaning indoor concrete floors is very different from outdoor ones. Here's how to remove mildew and dirt without damaging your floor.
Concrete is durable, fairly resistant to stains, and easy to clean. However, it's porous and will soak up spills and dirt, thus will need regular cleaning. Here's how to do it, both indoors and out.
A power wash is the simplest way to clean outdoor concrete. You can blast away mildew and dirt. Just spray the surface with a detergent and use a brush to scrub it into the pours. All you need to do is put on gloves and turn on the power washer. Furthermore, move the wand from side to side, as you would do when mopping a floor.
How to remove stains from concrete?
In fact, there are few options. Use some commercial solutions or ammonia and bleach. You can mix hydrogen peroxide and flour into a paste kind of peanut butter for an everyday solution. Then, just spread it over the stain and leave it overnight. The last step is to use a plastic-edged scraper to remove it.
Another option is to use Trisodium phosphate (TSP) mixed with water. Scrubb it gently onto the stain with a nylon bristle brush to remove tough stains. Rinse with a hose of water afterward.
Indoor concrete cleaning
For indoor polished concrete floors, you'll need to take a mild approach to clean concrete. Read our maintenance and cleaning guide for interior concrete floors. You'll use water mixed with a cleaner and a mop. Normally, good cleaners include liquid dish detergent or castile soap and stone cleaners. Mix a cleaner, apply to the floor with a mop, and then rinse with a mop dipped in clean water.
To get your concrete floors dustproof and resistant to stains, you can apply a concrete sealer. That could be a challenging DIY project or hire a pro. If you know how to clean concrete floors, you will keep them in your workshop and house looking good as new.
Read also about Concrete Floor Grinding and How to clean epoxy floor. Also, learn more about different Styles of Polished Concrete floors.