Pool Decks Concrete Coatings – Allow Safe Summer Fun
If you are thinking about your concrete pool deck upgrade this year, this post will show you absolutely the best solution for your needs. You might own a very dull pool deck that has been overused or is too unattractive to look at anymore!
As a matter of fact, most of the existing decks are in cracks or damages and need a serious remodel. Moreover, you are deciding on what kinds of pool deck appearance you desire for your new pool. We deliver your very best outside flooring with a natural look.
Concrete coating with natural stones or quartz sand is what you choose. These coatings bond to existing concrete so much better than others, and its slip resistance is on the highest safety level. That is important if you have kids or older people in your family.
Aesthetically you will certainly enjoy its beauty. The whole performance of the pool deck will considerably improve by installing natural stone coatings.
People will want to stay on the concrete deck longer due to the ambiance. Therefore, if you own a hotel or recreation area with an outdoor bar poolside, you will be getting more sales of both drinks and food!
Decks Recreational Safety
In fact, some of the existing solutions for the pool deck need to be refreshed every few years, but not natural stones. These are highly durable coatings that are absolutely UV resistant. Thus your deck surface will never fade or change the color.
You or your interior designer can extend decorating all the way to the pool deck. The designer will find a myriad of colors available to meet your expectations.
After all, your pool deck will be visible from inside the house, so blending is rather outstanding. A natural look is fantastic eye candy for outside areas as well.
In fact, river rock gravel floors keep blending naturally with exterior ambiance. Moreover, keeping outdoor areas attractive and being easy to maintain.
If you now have a wood decking encircling your backyard area, you know how much attention it requires. We are not only talking about repeated sanding as well as needs to re-seal frequently. Thus, you understand the costs you will be saving by using the natural stone concrete coating.
Pool Deck Ideas – Endless Possibilities
Now that we have covered the amazing elegance of your deck, as well as the slip resistance properties. You need to know that Silikal Naturals is completely nonporous, making maintenance and care a breeze.
And the most valuable, it will resist mildew and other stains. Talking of breeze, you will find out that stone concrete coatings make the surfaces, like concrete, much cooler to the touch of bare feet, something you will find truly enjoyable.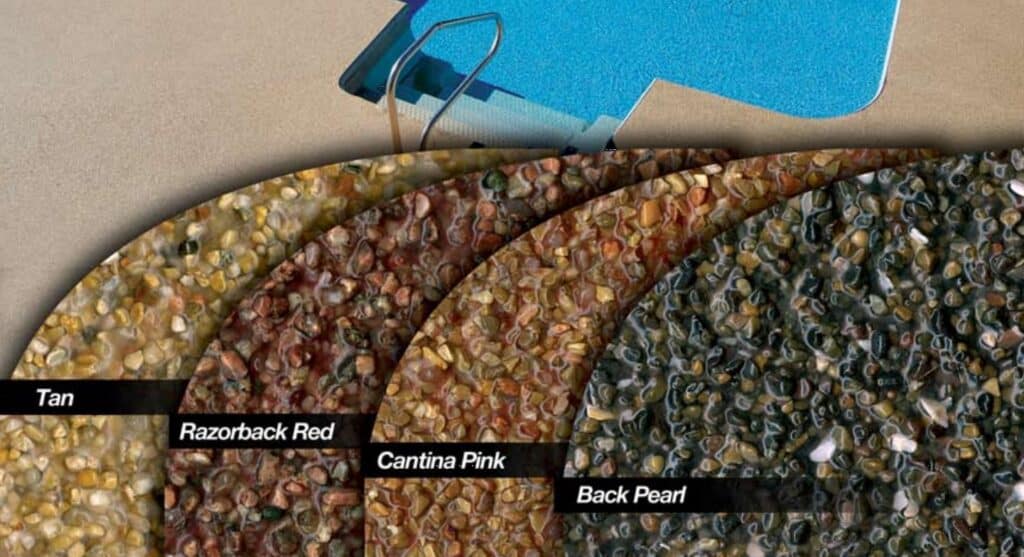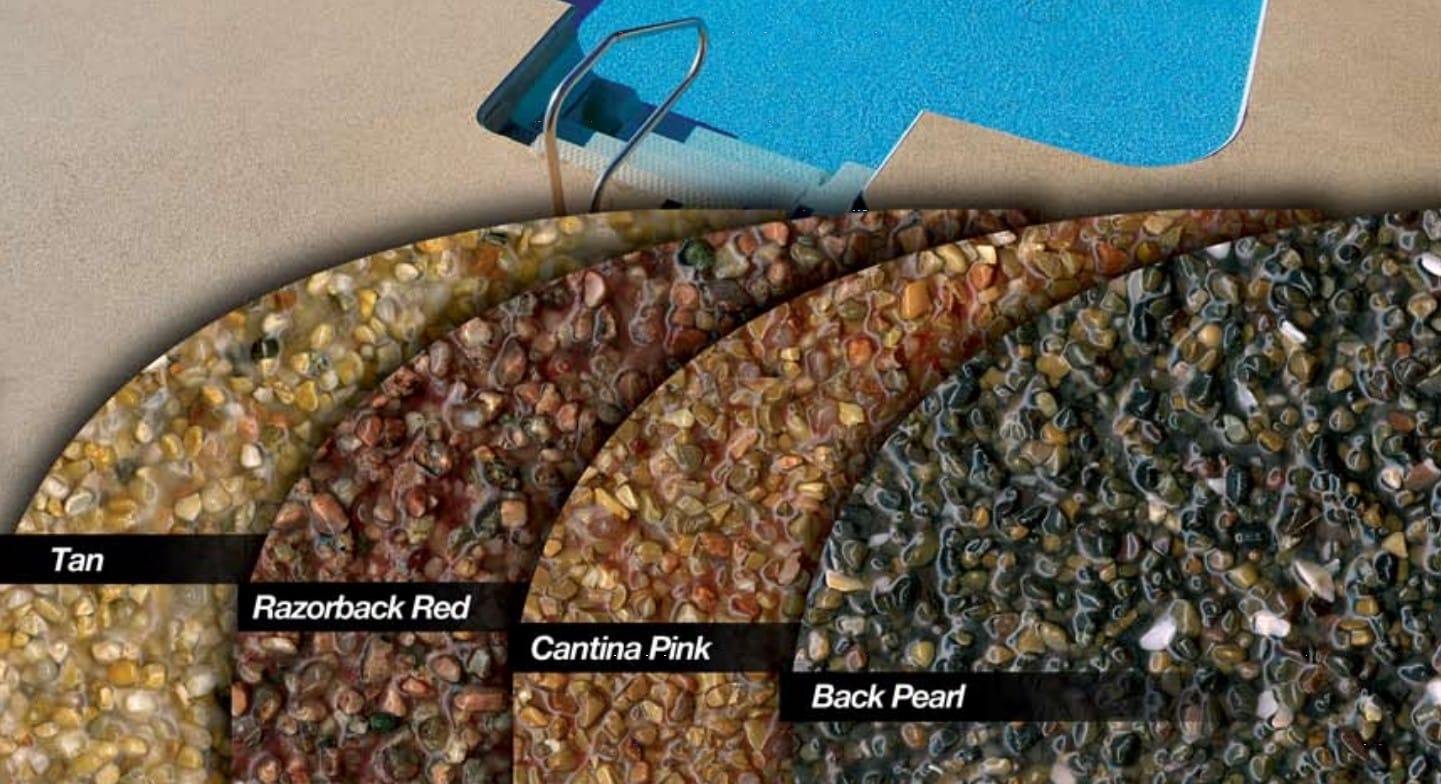 Ignoring the fact that these decks are concrete pool decks, the amazing variety of designs available is truly exceptional. A completely functional and highly affordable pool deck is easily achievable. One has only to look at our pool deck ideas about concrete to determine the fact.
The use of outdoor decorative concrete now creates an absolutely great environment that cannot be matched. Their descriptions are marked by the adjectives as exceptional, attractive, exotic and even romantic. Think that all of this is possible due to nothing more than natural stones concrete coatings!
Read more about Polished Concrete Floors and Concrete Stain Colors. Request Free Estimate from DUOMIT – your Concrete Contractors Near Me.