What is Metallic Epoxy Floor?
Metallic Epoxy Floor is a special Next Generation decorative epoxy coating blend of metallic colored powder and clear high-solid epoxy resin to create elegance and style effects. The concrete surface coated with a metallic epoxy floor is a very exotic-looking coating solution. These metallic additives continue to flow through the epoxy as it gets dry, creating a pearlescent effect, and the lava flows – no two metallic epoxy floors are alike.
Metallic Epoxy Floor utilizes a clear 100% solids epoxy base, and whatever metallic multiple colors powder colors the translucent floors are being used. These coatings create a deep-looking and glossy surface that contains a variety of colors and visual effects.
Surely, some of them have a beautiful three-dimensional appearance that gives the illusion of craters, ripples, and swirling rivers of metallic-looking plasma. In a metallic epoxy system, metallic pigments are dispersed in various binders to create seamless flooring. So, these floors are perfect for nightclubs, automotive showrooms, retail establishments, residential interiors, and respectable boutiques.
Moreover, a shiny surface and topcoat with a mirrored effect make for a fantastic commercial workspace coatings product. This brushed black floor will look fantastic in any office or other retail workspaces with a modern interior and furniture. It goes great with black, as well as with wooden surfaces.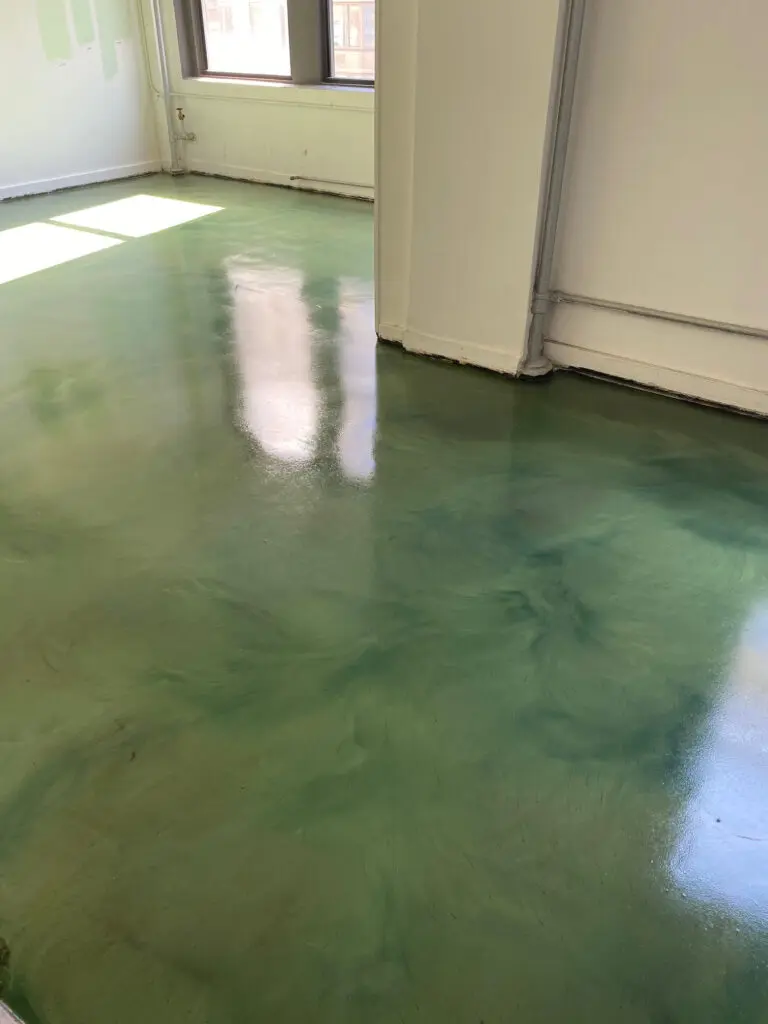 How durable is metallic epoxy Coating?
Firstly, besides the attractive looks, an epoxy pure metallic system is also known for its durability and abrasion resistance. The process of installation is artistic and provides a variety of applications, and cleaning is straightforward. The dirt will never get into it and never give you trouble while cleaning. Your floor will always be spotless with minimal effort for maintenance.
Secondly, the shiny reflection gives it a glamor that will increase the professional feeling you get in your workspace that you can't get with standard epoxy floor paint. Lastly, the first step in the room with this kind of flooring system will leave everyone breathless and wonder what other surprises you may have for them, and this looks very close to 3D flooring.
How much does metallic epoxy floor cost?
Especially, Metallic epoxy, should not be compared with a basic epoxy flake or solid color epoxy flooring that has a high-performance industrial look.
In brief, Metallic epoxy floor coatings range from $7 to $12 per square foot, depending on size, surface condition, and project location.
What are the pros of metallics?
Unique Design. Each metallic epoxy job is unique and amazing. The applicator cannot duplicate the effects achieved with different pigments with any other coating methods. There is no right or wrong technique.
Emphasize your office. Lava Flowing Metallic effects are unique in their own way, and a metallic epoxy floor coating is never wrong. One might not look as good as the other, but that is where creativity comes in.
Durable. The polyurethane topcoat offers the best scratch and UV-resistant layer for metallic coatings.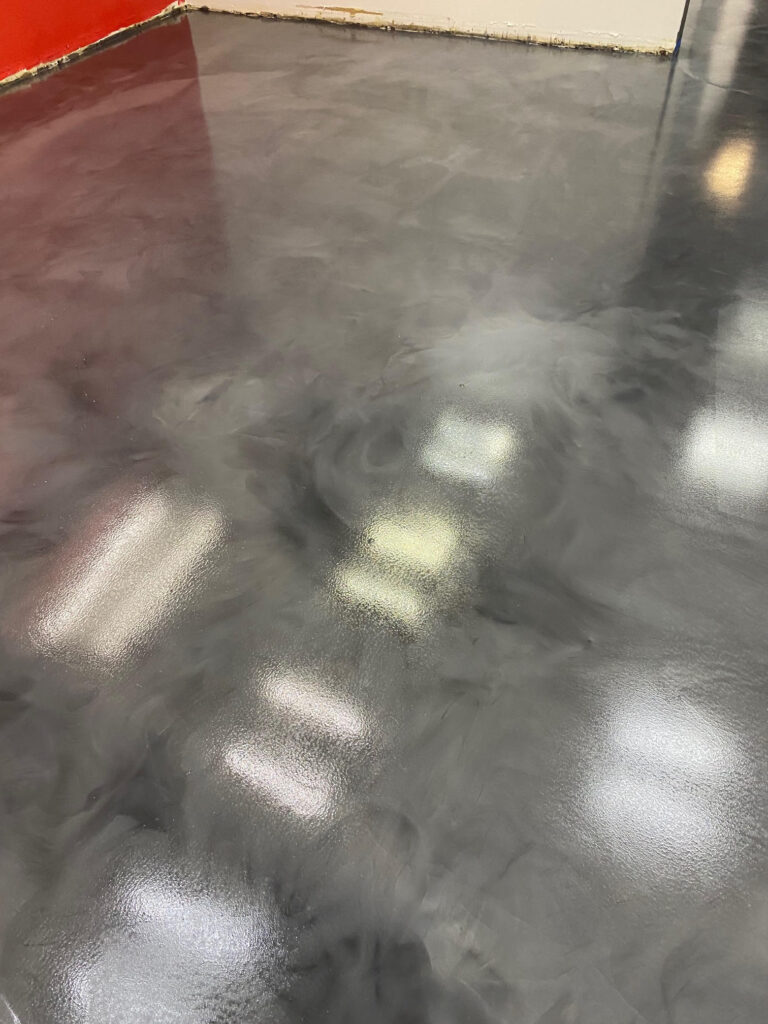 Decorative Epoxy – Handcrafted Masterpiece
In fact, because no two metallic floors will ever be alike, we never do a sample board for clients. So, a customer can only choose different pigments and colors, and everything else is the artistic work of designer applicators.
The greatest thing about these incredible floors is they are only as good as the installer's artistic ability. We've tested that any more than 3 colors become too muddy and busy. We do the job only using one or two colors, but it is available if you would like a third.
Metallic Epoxy Pigments Color Chart
Above all, our applicators each have their own ways of applying metallic, so we stress to potential customers that it's not a system they can easily shop around for pricing. If you like our work, it's time to make your floor our way! Another installer won't be able to replicate that artwork. Request a Free Estimate today from DUOMIT!