GlobMarble Overlays – Decorative Flooring
GlobMarble supplies materials for decorative flooring including concrete countertop and casting pourable mixes- high early strength pre-blended two-component mix designs. GlobMarble Overlays and lightweight architectural concrete mixes. GFRC – glass fiber reinforced sprayable concrete coat with a fiber-rich backing mix. Food safe water-based and solvent-based concrete sealers, decorative metallic epoxy pigments, and a wide range of epoxy flakes mixes. High-solid epoxy for base coat, moisture barriers, and high solids polyurethanes for a topcoat.
Metallic Epoxy
Primer Coats:

High Solid Colored Epoxy GE-C100 Primer/Coating – two-component 100% solids epoxy pigmented seal coat that is used for applications where a thick build solid color floor topcoat is needed or as a primer coat for a metallic epoxy system
Water-Based Epoxy GE-C10W Primer/Coating – 2 component: 53% solids colored and 45% clear solids clear by weight, low VOC floor coating system that is used in a many application: a long-lasting and resistant colored layer that can be used for a primer coat for epoxy flakes and metallics, and for old and new concrete floors.

Metallic Epoxy Coating: Metallic Epoxy Pigments mixed with Epoxy Floor Coating GE-100 Clear. 100% Solids – two-component 100% solids epoxy seal coat that is used for a wide variety of applications such as 3D metallic systems or thick build for decorative concrete materials.
Top Coats:

Polyaspartic Sealer GP-20 – two-component 85-90% solids aliphatic – high gloss polyaspartic sealer designed for application over interior concrete, cement-based overlays, or as a top finish coat on epoxy systems. This material can be used as the base coat and the top coat over paint chip decorative broadcasts or colored sand broadcasts to provide an infinite array of color schemes or patterns.
High Performance (Water-Based) Polyurethane GU-20W – two-component, non-yellowing, high-gloss aliphatic polyurethane water-based floor sealer for concrete, cement-based overlays. GU-20W water-based polyurethane is ideal as a top finish coat on epoxy systems that exhibits excellent characteristics for abrasion resistance, chemical resistance, flexibility, weathering, and UV stability.
High Solid High Wear Polyurethane Sealer With Aggregate – GU-30. Semi-Gloss – three-component, non-yellowing, high solids, aliphatic polyurethane floor sealer for concrete & cement-based overlays.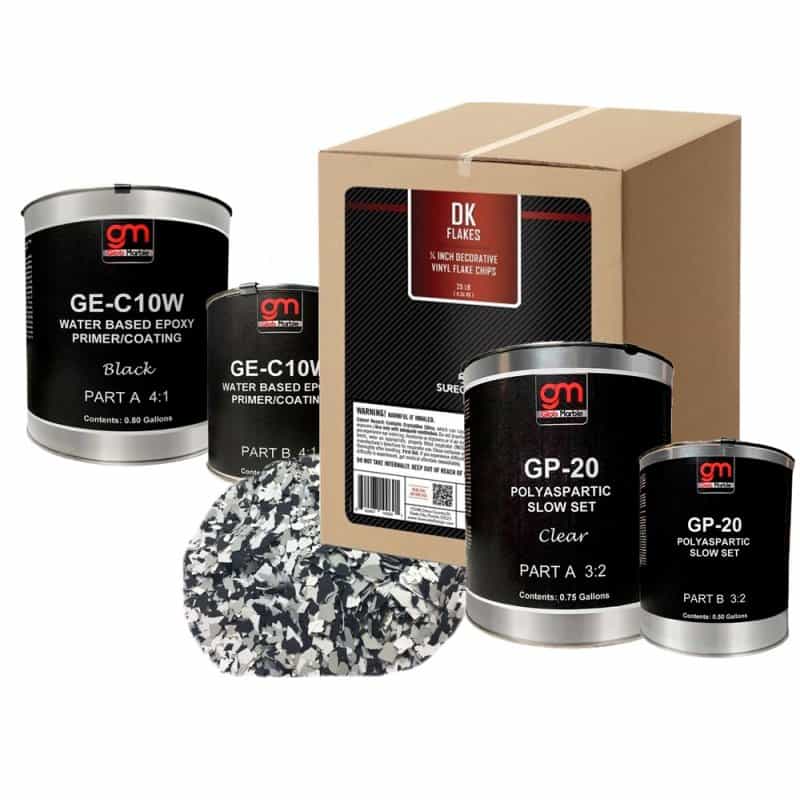 Epoxy Flakes
Colors and Stains
Concrete Eco-Stain – an exciting alternative to typical reactive acid stains. There are no acids or harmful chemicals integrated into its design. Since no chemical reaction takes place, there is no extended waiting time for the color to reach full development. Cement substitutes will not affect color, unlike reactive acid stains that are dependent upon alkalinity to create a chemical reaction. Eco-Stains from SureCrete in blues & greens will not spot black in the presence of moisture and are UV stable.
Concrete Accent Color WB Stain – water-based, non-hazardous, zero VOC, UV stable coloring agent that bonds to any textured concrete or cement-based surface including overlays.