Traffic Coating – Parking Deck Traffic Topping
Traffic coating, or as they are also called, Traffic Topping, always contacts cars that need to be resistant to a list of chemical substances like oil, fuel, and acids. This isn't all a car parking garage flooring has to face. The traffic topping has to be slip-resistant and non-yellowing (UV resistant) in a parking deck.
In fact, there are garage traffic coatings that can handle all of it quickly. We use hard-wearing, solvent-free membrane resin, and high-performance chemical-resistant coatings. They provide the best level of protection of flooring for the automotive sector.
Moreover, traffic coatings are attractive, bright, durable, and easy to clean. Also, our commercial epoxy flooring will free you from the hassles and worries of stains and spills, peeling, and chipping. They address concerns about oils, dirt, heavy traffic, or cleaning products like detergents and turpentine.
Whether it's a new car parking building or a home garage, we use the same durable products and installation techniques. We make them both look and feel a world away from the dark and damaged concrete floors.
Garage Traffic Topping
Garage floor coatings provide more than just a tough finish. Our waterproofing toppings cosmetically enhance car parks, exceptionally durable and hard-wearing.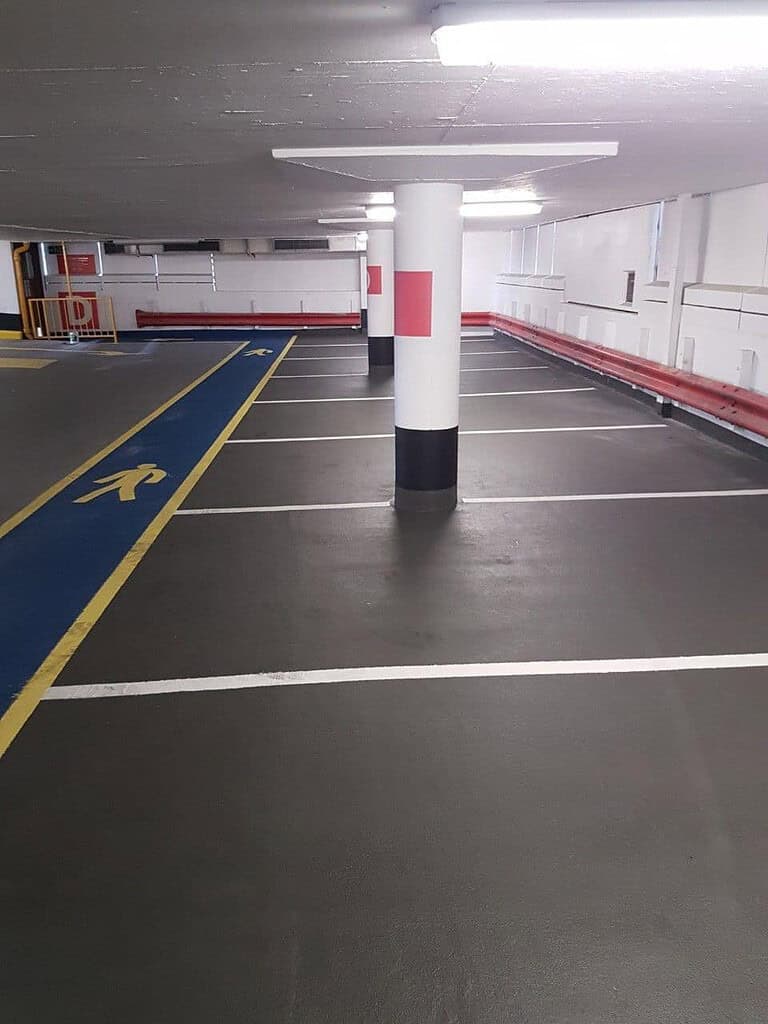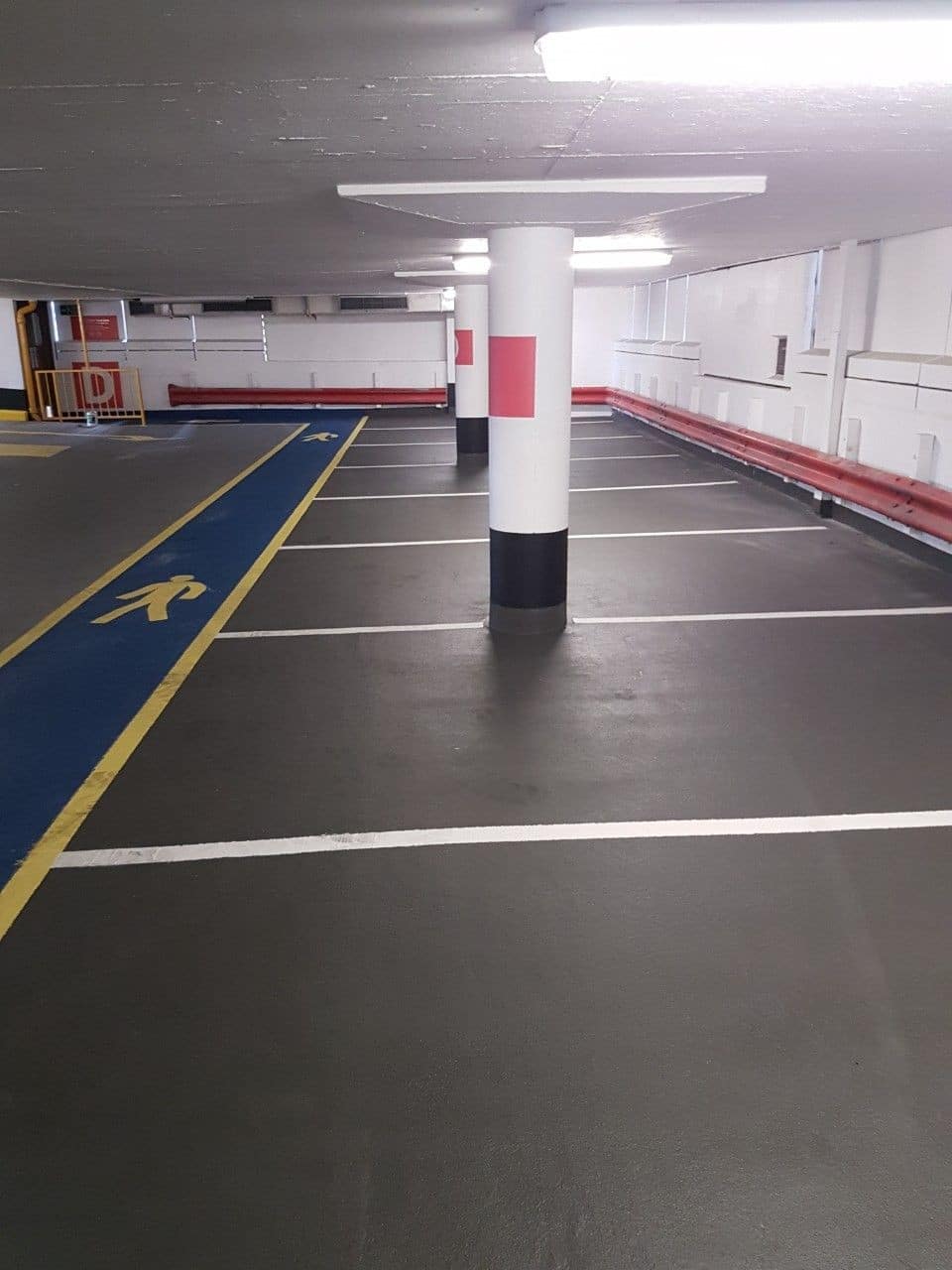 It has a highly accredited fire rating when the surface is prepped correctly. A modified polyurethane traffic topping system sticks to the concrete, creating a character that resists cracking and frustrating pealing.
Moreover, it looks great and is easy to clean. It will resist high wear loads. Reactive resin floors resist oil spillage, petrol, and severe chemical and solvent attacks, including battery acid. Also, traffic coating consists of a base coat or membrane, a heavy-duty intermediate coat, and a topcoat.
Furthermore, this unique waterproofing system's primary goal is high adhesion, abrasion resistance, extreme impact, and remarkable chemical stability.
As a result, the elastomeric properties of the components enable the complete system to give and work with the concrete slab, bridging the shrinkage cracks.
Our solutions are backed by the promise of a comprehensive warranty and fast installation time. It provides an effective and convenient method of protecting new parking decks and enhancing the aging of concrete structures.
Parking Deck Traffic Coating
Parking deck topping is a cold-applied coating system that waterproofs concrete slabs and protects other levels underneath water damage. Additionally, the system will protect the concrete from the damaging effects of deicing salts, chemicals, gasoline, water, oils, and anti-freeze.
Lastly, parking traffic coatings are the best investment that pays off quickly through the ease of cleaning and low maintenance requirements. The concrete surface is waterproof, and a high-pressure power wash will be your best friend when cleaning is necessary. In such an easy way, your project will not require hard maintenance work.
Which Traffic Topping System is the Best Fit?
Despite a similar lifecycle cost and service life, all traffic coating systems have different maintenance cycles and performance issues. Neither of the methods could perfectly fit any project. Engineers, architects, and specifiers who answer correctly can help customers make the right decisions.
Make sure you control:
testing concrete moisture content before application;
verify material thickness after installation;
field-testing of the bond and the strength.
Finally, we use well-known manufacturers' materials from SIKA, BASF, Vulkem – Tremco. If you have a refurbishment or a new-build flooring project in your car park environment and need advice from a flooring expert – contact DUOMIT today. We'd be happy to assist!
Read more about Polished Concrete Floors and Concrete Stain Colors. Request Free Estimate from DUOMIT – your Concrete Contractors Near Me.