What is the Best Garage Floor Finish?
What are your best garage floor options and ideas? If you're ready to slightly boost your garage color and style, one of the most noticeable places to start is with the garage floor. Typical concrete garage floors are functional. However, there's always a chance to make them even more comfortable and attractive.
There are many ideas for making a tidy garage floor, and many people have trouble choosing the right option for them. A practical way to begin choosing a new garage floor is to split the options into two groups: coverings and coatings. Here are the four trendy in 2021 options to consider.
Coverings: Mats and Tiles
Floor coverings are installed on top of the garage floor and can be relocated or completely removed when needed. Many different coverings could be used on top of your garage floor, but if you want to achieve a durable and wear-resistant surface, a product manufactured specifically to withstand all garage routines is required. Floor mats and tiles are the right products.
Coatings: Epoxy and Paint
Floor coatings are building materials that adhere directly to the concrete slab and are roller or brush applied in a thin coat. Epoxy and Paint are the leading options in this group.
1. Garage Floor Tiles
First of the best garage floor options is tiles. There is a range of interlocking garage floor tiles. These flexible tiles are easy to install and remove.
Pros
One of the main advantages of flexible garage floor tiles is that they are much comfortable standing and walking on over long periods of time.
These tiles have interlocking edges and form a little raised floor with enough strength to support cars.
Floor tiles are great options where a concrete slab is cracked in a hard to repair or deeply stained.
Cons
Floor Tiles can be expensive if the area is large
Seams are not watertight, so liquids can drain underneath and issue mold and mildew
Not UV-stable, possible discoloration.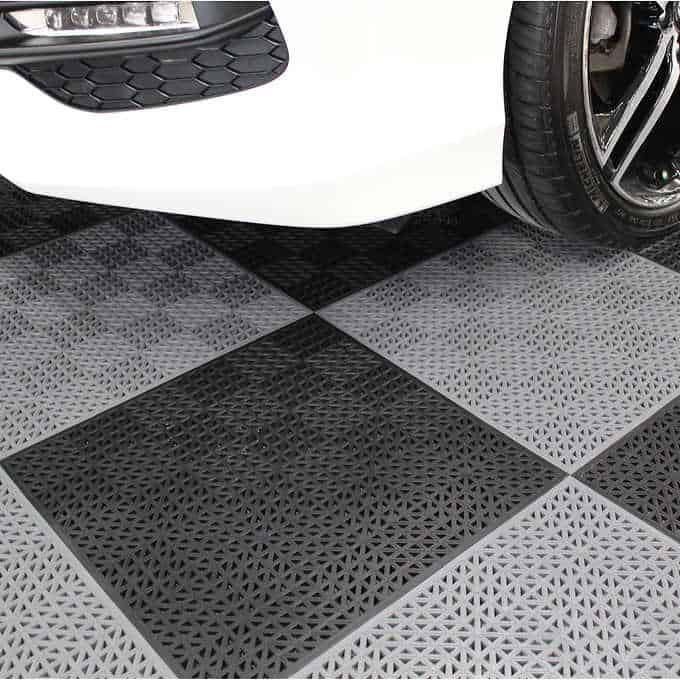 2. Garage Floor Mats
The second of the best garage floor options are mats. Floor Mats are waterproof and strictly designed to be recyclable and lightweight. Floor Mats will not scratch, crack, peel or curl like other coverings.
Pros
The most affordable floor coverings and Easiest to install
Common installation time 30 minutes per garage, No adhesive necessary
Unroll it and Can drive on it immediately
Cons
Fewer customizations available than garage tile
All surface imperfections will be visible through
Less durable than other coverings
3. Garage Floor Paint
Third of the best garage floor options is paint. If your garage floor is deeply stained with grease, oil ​and rust, you can easily refresh it by applying concrete floor paint.
Pros
The cheapest garage floor option
Available in a variety of latex-based or oil-based colors
Easy to apply – no special equipment or experience required
Cons
Long Dry time in high humidity
Vulnerable to chemicals (oil, gasoline, etc.)
Re-coating is needed every other year.
4. Garage Floor Epoxy
Another great garage floor option is Garage Floor Epoxy. True epoxy coatings harden by means of a chemical reaction between a resin and hardener. Genuine epoxy floor creates a durable and attractive, long-lasting coating for the garage.
Pros
Well priced alternative, durable – withstands heavy traffic
Waterproof, chemical- and Stain-resistant
Easy to clean
Customizable with a variety of colors/flakes mixes/metallic pigments
Cons
It can't be used where moisture comes up from the ground
Perfectly prepared concrete before application
Power washing or Acid washing not enough for proper epoxy adhesion
All holes, cracks, and other imperfections could be visible on the final product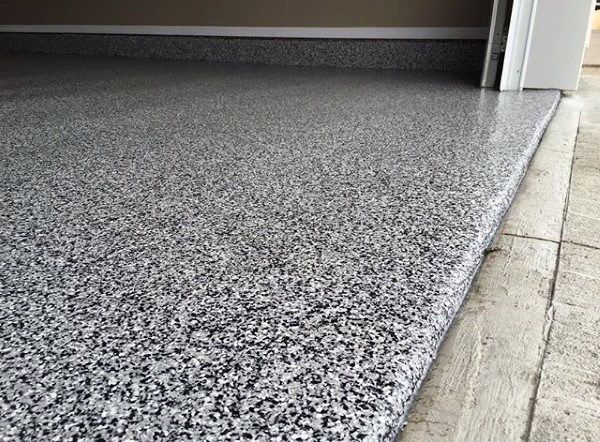 If you want to make your garage more comfortable, you should consider insulating the concrete slab. Always hire a pro if you need guaranteed results with an extended warranty. Please request a Free Estimate if you need our assistance.