What is the Best Exterior Concrete Paint?
What is the Best Exterior Concrete Paint? Here you will find New Trends of 2021.
Outdoor concrete surfaces can face lots of wear and aggressive impact over time, but a fresh coat of paint can provide a temporary concrete makeover solution.
The most effective concrete paint or stain conceals discolorations and signs of impact. In comparison, providing protection that extends the concrete surface's lifetime.
Exterior concrete paint can not fully withstand all climatic and mechanical loadings compared to professional coatings and other cementitious solutions that Professionals specifically developed to protect outdoor concrete.
What Exterior Paint is Used on Concrete?
Surely, a person applies paint to an outside concrete floor to protect it against water damage or peeling. Not every kind of paint is suitable for concrete and patios.
The most effective paints for concrete contain binders allowing coatings to expand with concrete because of their properties to shrink.
Concrete porch and patio paints are frequently low-luster acrylic latex paints hiding all imperfections. Also, resist fading, scuffing, cracking, and UV damage. Epoxy-based commercial grade paints provide high durability and stain resistance, making them ideal for garage or patio floors. Masonry paints are a perfect cover for brick and other masonry applications but also provide effective concrete protection.
This type of paint will not last longer than specially designed professional coatings. Our recommendation to DIY users is to avoid using exterior house paints on concrete as they tend to crack and peel.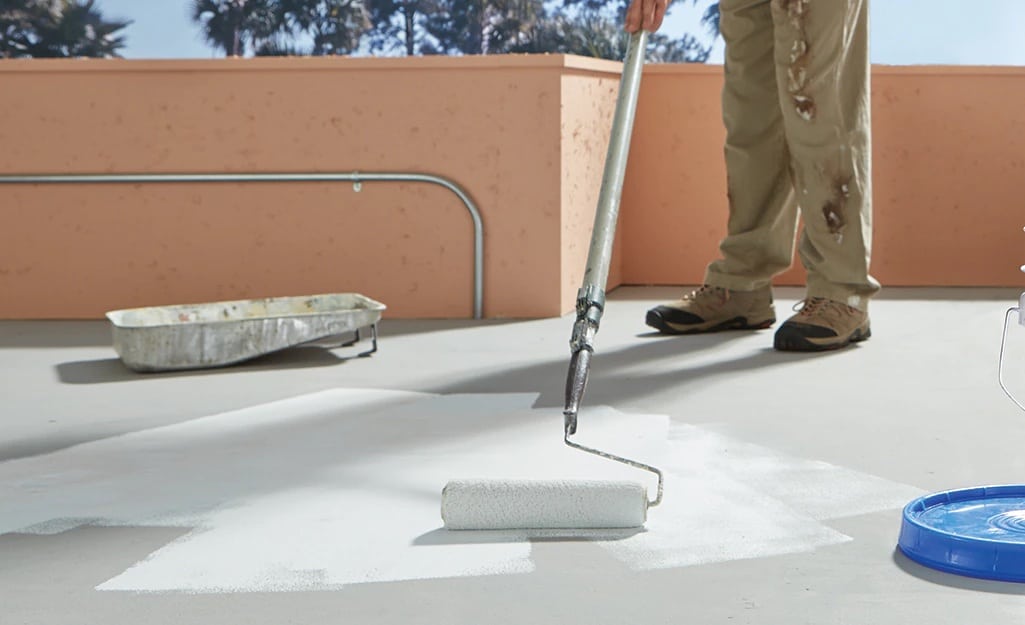 Optional Concrete Paint for Patios
If your concrete porch, walkways, or patio show wear and tear, one of the options temporarily protect it by applying acrylic latex floor paint with a roller. Low-luster acrylic water-base paint is intended for top durability that resists peeling, fading, and other damage while hiding imperfections.
The most effective concrete paint for patios will feature an enamel finish that resists mold and mildew growth. It should maintain a pristine, stylish appearance despite wet or humid conditions. Expect 1-gallon of acrylic latex porch paint to hide up to 400-square feet of imperfections. It works only for a low-budget project if you are willing to install a quality finish that will stay for years—our recommendation is to use an experienced concrete contractor with proper flooring technology.
Quality Paint for Concrete Floors
In fact, many residential customers would prefer to do a floor in the garage with a stain, trying to breathe a new life into the old concrete floor. For garages and concrete floors that often encounter tires, vehicles, and outdoor power equipment, choose high-performance, high solids epoxy floor coatings that resist hot tire impact and aggressive chemical spills (oil, gasoline, salt).
Above all, the most effective coatings for concrete floors have to be highly proof against chemicals, oil, and gasoline. They will reduce the necessity for maintenance on floors that are hard to wash. Not all concrete paints will provide a durable satin finish, which resists scuffing, fading, cracking, peeling, and blistering. Making it ideal for garage floors, driveways, basement flooring, porches, and shed foundations.
Moreover, the epoxy flakes system will be more efficient and offer a wider range of colors than concrete paint. It will perfectly fit the garage floors that receive higher levels of damage, tear, and warmth. Even though epoxy flakes coatings are simple, it needs to meet a list of criteria. Furthermore, you will need – surface prep, high-quality materials, experienced personnel, and quality equipment to achieve the best possible result.
Save your money, hire professionals!