Dairy Flooring – Solutions For the Dairy And Milk Industry
Dairy and cheese facilities have harsh conditions for flooring. These include thermal shock, heavy impact, corrosion, damp conditions, and traffic. Most dairy floorings are seamless urethane cement developed for the dairy industry.
The application process requires large experience. For example, DUOMIT has over 15 years of food-grade flooring experience in food processing plants. In addition, our competency includes specification assistance, expert consulting, application, and an exclusive warranty!
Additional services include slopes, floor drains, coves, and curbs. We can even apply flooring over solid tile or brick in many cases.
Urethane industrial flooring excels in typical dairy conditions, including thermal shock and thermal cycling, mechanical abuse from punishing impact and traffic, and the heavy impact of chemicals, including sanitizing bacterial attack and wet conditions.
Repairing and renovating existing flooring
A short range of products can renovate significantly damaged or degraded floors in dairies and milk processing facilities.
For renovation purposes, the Dur-A-Flex system can work together to strengthen systems and repair products. These will enable the facility to return to its original project condition before applying a new floor.
To reduce construction time, cementitious urethane installation can start on new concrete within 3-5 days (depending on temperature), keeping production downtime to a minimum.
Dairy Flooring material options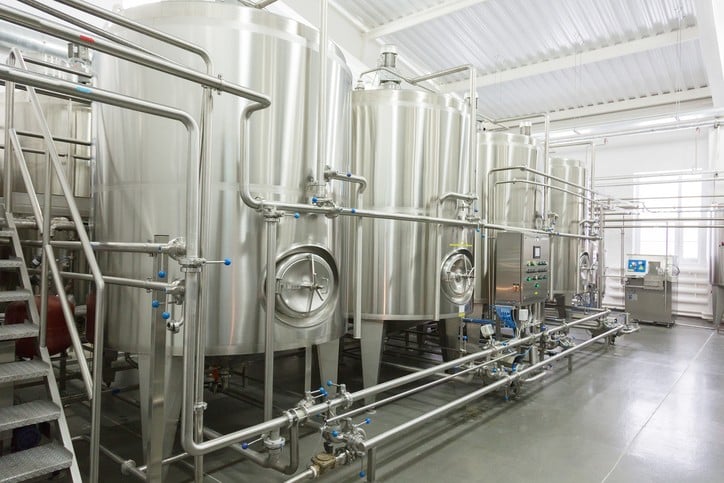 There are many food-safe floor options to choose from for your milk plant. Also, note that urethane and epoxy floors are not the same. Don't be confused. Epoxy flooring looks the same as urethanes but does not last in wet processing areas.
UC systems are water-based, 3/16 to 1/4 inch, high-build floors. The materials are odor-free. As a result, milk processors need not worry about odor getting into the products during application. The flooring is moisture tolerant, which allows installation over damp concrete. The clients should minimize water leaks as much as possible during the application. And the great news – materials cure down to 35 degrees F.
Fast Turnaround Dairy Flooring
We offer optional top coatings, which have a 4-hour complete cure. It is great that only after 4 hours will it be ready for heavy traffic and chemical cleaning. In some cases, brick or tile removal is unnecessary due to its solid base and good adhesion to the subfloor.
Turn key dairy flooring
A highly experienced crew can low down labor and install larger areas quickly. As a result, the typical system is cost-effective, with an excellent return on investment at $15 to 20 per sq foot (depending on conditions and size of the job).
Sanitary flooring for audits and inspections
The UC flooring helps your plant meet strict quality guidelines mandated by the government. The seamless sanitary flooring is compliant with FDA and FSIS inspections. It also meets certification requirements for IFS, FSSC 22000, and BRC. It is USDA-approved flooring and meets GFSI guidelines for SQF approval. This thick, non-porous floor finish is easy to clean. This will be the last floor you shall ever need to install to comply with all food safety inspections. You will pass your audits with flying colors!

Cleaning and Antimicrobial Properties
The food-safe flooring doesn't promote the growth of bacteria. Instead, the antimicrobial additive within the system inhibits the growth of bacteria. Along with a coating that is easy to clean, the antimicrobial properties provide extra protection against pathogens such as listeria. In addition, the seamless poured floor has no joints to collect dirt. Thus, it can also serve as cleanroom flooring for ultra-clean RTE areas.
Thermal shock floors in dairies
Typical conditions in dairy facilities may be at all extremes:
cold conditions in the coolers,
warm conditions in the processing and intake side.
This creates a potential for thermal cycling and thermal shock in the floors for all plant areas. Originally, the old-school approach would install brick flooring since brick handles the thermal shock very well.
On the other hand, Epoxy flooring is sensitive to thermal shock. It handles live steam and hot wash down the floors while running hot wash downs in coolers. It is a 'go' under tanks, around legs of equipment, and in other areas with low clearance.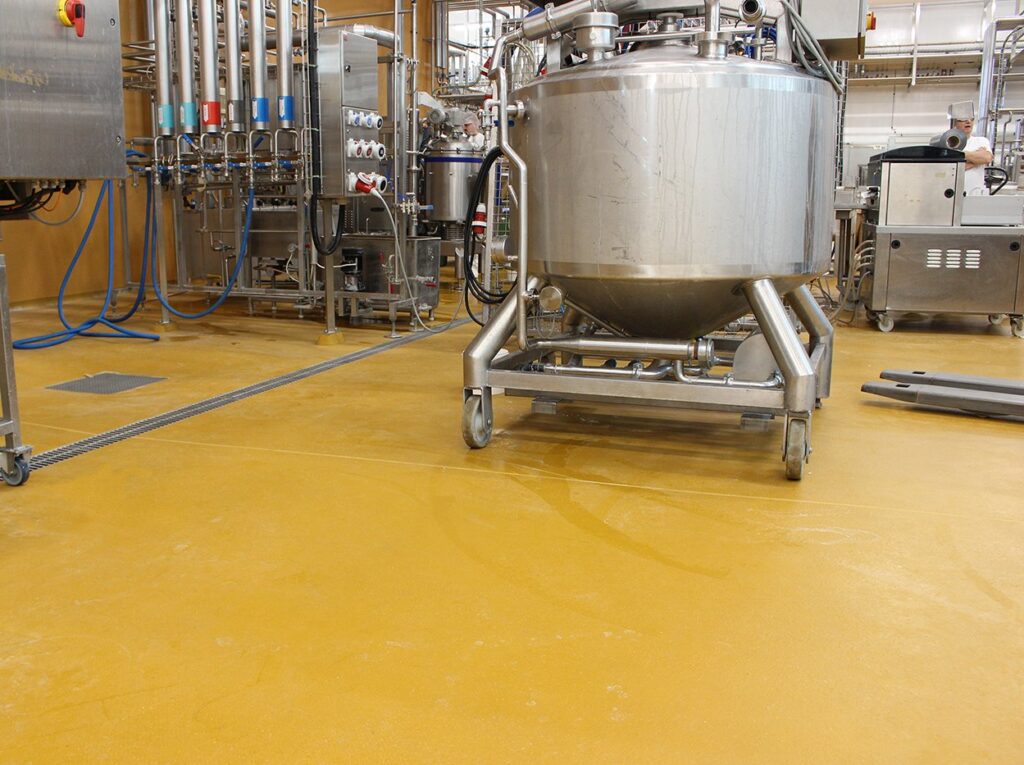 Chemical-resistant milk production flooring
Milk processing floors are exposed to alkaline chemical cleaners and aggressive acids. The UC flooring handles corrosive acids such as phosphoric and nitric at high concentrations in processing and chemical storage areas. Additionally, milk and other products flow down on the floor, forming acid byproducts that can damage concrete. The UC flooring protects your concrete from chemicals and oils while handling impact and abrasion in contrast to epoxy, acrylic, and other seamless floorings.
Permanent Non-slip texture dairy floors
Wet cooler flooring can bring a slip issue, leading to severe injuries and lawsuits. Urethane cement floors provide the best slip resistance for the life of the flooring. The anti-slip additive is "built-in" through the entire thickness of the coating. A textured floor surface can boost productivity and increase worker morale. Additionally, textures can provide an optimum combination of slip resistance and cleanability. This is especially valuable in loading docks where crates must be manually slid across the floors.
Contact a project specialist to discuss your specific needs. If you like the info, read about cleaning epoxy floors. Then, request your Free Estimate today.