What is Shop Floor?
All automotive industry facilities need a shop floor fluid-applied to withstand the weight of automobiles and other transport vehicles daily.
Shop Floor is a polyurethane, epoxy, and similar fluid-applied system installed to create a strong, virtually seamless, solid surface. To minimize vulnerabilities wherein uncoated concrete would eventually begin to chip, scratch, or crumble.
With the heavy machinery used in certain automotive industry settings, the flooring coating system must possess exceptional tensile and compressive strength. Plus, outstanding abrasion resistance and the ability to withstand impact mechanics inadvertently drop small tools, or items fall from forklifts.
Service Flooring
From the showroom floor to the assembly line and every place in between. Manufacturing Facilities, Sales, and Repair departments usually installing concrete floor systems to handle the automotive industry's unique demands. Concrete slabs alone are not enough to withstand the wear and tear of servicing motor vehicles. Easy scratching is a result of contact with hot tires. Provide a porous surface that absorbs spilled liquids, leaving behind stains and, over time, can produce a fine dust that can be harmful if inhaled.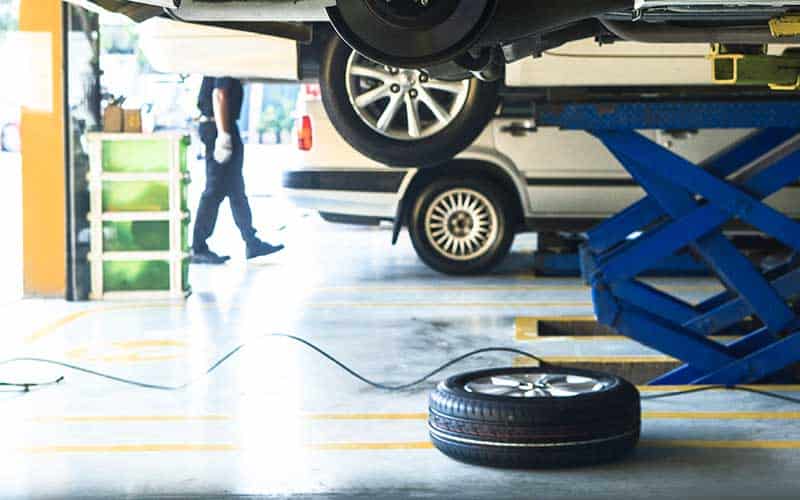 The concrete slabs provide a foundation for the installation of the more advanced shop floor system. Epoxy flooring systems and other resinous coatings are multi-layered flooring systems installed as liquids for a smooth, nearly seamless surface.
They are tough, strong, and durable, and in many cases, can even be used to resurface and restore badly deteriorated concrete surfaces.
Our seamless floors are stain, chemical, and impact-resistant, from high-tech auto showrooms to the busiest Auto Repair Shops. And offered in countless designs and finishes.
They are also safe and slip-resistant. Form meets function when it comes to floor solutions for the Auto Shop and Car Repair Service spaces.
Why you need to Protect your Shop Floor?
In general, DUOMIT offers our ultra-durable epoxy floor coatings for auto dealerships, auto body shops, service garages, service bays, parts department, and auto detailing facilities. Also, we use only high-quality, proven epoxy coatings that protect your floor from harmful fluids and solvents. And make them easier to clean from scuffs, dirt, tire marks, and other marks that occur during normal usage.
Besides, vehicular fluids and even soapy water in wash bays present slip-and-fall risks to workers. The customizable slip resistance of resinous flooring installation allows balance optimal safety with easy clean-ability. The building owners and managers can choose from a range of skid inhibiting surfaces.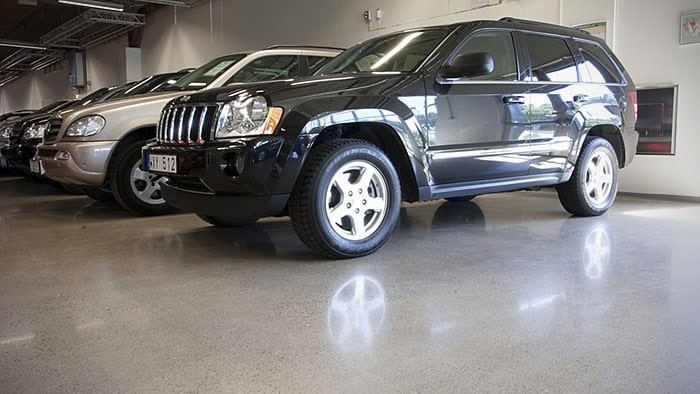 Which Seamless Floor is right for your Facility?
Above all, our coatings cutting-edge urethane mortar provided an innovative, thermal shock-resistant solution. Especially for facilities where steam clean or hot power wash clients' machine parts and engines are provided.
Lastly, the finish must withstand automobiles' compressive weight and help enhance and showcase the beautiful merchandise. Creating a space that is appealing to customers and highlights the positive aspects of the vehicles being shown.
Finally, a common approach for shop floors across multiple industries is to make space seem as brightly lit as possible. A highly reflective flooring surface increases illumination from all angles, creating a more attractive presentation. See how we can brighten your day by contacting us today!