Ideal Flooring Solutions For a Modern Medical Center
Why do you require new healthcare flooring? Healthcare and medical centers are constantly changing, from a transition of valuable care to the evolution of wellness. The only thing that doesn't change. Good environments boost the process of healing, and that starts at the floor level. The use of proven healthcare flooring solutions and modern technologies will contribute to greater safety, health, and overall wellbeing.
Firstly, it starts with infection control and cleanliness, the main concern in medical settings. Furthermore, a floor's ability to be easy to clean plays a major role in patient safety. Specifically in places that require a sterile and aseptic environment — operating spaces and recovery rooms.
Smart flooring decisions in the medical setting not only bring more efficient applications and easy maintenance. They can also make an easier healing experience by reducing the noise and improving the healing environment.
As a matter of fact, any medical or health clinic requires an ergonomic, low emission, sound dampening floor that is aesthetical, easy to clean, and UV stable. One of such solutions is a fluid applied seamless polyurethane flooring consists of high solid epoxy primer, colored self-leveling polyurethane base coat, and a topcoat.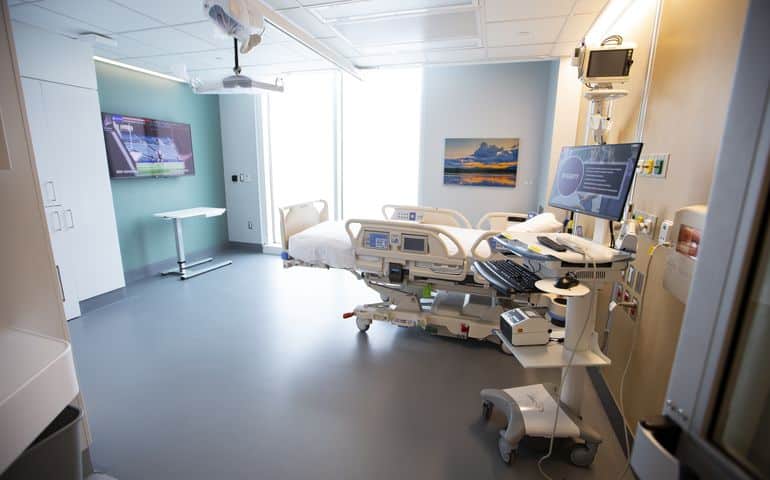 Healthcare Flooring Solutions for Safety
If you want to get floors that will meet all technical and decorative requirements you should be thinking "outside the box." In most cases, you were going into an existing retail space. After you complete the demolition and reinforcement of the slab, you may discover a very bad condition of the concrete surface and see many cracks.
Concrete sealing or staining is not enough … Your floor will require way too much work to enhance it to the highest level.
A perfect match could be a fluid-applied seamless polyurethane flooring, which provides both toughness and comfort. It is available in different colors, combining durability and softness underfoot.
Most of our clients love it because of its softness, wear resistance in high-traffic areas. In fact, some of our first clients had it in his dental office for five years and hadn't any sign of wear, even under the chairs.
As a matter of fact, many floor owners have an idea of cheap sealed or stained concrete. While they had never used special healthcare flooring before. It is a great system and would require minimal care or restoration, and it has a wide range of colors.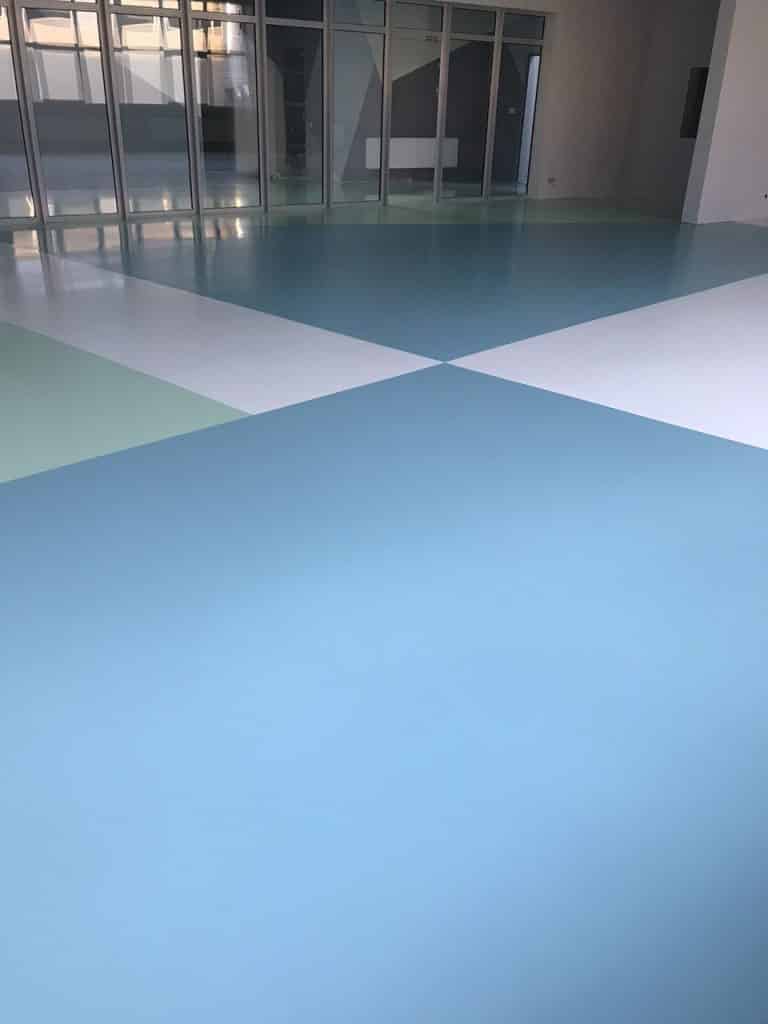 Along with vivid, infinite colors, two other benefits of the seamless floors are the acoustical benefits and the softness of the floor. Any facility manager knows how big traffic could be in the space at one time.
Installation is not a game
The first step in a new floor application is always repairing and profiling the old one. Sometimes, you got to remove the loose substrate and patch it with special materials. Every single hole or crack must be filled.
In fact, you could have a slab with three or four different kinds of flooring, including tile and carpeting. Installing the actual healthcare flooring requires a lot of coordination with other trades and keep them away while working on the floor. Usually, there are many details in the layout and coloring of the floor, with swirls or abstract shapes.
Best Healthcare flooring for medical providers
In spite of hard decisions with the installation of healthcare flooring, the results are amazing and well worth it. The floor will have so much character in it. But the main things are the craftsmanship and the durability of healthcare flooring. The floor cleans up easily, it can cover a damaged floor and span cracks.
In fact, many customers love the performance and appearance of medical care flooring. And the final result is great! Read more about pool deck ideas or connect with one of our representatives. You can also inquire about a Free Estimate today.