What is 3D flooring?
Certainly, 3D flooring Epoxy is a unique combination of ultra-modern epoxy resin technology with a fabulous revival of decorative solutions and artistic traditions. Moreover, this is a build-up multi-layer coating with special acrylic-cementitious compounds, 3D mural, epoxy resins, and transparent polymers topcoat.
In fact, the core of 3D Epoxy technology is a high-quality decorative Mural – Vinyl Decal Wallpaper. Are you dreaming of such flooring? Let's go deeper at how to install the best multi-dimensional floor of your dream.
Traditional methods of applying 3D floors are using the following techniques to perceive flooring volume:
Installation of photorealistic images on the floor
Microscopic items on the similarity of coins, shells, etc.
Optical illusion.
What are the advantages of 3D Floor epoxy?
Self-leveled epoxy 3D flooring has numerous advantages over other floor coverings:
versatility (can be used in different rooms: living rooms, bedrooms, bathrooms, dining rooms, corridors, offices);
seamless flooring means easy maintenance
environmentally friendly and ecological
resistance to water and chemicals
variety of designs and decorative elements.
How to install 3D Flooring?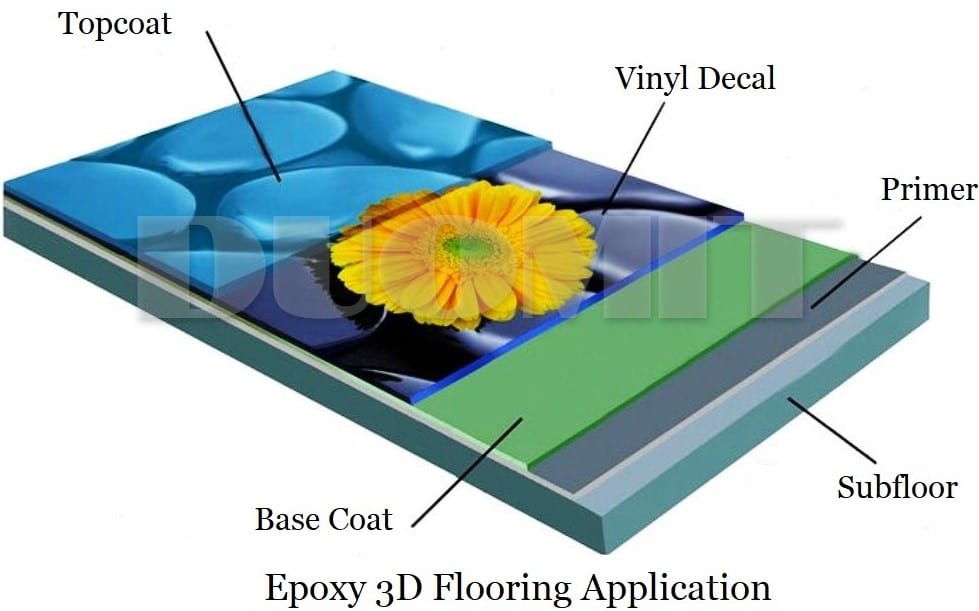 Canvas. You need to choose a painting or photo that has a 3D effect or with a motion illusion. This will be your 3D Mural or Vinyl Decal Wallpaper in the future.
Perspective. You will need to define the direction and location of the future 3D Mural on the floor.
Printing. Now when you have an exact idea of what will be on your floor and a Vinyl Decal is ready, it's time to start the installation.
Subfloor. The floor's surface should be mechanically treated, primed, and repaired/patched before the next step.
Application. Most Contractors should level every surface before base coat application. The installer should properly glue the decal to the leveled floor.
Protection. As soon as the abrasion-resistant epoxy coating layer is installed over the canvas, resinous material should cover it with a wear-resistant polyurethane topcoat.
---
How much does 3D Epoxy cost?
Firstly, the application of 3D epoxy is a complex and extended process and normally takes 5-7 days. The epoxy 3D flooring price range depends on many aspects such as the size of the project, subfloor condition, location, and design complexity.
Lastly, the standard price of 3D flooring installation is $15-$35 per square foot. So, a smaller project or a bit complicated design will be more labor-intensive, and the costs of installation will be higher. Thus, this cost includes all materials, use pattern (3D design, subfloor, base, and topcoats), surface preparation, and installation work.
Above all, 3D Epoxy coating is a new technology, provides an outstanding color variety, images, and materials to create a real decorative masterpiece. Also, the 3D floor is highly wearing resistant, very hygienical, and protects moist rooms from mold.
Finally, 3D floor installation is technically tough work that demands a lot of experience and specialists knowledge. Decorative flooring is your leveled, seamless smooth finish. Request your Free Estimate today. We are looking forward to seeing your incredible ideas and implement them into beautiful floors.