When people hear concrete floors, they associate them with industrial settings such as sidewalks or buildings. However, contemporary polished concrete interior floors offer unique benefits that distinguish them from other flooring options.
If you're looking for a flooring option that's tough, low-maintenance, and long-lasting, concrete might be the answer. It's resistant to scratches from pets, dents from toys, and damage from high heels. With the right sealing and upkeep, it can last indefinitely. And if you already have concrete flooring, you can remove any covering to reveal it. Polished concrete floors are also hypoallergenic, as they don't collect dust, pet dander, or mold. And if you want to add style, coloring or staining the floor can give you endless possibilities.
How to stain interior concrete floors
Did you know that with the availability of concrete floors in many areas, it is possible to color or stain an interior polished concrete floor? This offers endless design possibilities. Follow these five steps to achieve a beautiful decorative concrete floor.
1. Prepare the surface
First and foremost, it's important to begin with a clean slate. Ensure that any oil stains or contaminants on the floor have been thoroughly removed.
After cleaning your floor, the next step is grinding, which can be easily done if you know how to operate a floor buffer and angle grinder. Renting a floor machine sander and equipping it with a diamond pad is a simple way to accomplish this step. An angle grinder with a diamond grinder for the edges is also recommended. To minimize dust, wet-grinding is preferred, but it is crucial to protect your lungs and eyes with a HEPA filter and safety glasses. Single-pad machines are widely available and user-friendly.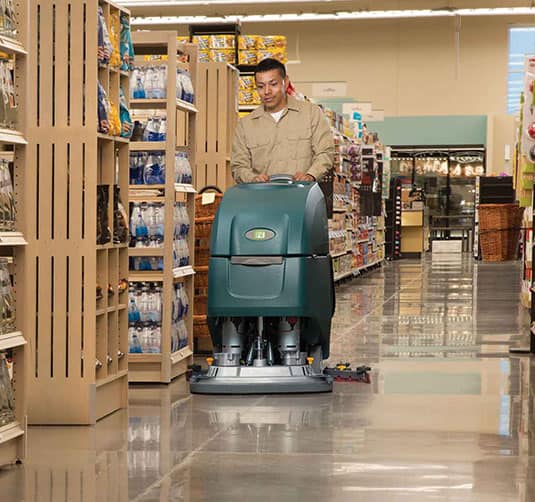 2. Clean the surface for optimal results
After ensuring the concrete surface is smooth and free from any prior coatings, remove dust by vacuuming or washing it. Next, utilize a mop or a soft brush to apply a concrete cleaning solution to the entire area. Once done, allow it to dry thoroughly.
3. Mask the design
Cover areas like thresholds, baseboards, walls, or floor fixtures with masking tape or butcher paper to prevent unwanted coloring. Let your creativity run wild and make intricate designs using tape and drapes. If you plan on using multiple colors for a pattern, start with one color in Step 4 and then mask again for each additional color.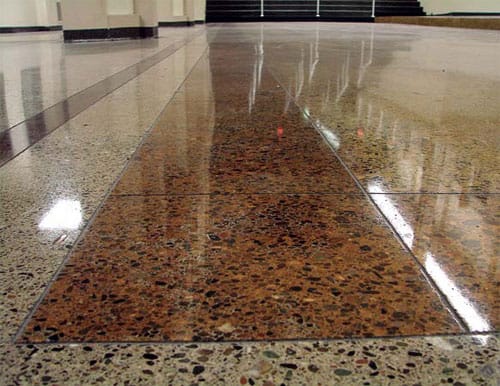 4. Apply the color
For optimal results in coloring concrete, it's best to use a sprayer and apply two to three coats, ensuring ample time for each coat to dry completely. For more intricate work and cutting edges, a brush can be utilized. Various concrete colors are available and mix and match them according to your desired aesthetic and design objectives.
Various stains are available in different colors, which can be combined or layered to create countless design possibilities.
5. Seal the color
To achieve a polished finish on your concrete floor, applying a concrete sealer after it has cured is important. Depending on your chosen type, there are various methods for applying the sealer. The most widely used technique involves a sprayer and microfiber pads, producing a sleek and shiny finish.
For best results, apply two coats of sealer with a drying time of less than four hours in between. It is important to wait three or four days before allowing foot traffic or placing furniture on the newly sealed floor.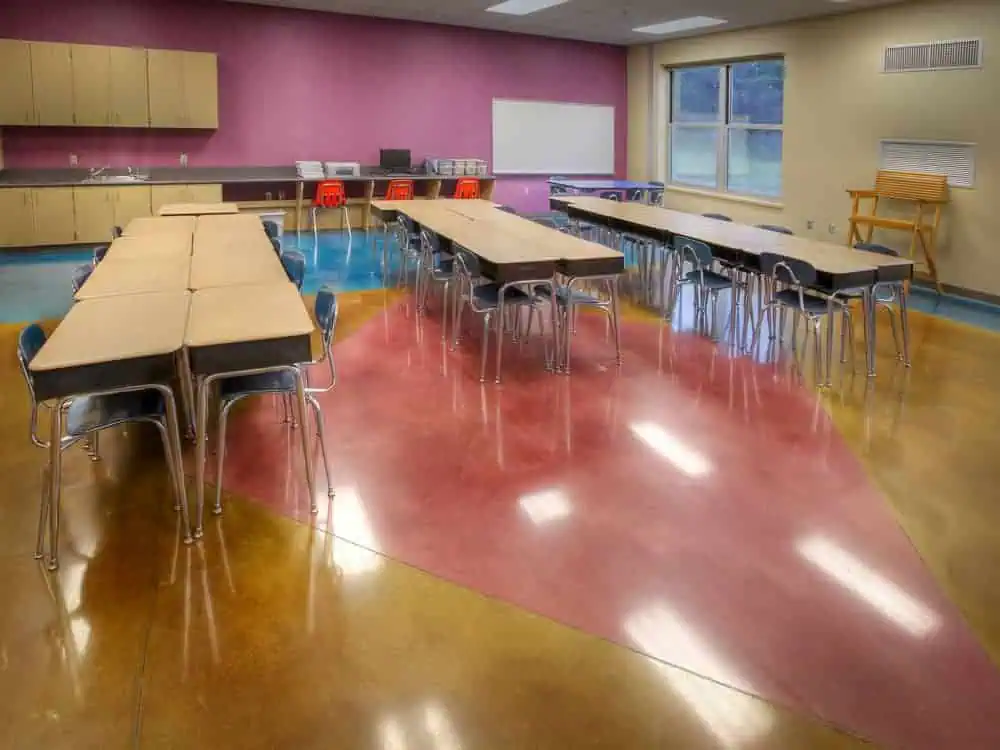 The long life of a colored, polished concrete floor
Keeping your polished concrete floor clean and well-maintained is a simple task. For routine cleaning, a duster should suffice. In case of wet spills or stains, a soft cloth and neutral cleaner are recommended. In case of stubborn stains, a non-scratch pad can be used.
As time passes, particularly in places with a lot of foot traffic, concrete surfaces may develop an uneven shine, indicating that the sealant has begun to wear away. To fix this, use a gentle floor cleaner to cleanse the surface and let it dry completely. Then, apply two to three layers of sealant and allow time for it to cure. This should last about three months in busy areas, while low-traffic areas can expect the seal to last for over a year.
Your interior decoratively colored concrete floor can be unique and stunning with the vast array of colors and design options available, regardless of size.
Do you have any queries regarding your colored concrete project? Read about how to improve the Quality of Polished Concrete. You can request a free estimate or visit our website's decorative concrete section for more details, including product data sheets and specifications.