What is microcement flooring?
Decorative concrete, such as microcement flooring, is obtained by mixing water-based resins with cement, additives, and mineral pigments. Because of its excellent adhesion, microcement flooring can be applied to various horizontal and vertical surfaces.
Construction materials like this stand out because they can be directly applied to existing materials such as plasterboard or tiles. As a result, it is possible to renovate rooms efficiently in a short period, as only a few millimeters of material are required.
This is a cutting-edge cladding that is jointless and versatile, making it suitable for both indoors and outdoors. Furthermore, the continuous cladding can be applied to various surfaces, including floors, walls, stairs, ceilings, swimming pools, and furniture.
As a result of its versatility, it has become a trendy choice for renovating private homes and commercial premises. Also, due to their versatility, large surfaces such as sports centers, industrial buildings, hotels, and restaurants.
There is no limit to what you can design with DUOMIT – there are many possibilities and decorative finishes you can choose from.
In addition, various colors and textures of microcement are available to give your room a unique and personal look thanks to the different surfaces (thick, medium, or thin). You can achieve other finishes thanks to the varnishes and metallic finishes we offer.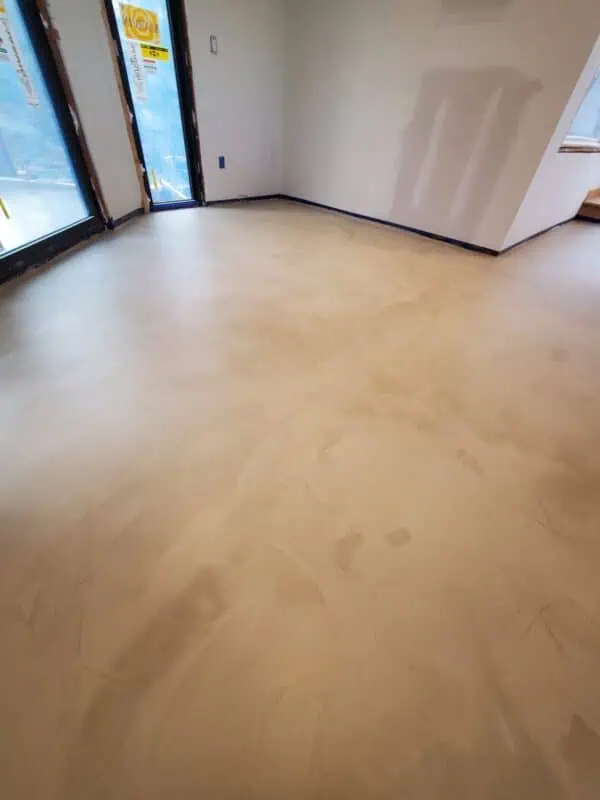 Where can microcement be installed?
An infinite number of decorative solutions can be achieved with microcement. The versatility of its uses is because it has so many different benefits. The use of microcement is not limited to stairway stairs or swimming pools but also furniture clad with microcement.
Microcement is an excellent material for use on the floors and walls of kitchens, bathrooms, and even outdoor spaces such as terraces. The final result is what matters to us at DUOMIT, regardless of the type of surface we intend to cover with microcement.
To achieve the highest quality, flexible, and durable product that lasts over time and adapts to the market's needs. We have achieved a balance between the hardness and flexibility of the product in our quest for an optimal, versatile, and quality product.
Is there any significance to what this means? Because of the properties of our microcement, we can cover any surface, no matter what the size. This results in continuous pavements without joints or fissures, regardless of the surface size. We can avoid dirt areas, thus facilitating cleaning and disinfection, helping to maintain germ-free environments.
Do you know what the meaning of this is? Our microcement can cover any surface, allowing us to achieve a continuous pavement without any joints or fissures.
Furthermore, microcement flooring ensures high resistance in trafficked areas and is the most aggressive cleaning product. As a result, there is a significant demand for microcement in kitchens and microcement bathrooms.
Price of microcement flooring
Microcement flooring is the most popular and attracts all the attention. The most common use of decorative coatings is indoors, such as in houses, offices, shops, restaurants, and hotels. However, they have also been used on the outdoor floors of buildings, such as outdoor paths, patios, balconies, and more.
This material is becoming more and more common in areas such as terraces and swimming pools. In 2023, there is no doubt that decorative trends will continue to grow.
The reputation of this microcement flooring has been earned mainly due to its unbeatable advantages. The product can withstand pedestrian traffic, abrasion, wear, temperature changes, and a change in its surroundings. Undoubtedly, this last factor has catapulted its use outdoors in the past few years.
In the first place, the size of the room determines the price of the microcement floor. The price per square foot can vary from $14 to $20, depending on the project's complexity. The amount of material is higher for a large surface area with comparable labor so the cost will be lower.
---
It is estimated that this type of paving will take at least one week from the time of installation to the time of use. This is because it needs to dry and be appropriately sealed to provide the finest possible performance.
As a result of this speed of application, microcement floors offer a more competitive price when compared to other alternatives such as polished cement or parquet floors.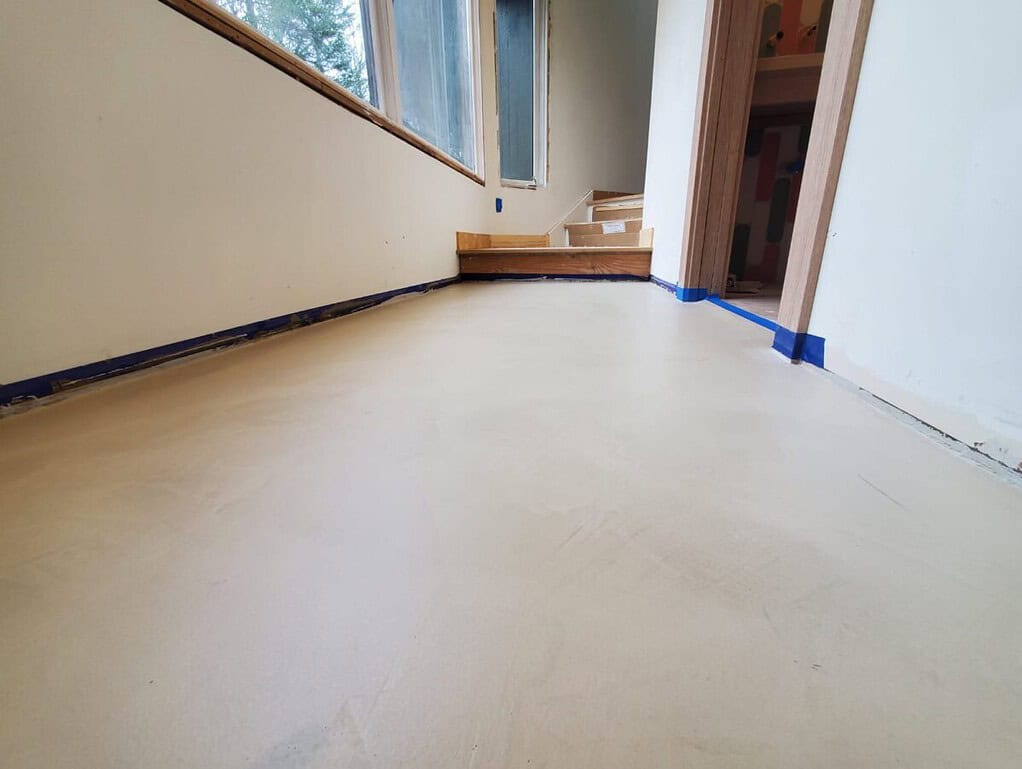 how to clean microcement floor?
Cleaning microcement is easy – you only need water and neutral soap to do the job. Even though microcement is a durable material that is relatively resistant to chemicals, it is recommended to clean it with neutral soap instead of an aggressive or descaling product.
A typical example of a product that can damage the protective film is chlorine, bleach, ammonia, soaps, and detergents – if possible, try to stay away from them. The benefits of microcement flooring are similar to parquet, and the maintenance needed is identical.
A good rule of thumb is to always keep the surface dry as a first step, as this will prevent permanent waterlogging or prolonged contact with humidity. For example, don't leave wet towels on the floor or hot pots that leak liquid on a benchtop if you don't want them to get wet.
Keeping the surface of the flooring free of grit, which can scratch the coating when stepped on, is also essential, as well as not bumping into complex objects on the floor.