How Much Does a Concrete Patio Cost in New York?
Just wondering if anyone had a good idea of the general cost of putting in a concrete patio? You are here because you just got a quote or looking for one from DUOMIT today. All right, we are here to help you to find out. What exactly you should count on while choosing a contractor for your concrete patio.
Let's say you need to do an average of 400 sq/ft. Firstly, exposed, no color, with stairs leading up to your back door. Secondly, a 9 gauge wire mesh and rebar for the stairs. You thought this would be a very high price but not experienced enough about the current prices to really know.
Surely, this the right place to learn. Because we are going into details together to define concrete patio costs, depending on various factors, learn more about the cost of installing a new patio.
To begin with, one of the most economical and strong patios is the concrete slab. However, the concrete slab looks mundane and dull. But you can build a patio that looks like something much more extravagant with the right finishing. Furthermore, specialists can add texture, color, and custom designs to make your concrete patio look like brick, stone, or even marble.
Main influencers the cost of a patio
Size of Patio
The patio size is a significant detail as it regulates the volume of concrete required for the job. You will require more concrete to fill a larger slab. Use the concrete calculator to evaluate how much material you will need for your patio.
The Patio size will also guide the cost of the subbase. The subbase is the sandwich of materials used to build up a foundation for the patio.
Design Complexity
Adding colors, texture, joints, and borders, or other design appearance will add up. A plain shape with straight edges will be easier to form and cheaper, while curves are more expensive and complex.
Other complicated circles, ovals, and other elaborate custom features add costs and labor.
Property Conditions
If your property requires demolition, grading, or other site work with heavy equipment, the price will add up. On top of that, if you don't have easy access on-site for the necessary equipment. Additional pump or labor costs will raise the total price.
New or Existing
Installation of a new patio will cost an estimated $10 – $15 per sq ft, and sometimes more. If you have an existing patio that will require some repairs made and resurfacing. The costs of concrete resurfacing are much less, ranging between $3 and $9 per sq ft.
How Much Does a Concrete Patio Cost?
Mostly, you will spend around $4,800 on a new concrete patio 400 sqft pouring. However, the price varies fairly depending on the patio's size, type of finish, location, and design. The average cost for a 20′ x 20′ concrete patio is about $12 per sqft. The basic range for a concrete patio, depending on color, texture, and design, is $10 to $16 per sqft.
Type of Designs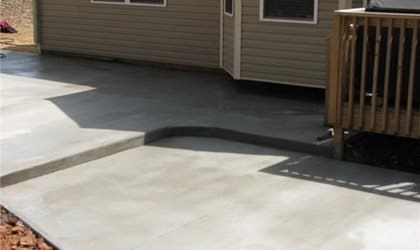 Plain
$3-$6 per square foot
No color or texture finishes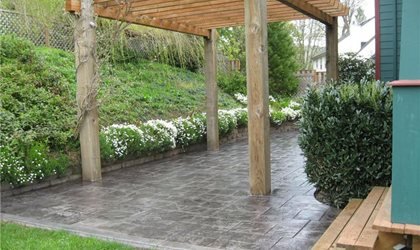 Simple
$6-$10 per square foot
Include one color or decorative texture.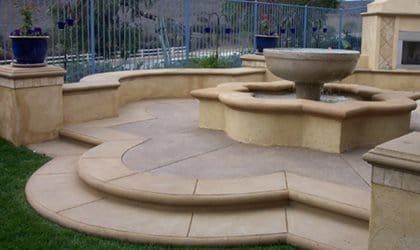 Custom
$10-$15 per square foot
Include two three colors or contrasting borders.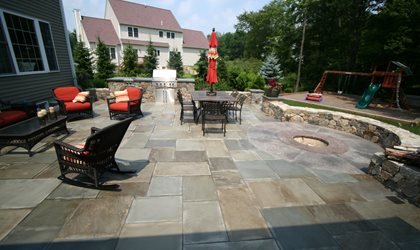 Intricate
$15+ per square foot
Include joints, borders, texture designs, and hand-trowel coloring techniques.
Concrete Patio Cost VS Pavers
Surely, a concrete patio cost will be much less than natural stone, tile, or brick. Due to higher prices of natural materials and more intensive labor to install.
Additionally, concrete contractors quote stamped concrete costs 30% less than the cost of other materials. Therefore, the lower pricing combined with the wide range of patterns and colors available is the main reason for choosing a concrete patio.
Would be deck a Cheaper Option?
Firstly, concrete is the most cost-efficient option for the patio. Secondly, Decorative concrete on your patio can imitate the feel and look of many other surfaces. As an example, wood decking or even pavers.
As a matter of fact, a wood deck cost will vary from $14 to $36 per sqft, related to labor, design detailing, and chosen materials (composite or hardwood). Even though a wooden deck can give you an attractive finish, it will be a more expensive option than a concrete patio.
Finally, choosing a plain concrete patio will certainly save you money compared to pavers. However, as you add upgrades – color and texture, the prices become more comparable. Read more about Radiant Heating Floors and Best Exterior Concrete Paint.
Request a Free Estimate now and let DUOMIT know more about your project needs.