Textured Concrete – Wood Looking Concrete Installers
One of the most demanded flooring trends today is Wood Looking concrete that has wooden look or Textured Concrete. All famous designers know the variety of choices of wood tiles available on the market. Our specialists at DUOMIT have developed their own specialty of textured concrete that exactly looks like wood planks, and this technique becomes well known across the United States. For years, stamped concrete was the only way to achieve a wood texture on the concrete surface. While these techniques are still accessible to designers and floor owners, we developed our exclusive practices and several new ways to achieve a more authentic wood finish.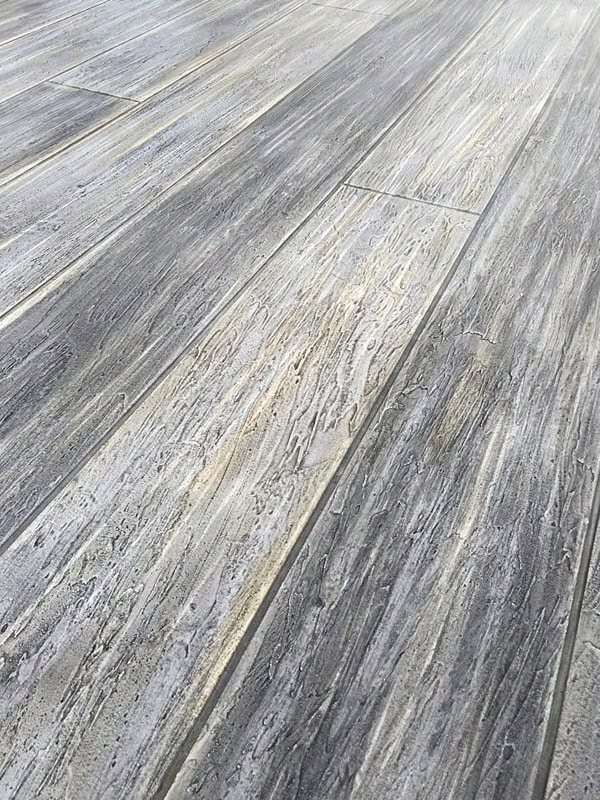 How much does Textured Concrete Cost?
We can do floors in any color, from washed gray to dark brownish variation. It is an artistic solution, like metallics epoxy and it always produces an exceptions outcome. We use different materials and tools and dragging the trowels and forms to create woodgrain effects. The most difficult and important part is hand-staining each particular plank one by one. Our customers have a few options: for indoor, we accomplish the floors with smooth surfaces or with slip-resistance for outdoor use. Our plank-like floors pricing varies from $10 to $25 per square foot and depends on the existing concrete surface quality and customers' requirements.
What is Textured Concrete?
This wood-textured method delivers to you a more gentle texture than the stamp concrete method. The final product looks similar to real wood plank comparing to stamping and is more cost-effective. The coloring techniques have a wide range of options.
Here are some examples of projects using textured concrete stamps:
Wood stamped concrete patio;
Wood stamped concrete pool deck;
Concrete bridge with stamped wood-grain;
Wooden plank concrete walkways;
Concrete patio replicates reclaimed timber
Wood floors could not always be the best option when durability is highly necessary. More and more homeowners expecting to get a look of wood, but the strength of concrete.
While DUOMIT gets most of its work through word of mouth, a good portion of those calls are repair work — fixing staining or finishes gone bad, stains of sealer, or lap lines, unclean floors. We do it right the first time, and it gives wood looking concrete a great name.