Stamp Concrete vs Stencil Concrete – Superior Finishes
Decorative Concrete finishes give your exterior patio or driveway the look of authentic pavers, bricks, or stones without highly intensive labor installation expenses. An endless look, stencil, or stamp concrete occur at a considerably lower cost when compared with genuine stones, bricks, or pavers.
A final decision on which option is best for you depends on the feel you want to create and the overall look and design. For owners with finished concrete slabs, stencil technology offers a final touch-ups way to dress up concrete floors.
What is Stamped Concrete?
Concrete stamping is a special technique when using different types of stamps and a specific colored powder added to the fresh concrete that recreates an exclusive pattern on the surface, similar to natural brick or stone driveway.
Stamped Concrete process a contractor finishes before the fresh concrete dries. Colored hardeners and release agents apply onto the concrete surface before the stamping starts.
Laborers' experience in this kind of work will be crucial, as the main goal to complete stamping using flexible polyurethane forms before the concrete hardens. The final stages will be – to complete any detailed work, remove residual release agents, install joints, add a curing compound, and seal the concrete.
Why use Concrete Stencils?
Unlike concrete stamping, stenciling concrete installation is possible only after pouring concrete and finishing and completely dry. Concrete Stencils are easier to work with than stamping because stencils consist of disposable materials and are possible over stable surfaces.
The most intricate and beautiful decorative flooring design creation is effective with the use of stencils. They require less effort and time to establish a genuine effect than traditional methods of stamped concrete. Using stencils and different concrete overlays, you may achieve attractive, cost-effective features of outdoor areas that stand for years.
An installer can complete larger areas with stencils at one time when compared with stamped concrete. Stenciled concrete works best when expecting more flat surfaces on patios to support furniture.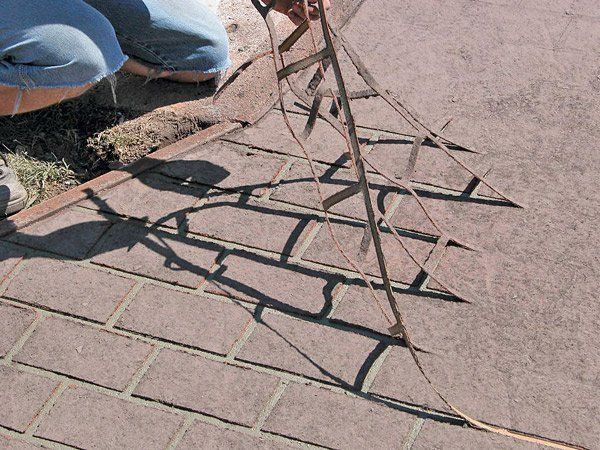 Stamped and Stenciled Concrete Differences
Concrete stamping requires the use of flexible polyurethane forms that imprint the image into the concrete surface. In contrast, concrete stenciling involves the utilize of reusable non-adhesive stencils that create a chosen pattern. Many decorative concrete specialists claim that stenciling is a much easier process than stamping because it doesn't require extensive experience.
Stamped concrete require specially trained and professionally equipped crews working with hardeners, release agents, and forms. Stamped concrete is the best choice for outdoor surfaces, while stencil concrete can be a better option for indoors.
Is imprinted Concrete Expensive?
According to recent trends, Stamped Concrete averages national installation costs from $8 to $20 per square foot. Most contractor's installations of stenciled concrete range from $7 to $16 per sqft, depending on the type of stencils, overlay quality, and sealers used. All polymer-modified textured concrete overlays and skim coats provide durable and cost-effective solutions compared to concrete replacement.
Textured Concrete properties to be versatile and ultra-durable in the application. Contractors use it on residential and commercial properties. Concrete overlays yield decorative and creative finishes that surpass the beauty of alternative concrete resurfacers and new concrete.
Request a Free Estimate or contact our office for more details.