Concrete Expansion Joint Repair Robust System
When is the Concrete Expansion Joint Repair system needed? Firstly, Concrete Expansion Joints are important for your warehouse or factory floor. Secondly, Damaged Expansion Joint cause Forklifts or Very Narrow Aisle Trucks damage and can slow operations too. Thus, Our specialists use a professional repair system that provides a strong, permanent solution for damaged expansion joints. We solve your flooring issues once and for all.
Furthermore, Our innovative joint repair solution for bridging expansion joints. Also, the reinforced composite profile is extremely durable and robust. It is flush with the concrete floor after installation. Expansion Joint profile can be installed and bear weight within 24 hours after execution. It is waterproof and coatable, will provide a lasting bridge for thermal concrete expansion.
In fact, An installer can implement the joint repair system to the renovation of damaged warehouse or parking garage deck joints. It guarantees ecologically and economically expedient solutions for all your joint issues.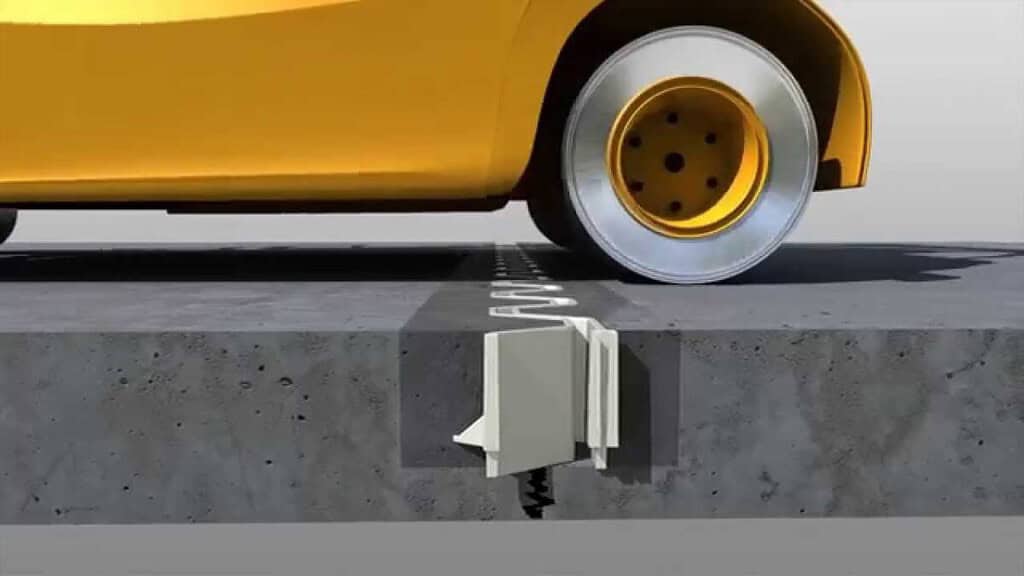 The main advantages of expansion joint repair profile:
low-vibration over-ride with VNA trucks
protects expansion joints as well as wheels of equipment
preventing damage to the joints
the benefit of forklift drivers from a smooth effect.
A Professional Joint Repair
In general, Our expansion joint repair system is a complete replacement joint with a filling concrete leveling sealant. We repair old damaged concrete slab joints and seams. DUOMIT installs an entire expansion joint repair system that uses a professional, industrial-quality prefabricated composite profile.
We use to fill the joint application – replacement composite expansion joint, concrete bonding agent, crack filler fast setting screed, and appropriate surface finishes. You will get a complete concrete joint repair, requiring no ongoing maintenance.
Robust and Adaptable Joint Repair System
Finally, Unlike other joint repair systems, we use short lengths composite polymer joint, which can easily be clipped together to repair longer sections when necessary. Manufactured from a composite glass-reinforced polymer, the expansion joint repair system is callous, non-conductive, corrosion-free, resistant to chemicals, and easy to handle.
Above all, For over 15 years, DUOMIT has been solving joints issues in buildings resulting from damage to concrete floors and floor joints. We strive for client-oriented and simple solutions. Broken joints and cracks in floors cause slow operations and costly problems for our clients. Moreover, We provide a simple and quick way to solve them. We are proud of what we have accomplished. Constant innovation of concrete joint systems and their functionality is a fundamental strength of our company.