Warehouse Flooring – Heavy-Duty Solutions
DUOMIT is the experienced provider of warehouse floor systems in New Jersey and New York. Our floor solutions targeting the biggest distribution and warehouse operators, logistic centers. We specialize in a variety of heavy traffic industrial warehouse shop floors and foot traffic epoxy floor coatings. The warehouse facilities most required installations:
The proper Warehouse flooring will handle the harsh impacts of heavy loads. We cover every part of your warehouse floors with the appropriate concrete coating. This way, that specific environment benefits from our warehouse flooring and has great protection. Whether you are running a manufacturing plant, cross-loading warehouse dock, or food processing plant, we provide the best warehouse flooring option for you.
Polished Flooring Warehouse
The main requirements for industrial flooring are that it should be heavy-duty, dust-free, and easy to clean. The flooring must be resistant and durable enough to withstand pallet truck or forklift traffic. The truck lifts carry heavy loads daily. The flooring must be extremely resistant against heavy traffic and boxes dragging across the facility floors.
The warehouse flooring must always be presentable for workers and customers. The appearance of the floor is less important in commercial premises where functionality takes precedence over aesthetics. However, it is valuable that the floor retains its original appearance for a longer period of time without the extra treatment.
In fact, all industrial flooring is made of concrete and treated differently to obtain the desired properties. Hard concrete is another type of surface coating. Hard concrete is made up of granulated quartz, which is troweled into the concrete base's surface while it is still damp. Moreover, the result is a smooth, glossy, and extremely durable floor. The only drawback with this is that the hard concrete material can only be applied to newly laid bases.
Additionally, when this not possible – Concrete polishing is an option to upgrade an existing old slab into a New Durable Heavy-Duty Surface, to polish the surface, and thereby a great amount of additional material, the concrete floor can be polished and impregnated to obtain a durable, hardwearing floor that is easy to clean.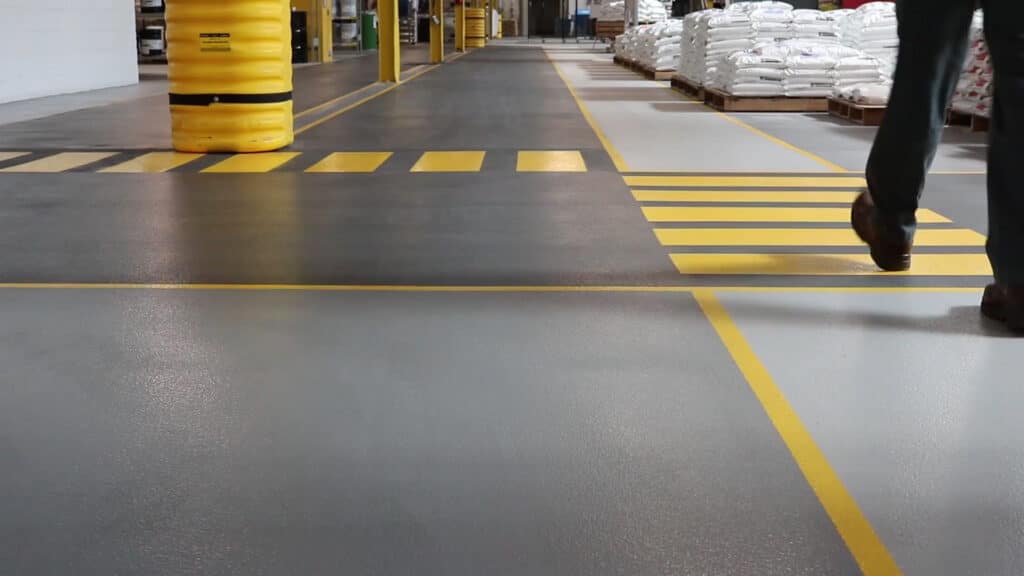 Warehouse Floor Coating
Of all the surface coating methods, the most common are various kinds of epoxy coatings. Epoxy floor coatings are a top choice for industrial facilities because of their extreme abrasion resistance and strength. Because of extreme toughness, epoxy floors are a long-lasting and cost-effective flooring solution when done properly.
In fact, an epoxy floor coating forms a seamless bond to provide concrete floors with a protective coating that is incredibly strong and can withstand the high traffic of heavy equipment like forklifts and other machinery.
The coated concrete's chemical resistance, slip resistance, and bacteria resistance make it the ideal solution for industrial manufacturing warehouses or chemical distribution settings.
Finally, Epoxy floors are easy to clean. It withstands any spills of chemicals and easy to clean up with soap and water or a mop. Additionally, epoxy floor systems can feature any design or color, including your business's logo. Request today your Free Estimate or call us to tell us more about your warehouse flooring issues.