Insulated Metal Roof Panels – Certified Installers New York
Choosing the proper Insulated Metal Roof Panels (IMRP) for your building is one of the first steps to achieving energy efficiency. Thus, DUOMIT installs aesthetically pleasing, energy-efficient, cost-effective insulated metal roofing panels for this very purpose.
Firstly, Insulated metal panels provide high levels of insulation for metal roofs. So, Thermal (R-value) performance and airtightness throughout the service life of the building. Secondly, it contributes to achieving net-zero energy building targets and LEED® project certification.
Insulated Metal Panels can reduce on-site roofing installation time by 50%. Surely, minimizing labor costs compared to traditional multi-part roof panels. Finally, it is suitable for new and retrofit applications across commercial, industrial and cold storage market sectors.
In summary, these mechanically seamed roof panels are an ideal solution where energy-efficient standing seam roof panels are required. Moreover, the panels' unique design allows interior and exterior faces (single skins), saving money and weight on a building.
Uses And Applications
In new and retrofit construction, Insulated Metal Roof Panels functions as roofing for all types of architectural, commercial, and industrial applications.  They are ideally suited for:
Architectural
Low and Mid-Rise Offices
Convention Centers
Performing Arts Centers
Arenas
Airport Terminal Buildings
Schools & Universities
Religious Facilities
Hospitals
Commercial & Industrial
Retail Buildings
Hangars
Prison Facilities
Equipment Maintenance Buildings
Manufacturing Facilities
Warehouses
Distribution Centers
Self-Storage Complexes
Utility Buildings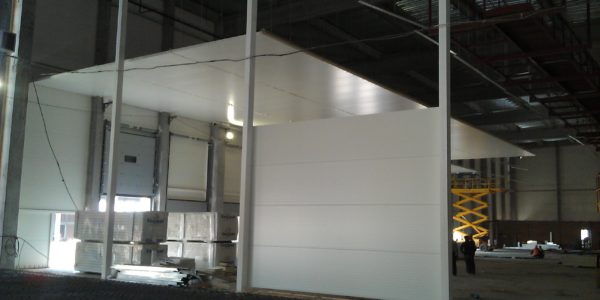 Insulated Metal Roof Panels Features
High R-Value. Insulated panel systems provide thermal (R-value) levels and airtightness performance over the building's service life. Moreover, and provide the best thermal envelope by reducing thermal bridging typical of metal standing seam roof.
Tested & Approved. As a matter of fact, all-metal roof insulation panels have been extensively tested for compliance with various industry standards and building safety codes.
Energy Efficiency. Although, metal panels have a core of continuous, rigid insulation for industry-leading R- and U-values with superior airtightness performance.
Indoor Environmental Quality. At the same time, Insulated metal roof panels help ensure a stable interior environment.
Eased Construction. The insulated MRP is simple in detail and attached, reducing schedules and installation errors.
Life-Cycled Benefits. Metal roof insulation panels last as long as the service life of a typical commercial building. The durable metal roof panels also reduce operational costs for energy maintenance and offer multiple end-of-life reuse options.
Building Certification and Green Targets. In fact, the insulated Roof Siding contributes to LEED certification programs and the path to Net-Zero Energy.
After all, the MRP panel, including Insulated Metal Wall Panel, has exceptional fire resistance, concealed fastened side joint. Lastly, it includes all building codes. Read also about QuadCore Insulation and Benchmark Certified Installer.
Request your Free Estimate today to tell us more about your future project.