Concrete Stairway – Solving Safety Problems Related to Stairs
Stairways are a widespread walking area in most offices or workplaces. Unfortunately, falls from stairs may lead to serious injuries or even death. Therefore, employers must protect employees from the trip, slip, and fall hazards on any walking surface.
Employees should use stairways responsibly, as intended. This article shows the proper coatings for your stairway to prevent potential falls.
Safe Concrete Stairway
No matter the location, someone has come up with the brilliant idea that stairway flooring should have a carpet. But, of course, this is actually an absurd idea as carpeting tends to wear wherever footfalls come. And what could happen is that the carpet becomes stained and dirty, but worse yet incline the stair users to unfortunate falls.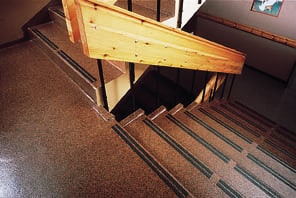 The right floor covering for high traffic areas is important in stairways. If the stairs are in a busy business office or school, this is how to get a lawsuit. Unfortunately, a slippery staircase can actually cost a company millions won in a suit!
You can easily avoid such issues if the building owner choosing the right flooring, to begin with for their stairway. Durability is key in any stairwell. Therefore, proper stairway flooring is necessary, especially for business concerns.
Does this then beg the question as to what exactly is proper stairway flooring?
First, of course, the safety and comfort of the users of that concrete stairway are principal. It means that you can not choose a stairway flooring that will wear away at any time, inviting falls. Furthermore, this also means that the stairway flooring should be easy to clean and maintain.
Decorative Stair Coating
Those who must make decisions concerning maintenance will definitely realize that cleaning will often be necessary. So that the stairway would have to be shut off from foot traffic when cleaning the flooring; for instance, one must also consider the re-coating factor. This also would require the staircase to be closed periodically for renovation.
Another thing, décor is also a crucial point. The indoor staircase design is often overlooked and messes up the ambiance of the room. In fact, there are times when flooring can be an obvious part of the indoor staircase.
Interior designers consider that the stairway is an integral part of any room and thus will know that the proper stairway can add a definitive decor element to any interior.
Are You Redoing Your Stairs?
Using special coatings means that you will have professional installers taking care of your concrete stairway flooring. The installers should have enough experience to install reactive resins quickly. In addition, their incredible knowledge of the enhanced MMA (Methyl Methacrylate) they will apply to your stairway flooring will completely amaze you.
Sometimes part of such staircases is in use for emergencies only. That means that the public will only see them in rare situations. That, however, does not mean that protecting the concrete is not important.
Because some of these staircases are outdoors, at times, it will even be important for that staircase to be able to withstand water, cold, and even ice. Therefore, nothing fits the various requirements of stairway flooring but the ever-lasting reactive coatings.
Of course, there is always a safety concern with stairs. However, if the industrial concrete coatings are in the floor finish schedule, there really is nothing to worry about.
Concrete Coatings for Stairs
Worry can appear, though, if your office or building has concrete stairs worn or broken off along the edges. Of course, there should also be a lot of attention to stairs that have loose those sticky pieces of plastic 'tabs'.
Some concrete stairs replace wooden because the wooden stairs are often worn and require non-slip treads. Unfortunately, not only can such treads cause slips and falls, but they are without a doubt nasty to behold.
Replacing such wooden stairs with industrial concrete coatings utilizes remarkable flooring itself is actually entirely made of a reactive acrylic resin that provides non-skid properties.
Options for Finished Concrete Stairs
Imagine what commercial stairway flooring can bring you? First, it is highly wearing resistant, as well as being liquid-proof. That also means that it is resistant to weathering and provides totally electrically non-conductive stairs. In addition, this technology offers greater resistance to either hot water or chemicals.
Best yet, it is rapid curing. It means that the stairs coating will achieve full compressive strength within hours. The reactive resins are set up as quickly as you expect, even if your room is as low as -10°C. Of course, that also means that they are also perfect for freezer floor stairways too!
Thus, if your stairs need some repair work and smoothing out because the concrete has damages or the edges on your concrete stairs fall apart. The wear-resistant coating is your best choice. In addition, because of how quickly reactive resins are curing, you will never have costly downtime as you would with most other materials.
The results of utilizing DUOMIT are that it will be stronger than the concrete coating applied to it!