How to Avoid Floor Failure? Yet, the fact remains that floor failure resulting from inadequate or cheap materials will harm food plant productivity. Understanding the triggers or reasons that can lead to floor failure in the beverage and food industry can help to prevent such instances from occurring. As they say, prevention is the first instance is always better than a cure!
reason #1 Inadequate Hygiene Control
Seams, joints, grout lines, and cracks in the floor's surface are a breeding ground for bacteria, fungi, molds, mildew, and pests. These nasties threaten indoor environmental air quality and any consumable goods process and prepare on the premises.
In extreme cases, this can lead to the outbreak of foodborne illness, culminating in death, irreversible damage to brand reputation, and costly lawsuits in the worst cases. On the other hand, seamless flooring reduces the chance of microbiological contamination, providing a hygienic surface, monolithic, free from the crevices or cracks where dust, bacteria, dirt, and even pests can dwell and breed.
The addition of antimicrobial additives inhibits bacterial growth and provides an added level of protection. Resin material that includes additives can destroy up to 99.9% of surface bacteria between wash cycles. This protection remains active for the floor's lifetime, unlike many antimicrobial alternatives offering clients' a long-lasting hygiene performance.
reason #2 Insufficient Chemical Resistance
The organic acids, alkalis, salts, hot oils, blood, sugars, and fats that form part of food and beverage industry processes will invariably end up on the floor. And increase the risk of eroding the surface if it does not have suitable protection.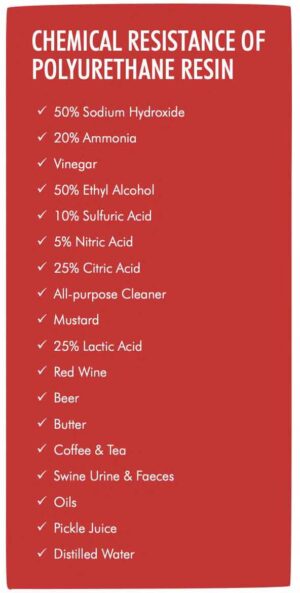 Ensure that any flooring system you are considering comes with supporting data demonstrating a high level of resistance to the chemicals. In addition, the temperature of the chemical contaminants or harmful substances will need to be clear. For example, grease is relatively inert at room temperature but highly corrosive when warm or at high temperatures.
On top of this, the nature of exposure to which the floor will be a subject is also essential. These typically have three types: immersion, intermittent spillage, or infrequent contact. Finally, a full risk audit should provide an idea as to how many chemicals or corrosive substances a floor is likely to come into contact with throughout its lifetime.
reason #3 Poor thermal Shock Resistance
Food and beverage plants are subject to punishing cleaning and wash down processes that can involve boiling water or even steam to remove blood, grease, and other unruly chemical contaminants from the surface.
However, most food and beverage plants operate at ambient room temperatures. Therefore, during washdown processes and cleaning, they become subject to thermal shock as the floor is heating to temperatures over 180 degrees C. Hard floors based on epoxy, vinyl ester, or MMA chemistry cannot deal with thermal shock conditions.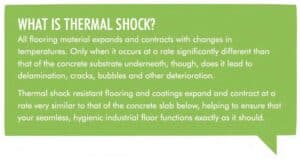 As a result, it can delaminate or crack when exposed to extreme temperature swings, weakening the surface and firmly leading to the early onset of floor failure. Thermal cycling, whereby a floor's temperature is slowly or seasonally lowered or raised due to climatic or service conditions and regular cleaning programs, can also be problematic. Again, inadequately specified materials will lead to problems, including cracking and other damage.
reason #4 Excessive Moisture Transmission
Another common cause of floor failure within food plants is excessive moisture vapor transmission through the underlying concrete slab. Left without protection before floor coating, this can lead to blistering or de-bonding of the final surface. However, all concrete retains some degree of moisture.
That is not all your concerns about it. It is critical to determine the level of moisture transmission the slab may be subject to, mainly if it is low grade or located close to high water tables. If cyclical moisture levels are too high, there are some ways to treat the concrete substrate, including applying a damp-proof membrane before using resin materials.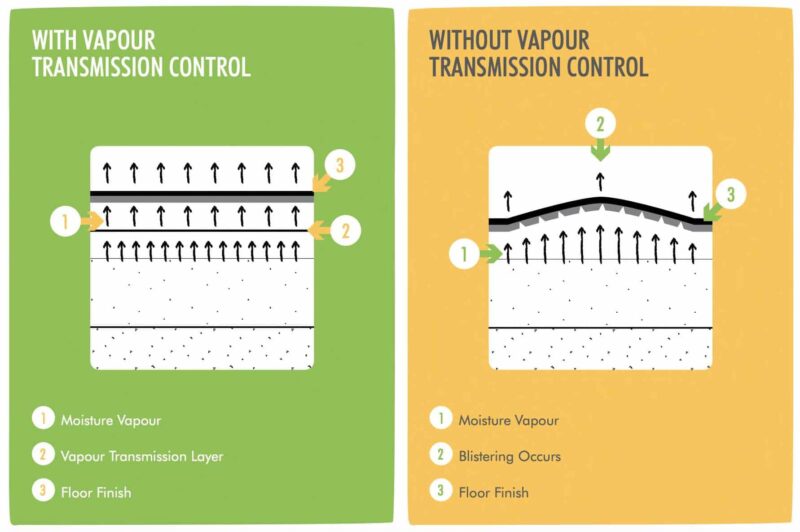 reason #5 Failure to Identify Joints
The weakest spots in a typical floor are the control and expansion joints and termination points located around doorways, hot stoves, drains, or other details and equipment. These construction details should have specs before construction to prevent undercutting, cracking, or de-bonding the surface from its substrate. Expansion joints and control joints are best saw cut after the floor surface is in place. Termination points should have a key cut to prevent undercutting and lifting.
What are Resin Flooring Options Available?
It's a big question for industrial facilities managers and plant operators working within the food and beverage industry. Resin flooring systems are available in a wide range of shapes and sizes. They have been designed to best meet the different working areas within a beverage or cannabis facility – all of which will be subject to other operating conditions.
Operational Demands
Understanding the facility's most critical operational criteria and service requirements or area in question is central to specifying a resin flooring system that will best meet your needs.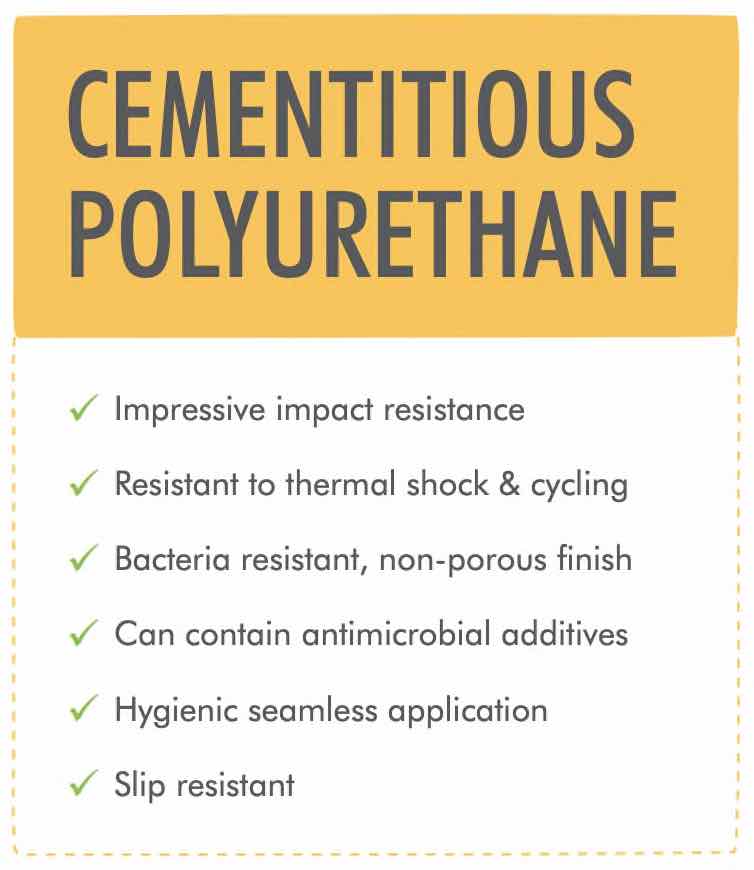 Safety Underfoot – Flooring Failure
All floors in food manufacturing, preparation zones, staff breakout areas, and amenities must have a non-slip surface to prevent slips and trips. Considering the floor finish in terms of risk management is even more critical in wet service environments, ensuring the flooring system is tested under these conditions to determine if it will provide the correct level of safety.
In wet service environments, flooring roots to falls leading to an efficient drainage system to prevent the risk of slips and water pooling. Shaping the concrete or epoxy screed substrate can be the best achievement before installing a final floor finish. Resin flooring is available in a wide range of grades. And they can have a texture with broadcast sand to increase the anti-slip profile of the surface.
However, it is essential to note that surfaces with coarse textures are more challenging to keep clean. Therefore, a compromise is necessary where ease of cleaning and heavy slip resistance is critical. 
Segregation Plan and Floor Zoning
A zoning plan on the floor's surface is a good idea. Suppose a food plant identifies areas at risk of cross-contamination or other hazards. And it is looking to segregate locations or zones by different processes. And procedures or designate different levels of hygiene through a simple color-coded system. However, there is no universal system or language in place. Colorful flooring materials are being used to set walkways or hazard risks per individual company policies and practices. 
Hygiene Floor Failure
A food processing plant floor can be a reservoir for microorganisms and a breeding ground for bacterial types. Also, strands can contaminate the working environment and the food product leading, in some instances, to grave consequences. Commonly, floor surfaces are usually more microbiologically contaminated than any other inert surface of food processing premises.
Therefore, the floor owner should give great attention to the choice and application of flooring material. Resins containing antimicrobial additives, particularly those evenly spread throughout the resin material. It can play a significant role in a contamination control strategy. Destroying up to 99.9% of surface bacteria landing on the floor's surface.
Another way to maintain a strong hygiene barrier is to consider the transition between walls and floors through coving or cleanable, sealed junctions – again, to eliminate any space that could be susceptible to dust, dirt, or bacterial build-up.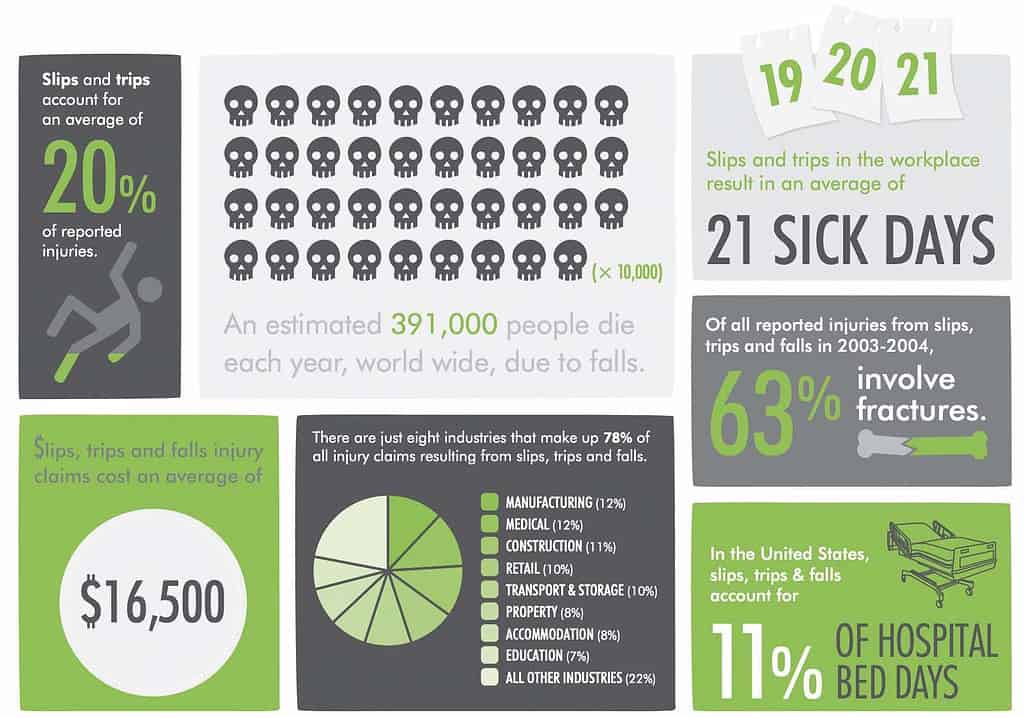 Cleaning & Maintenance
An effective cleaning and maintenance routine should be in place to preserve the aesthetic and performance. But more importantly, to reduce the risk of microbial contamination. Resin-based flooring materials should stay in a dry state between wash cycles and at low relative humidity conditions.
The installer must slope flooring at around 1.5-2% to allow water to drain correctly. Resin flooring will not be affected by most special-purpose cleaning materials when used according to the Chemical Cleaning Manufacturers' instructions. The floor owner should also seek specific cleaning instructions from the resin flooring manufacturer. A small spot test in a hidden area is worthwhile to care about before applying any new cleaning product.
The cleaning regime should specify the type of cleaning chemicals, the type of equipment to be used, and the frequency of the cleaning and temperature. It is important to note that cementitious polyurethane systems are compatible with hot water washdown and steam cleaning methods, whereas this is not recommended for epoxy or methyl-methacrylic systems.
You could also read about the most innovative 3D flooring or Textured wood-looking concrete if you liked our post. Also, you can estimate how much concrete you will need for your next project and even use our modern floor design visualizer. Finally, request a Free Estimate from your Flooring Company near me. Feel free to send an inquiry to DUOMIT.