What is Epoxy Screed?
Epoxy screed is a durable and medium-duty flooring material. Typically, epoxy screeds are used as underlays for resin flooring (such as anti-slip coatings, self-leveling epoxy coatings, etc.). Epoxy screeds are typically thicker than resin flooring (between 3/16″ and 1/4″). To achieve a smooth, level finish, epoxy screeds are generally trowel-applied, and power floated.
The strength and impact resistance of epoxy screeds are excellent. The epoxy screed may also have anti-osmosis properties, making it a damp-proof membrane.
These properties make epoxy screeds ideal for flooring systems in medium- to heavy-duty industrial settings, such as manufacturing, food processing, etc.
According to the facility's frequent activities and operations, the specification/selection process for epoxy flooring is influenced by the expected functionalities and protection requirements.
Epoxy Trowel System
Epoxy Screed Trowel System is an epoxy-based, resin-rich, aggregate-filled, seamless floor resurfacer with outstanding durability, high density, and compressive strength. It is installed in the 3/16″ – 1/4″ thickness range, protecting existing concrete or reprofiling worn floors. Besides exhibiting excellent chemical, abrasion, and impact resistance, this epoxy system is excellent for general-service applications.
Customizing epoxy screed trowel mortar is possible to meet aesthetic and slope correction requirements. You can select from unlimited colors, an integral cove base, varying surface textures, and varying sheen options to produce slip-resistant surfaces with improved traction.
Where to use Epoxy Screeds?
Most of the epoxy creeds are an excellent fit for:
Providers of animal care
Processing of beverages
Areas for wet and dry processing in commercial kitchens
Manufacturing areas range from light to heavy-duty
Hospitals and healthcare facilities
Aisles with high traffic
Bathrooms with lockers and showers
Streamline production
Rooms for dumping waste
Service bays in garages
Washing bays
What are the advantages of epoxy screeds?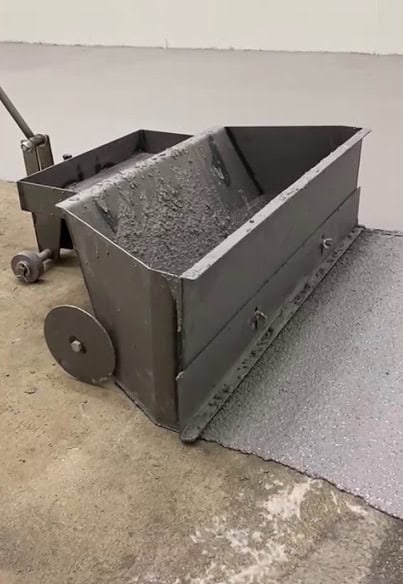 Here are some of the main advantages of epoxy mortars:
Exceptional mechanical strength
High resistance to abrasion and impact
Excellent chemical resistance
A seamless, durable, impermeable, and aesthetic finish
A more sanitary working environment that is easy to clean and maintain
It does not support the growth of bacteria or fungi
Neutral odor, low VOC content
Colors are unlimited; no minimum is requiredƒ
High-performance ratings according to ASTM G21 resistance to fungi and ASTM D3273 resistance to mold growth ƒ
Achieves compliance with LEED® v4 MRc 2 – Environmental Product Declarations (Option 1). ƒ
Suitable for use in food plants according to USDA requirements.
Limitations of epoxy mortars
A skilled and experienced applicator should install an epoxy screed using special equipment (such as a screed box and power trowel). ƒ
Before application, measure and confirm the substrate's relative humidity, surface temperature, and dew point.
It is advisable to verify and record the above values at least every three (3) hours during installation, more frequently if conditions change (e.g., ambient temperature increase, relative humidity, etc.) ƒ
A concrete substrate's moisture content must not exceed 4% by mass as measured by a Tramex® CME/CMExpert concrete moisture meter on mechanically prepared surfaces CSP 3 – 9.
We recommend installing a moisture mitigation system or a urethane concrete layer when the moisture content of the concrete substrate exceeds 4% by mass.