Explore the many varied styles of polished concrete available and find which suits your design style best. Modern luxury is synonymous with polished concrete floors. Among luxury home builders, they've become one of the most popular flooring options. A polished concrete floor can be finished in various ways, which is one of its main attractions.
Concrete floors are specified in new home construction in many ways, from the concrete mix to troweling to grinding, finishing, and polishing after it's cured. In this article, we'll take a look at these decisions.
Classic Elegance: High-Gloss Finish
Exploring the timeless charm of a high-gloss polished concrete finish.
Achieving a mirror-like shine that adds sophistication to any space.
Tips for maintaining the lustrous allure of high-gloss polished concrete.
The process of polishing concrete floors involves grinding the concrete slab multiple times with progressively finer diamond grinding tools. A floor's surface is flattened and homogenized using aggressive grinding tools in the first several steps called 'cutting.' You may need more or fewer steps depending on the finish you want and the concrete mix and pour quality.
This is when the stone aggregate in the concrete can be exposed. In the final 'polishing' step, diamond tools are used that are less aggressive and gradually increase the concrete's reflectivity. There are different levels of polishing depending on how reflective you want it.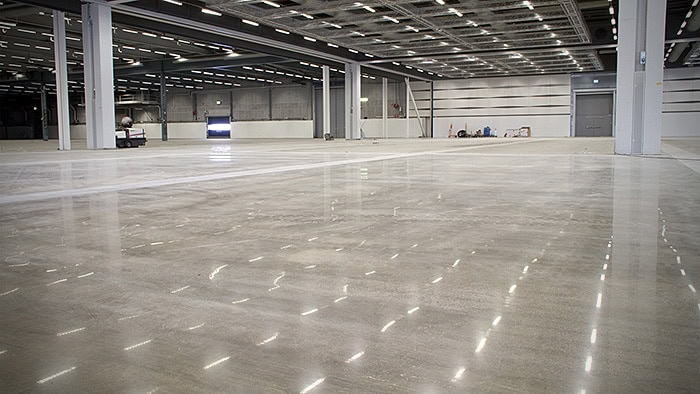 How To Add Color To Polished Concrete
Concrete floors can be colored with stains, dyes, or pigments. The best way to add color to new concrete is to mix it directly rather than stain it. It's better to add color directly to concrete than stain it because it looks better, lasts longer, and is more consistent. It's also possible for stained concrete floors to discolor in high-traffic areas, so they need touchups.
By manipulating the number of concrete additives like fly ash, we can also change the color of concrete. Coal combustion makes fly ash. Most concrete mixtures include this light, anthracite-colored particle to increase the strength and hardness of the finished slab.
Fly ash is about 5% of a standard concrete mix. It will darken and harden the floor when you add fly ash. For light gray concrete floors, you'll want to skip the additives. For expert tips and tricks on how to make light gray polished concrete floors, see our page.
Any polished concrete other than cream polished should also avoid fly ash and slag. Clumping these additives can increase finished porosity since they require removing the most superficial layer of concrete.
Levels of aggregate exposure
The amount of concrete removed from a concrete slab determines what polished concrete floor finish style you get.
Concrete with a cream polish
The surface of a new concrete pour is polished to make it look like a cream-polished concrete floor. Therefore, there's no concrete removal from the floor's surface because we skip the cutting step. As a result, there will be natural variations from the concrete pour, giving it an organic, variegated, or marble-like appearance. For new residential construction, polished concrete is the most common type.
Polished "Salt and Pepper" Concrete
Salt and pepper floors, or class B concrete finishes, are ones where the surface of the concrete is lightly ground, showing the smallest aggregates. It's a popular finish in new residential construction but is also widely used in commercial and industrial settings.
Salt and pepper finishes are common in residential renovations since cream-polished concrete isn't an option. This finish is often specified in luxury residential construction because it's considered a higher-end or more luxurious installation.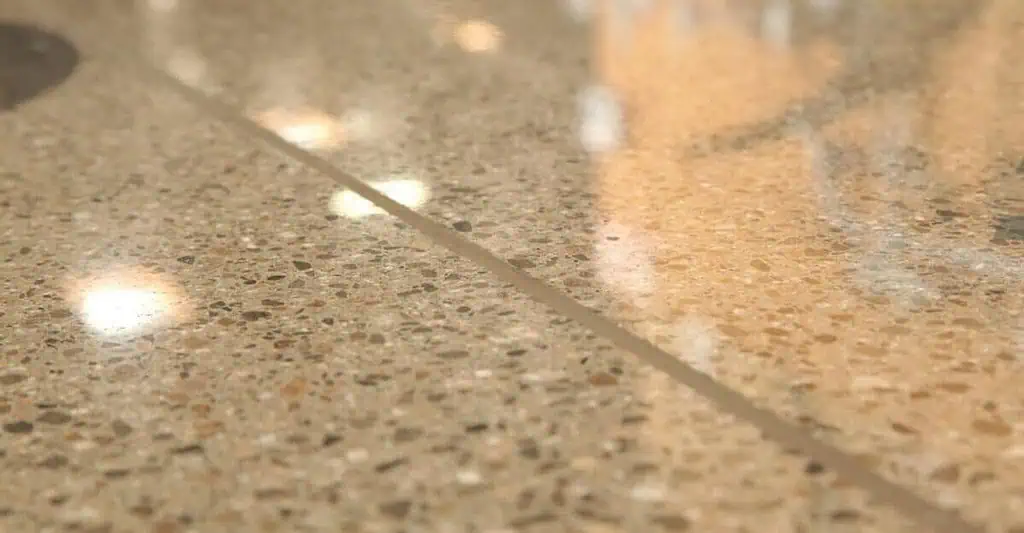 Exposed Aggregate Polished Concrete
An aggregate-exposed polished concrete floor exposes the largest aggregate in the concrete mix because it's heavily ground. A polished concrete finish like this is commonly specified in luxury residential projects because it resembles terrazzo. Grinding any concrete slab to a large aggregate exposure is possible, but not every slab looks good afterward. All large aggregate projects need samples, so we recommend them.
How To Choose Aggregates For New Construction
For concrete to be stronger and more durable, aggregates (rock and sand) are added. Aggregates typically make up 60% to 75% of a concrete mix. Unlike other materials in concrete, aggregates are much stronger and prevent cracks and deterioration. During concrete pouring and troweling, the aggregate separates by size, with smaller sand and rock particles rising to the surface.
Depending on where it comes from, quarries, oceans, rivers, or recycled materials, you can specify aggregate size, sharpness of edges, and color. The aggregate you choose will make a big difference in the appearance of a finished concrete floor.
A decorative look of open rocks
Concrete floors with these finishes have the surface removed, exposing the aggregate. The rounded edges of 'native' or river rock are ideal for salt and pepper exposures since they separate and sink in a concrete mix. Rocks and sand are separated from the floor's surface, exposing only tiny bits.
When it comes to floors with exposed aggregate, rocks with jagged edges and varying sizes will make the floor look tighter. Like a puzzle, the jagged edges hold the rocks in place near the top. The aggregate on these types of floors will polish to a higher shine than the concrete in which it's suspended, so it's ideal to leave as much rock exposed as possible.
When you get polished concrete floors with exposed aggregate, the color and size of the aggregate are carefully chosen to match your house's design. An architect or interior designer can help a homeowner decide on the best specifications.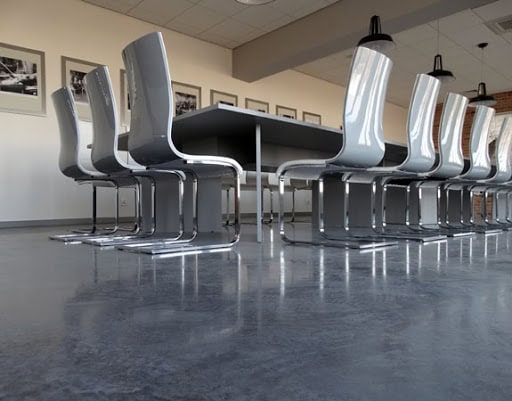 Troweling Techniques
Float pans under the power trowel's blades are best for most applications when power troweling a concrete slab. You'll get the flattest floor possible with pans because they keep the cream layer intact. If you're finishing your floors with a cream polish, don't hose the slab to keep it workable. It might make the concrete flatter, but it might cause the power trowel to wash the cream away.
It's possible to darken a concrete slab a lot by over-troweling. Using plastic blades on a power trowel will get you light-colored concrete. You should use plastic blades two times and trowel float pans two times. Contact us if you need help with your new house's finish.