Keep parking spaces safe, repair and transform
Car Park Resurfacing, as opposed to gray utilitarian structures of the past, multi-story car parks now stand out as pillars of the urban landscape, offering car owners a safe and welcoming place to park and a well-designed layout and high-quality build.
Larger parking bays, clear navigational markings, and preferential parking spaces for hybrid and electric cars provide vehicle owners with increased safety and security.
DUOMIT offers a wide range of deck coatings, repair materials, and wall coatings for specification professionals designing new-build and refurbishment car parks. You can transform old parking lots with our extensive range of repair products directly from one supplier, with one point of contact, under one warranty.
Refurbishment of the parking lot
Whether your parking facility is precast, cast-in-place, or post-tensioned, you can count on DUOMIT for concrete repair and car park resurfacing.
Our systems will protect your investment from external aggressors regardless of your repair or project needs.
Among the new construction and repair applications are traffic deck coatings, penetrants, overlays, stairwell and coatings, joint sealants, surface repair, and corrosion protection in commercial, retail, institutional, and residential parking lots.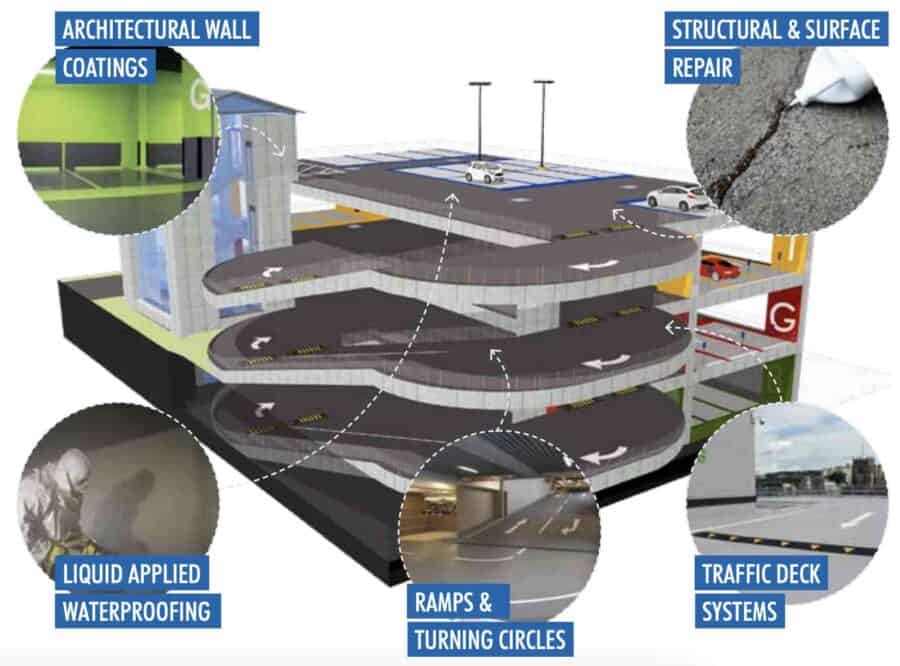 The best traffic coatings
Polyurethane traffic coating for multi-story car park resurfacing that's low VOC, solvent-free, and flexible. Gives multi-story, basement, and other trafficable suspended floors a colorful, watertight surface.
An advanced polyurethane-based temporary moisture barrier is incorporated into this polyurethane car park resurfacing system. Dissipates moisture vapor in a controlled way, which is perfect for basement car parks.
A waterproof, hard-wearing MMA coating system for multi-story car parks, basements, and other trafficable suspended floors. Fast-track applications were developed to cut down program time dramatically.
This MMA deck coating gives exposed decks a colorful, hard-wearing, watertight surface. This was developed to make it easy to get things done fast.
Providing a colorful, watertight, hard-wearing surface for ramps and other areas where high traffic is expected, this Green Label certified, low VOC, solvent-free car park deck coating system is low on VOCs and solvents.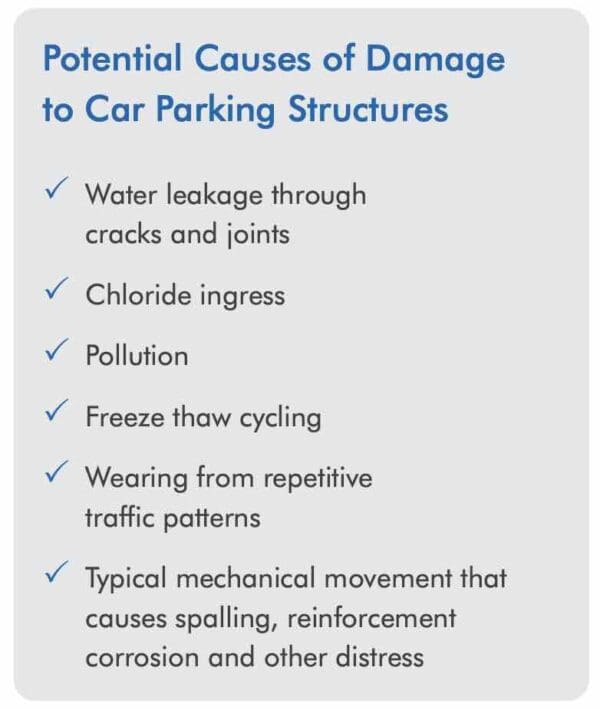 Car Park Resurfacing surfaces
An easy-to-use, single-component, rapid-setting repair mortar that's low shrinkage, high early strength, versatility, and low cost. After 2 hours, you can drive standard tires. After 4 hours, you can apply a traffic coating.
Three-part epoxy mortar/screed for repairing damaged floors, treating joints, or using as a thin layer topping underlayment for epoxy resin finishes.
It's a cement-based, single-component screed that dries fast. So before installing a floor system, you can fast-track refurbishment projects.
Keeping it waterproof
An elastomeric waterproofing membrane that is water-based, liquid-applied, and has excellent cold flexibility, elongation, and recovery. Suitable for repairing old waterproofing systems, including torch-on membranes for car park resurfacing.
This type of waterproofing membrane is torch applied, using a mixture of bitumen and APP (Atactic Poly Propylene) polymers blended to achieve excellent heat and UV resistance.
Joint fillers & sealants for Car Park Resurfacing
Sealant for dynamic joints with a single-component polyurethane blend that offers persistent adhesion once fully cured.
Designed to be highly durable in dynamic joints, this polyurethane joint sealant is single-component, low-modulus, moisture-cure, self-leveling, and moisture-cured. It keeps rubber tires and pedestrians from wearing out in high-traffic areas.
Compounds that will withstand repeated expansion and contraction and remain resilient through daily and seasonal temperature changes. Resistant to chemicals, solvents, and water, and can withstand joint movement up to 25%.
QWIKjoint UVR is a UV-resistant polyurea joint filler used primarily to fill construction and control joints in concrete floors. In addition to supporting and protecting joint edges from heavy loads, Euco Qwikjoint UVR reduces spalling.