Basement Flooring – Best Options For Any Business or Home
In an ideal situation, you would use any flooring for your basement. You read this article because you are in the process of choosing the right product or material for your basement. Unlike above-grade premises, basements are usually exposed to hidden moisture— the source of mold. Moreover, since basements are the bottom point in the house, there is the accumulation point for flooding from water heaters, dishwashers, water supply pipes, etc.
Firstly, basement flooring doesn't work by the ordinary rules of flooring. Secondly, basement flooring might lixiviate residual moisture in the vapor's form through its closeness to the ground. There are other ways that water can inject into your basement. Moreover, in massive rains, basements can be the epicenter of the flooding that we are all scared of and keep the insurance companies in the business. As a matter of fact, moisture is the primary concern with basement floors. So let's find out how to avoid it and the best options for your cellar.
Ground-level Floors Basics
Surely, the ground-level floor doesn't refer to standard and economical flooring. On the other hand, all the above-grade flooring is safe from moisture migration and the most normal flood occurrence. Furthermore, everything below grade level risks mild flooding and water vapor damage.
As a matter of fact, hard materials like concrete and resinous flooring perform better than carpet or hardwood in basements. Inorganic materials like epoxy or concrete won't deteriorate, while organics (wood or carpet) will grow mold and break down over time.
Ceramic Tile Basement Flooring
Basically, the tiles are one of the best basement flooring options. Also, tiles have a finished surface compared to a raw concrete floor. That is attractive and needs no further treatment as concrete does. The owner can install ceramic tile right on your concrete. Also, you might need radiant heating between the concrete and the tile to warm the surface.
pros
It dries out and is not damaged due to a flood.
The DIY installation process in small areas
Never start rotting
Cons
Requires radiant heating in most cases
Low sound absorption qualities
Installing large areas will require professional labor.
Concrete may need significant repair and leveling.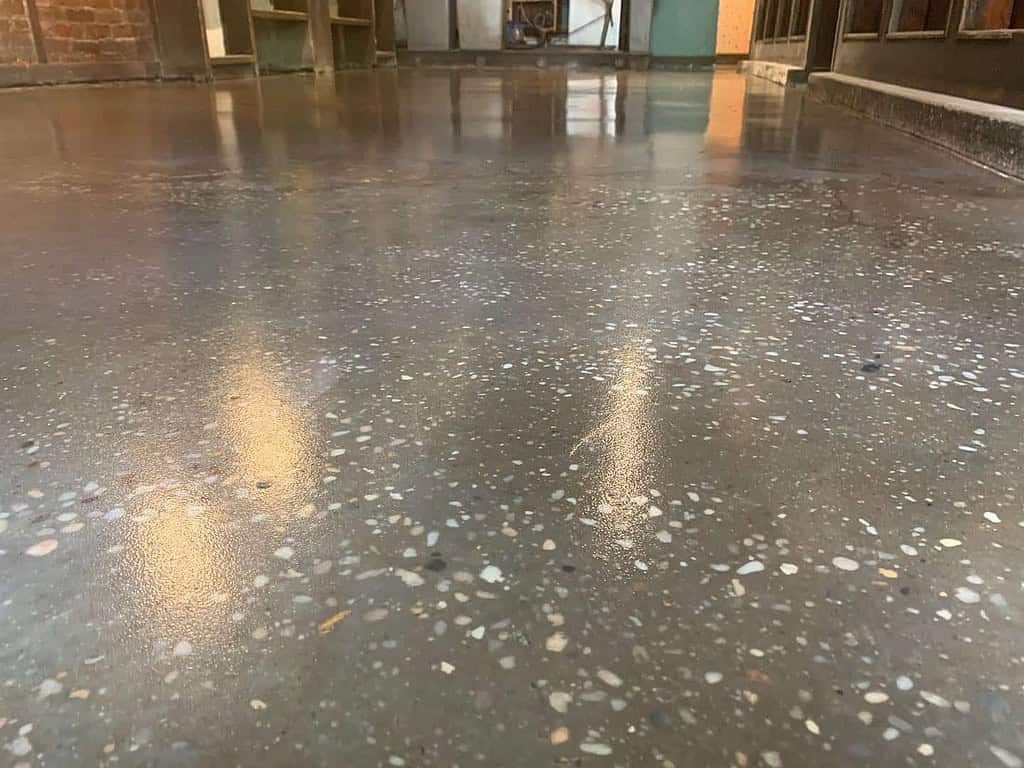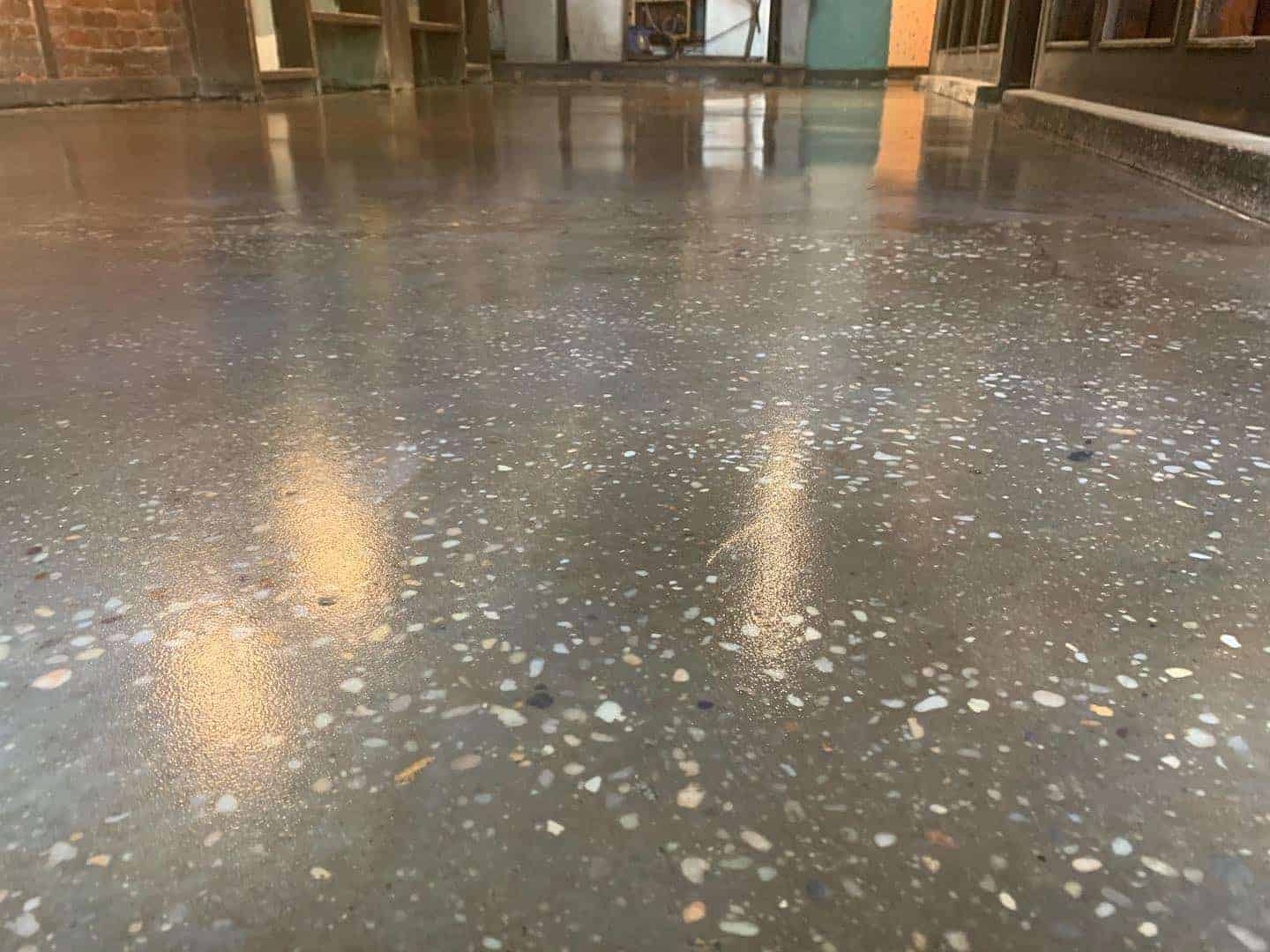 Concrete Basement Flooring
Lastly, trends push toward practical surfaces, and concrete has come into the highest acceptance by owners. Furthermore, concrete does not remain raw anymore—the most popular techniques of concrete sealing or stained concrete surface to give it various appearances. In fact, if extensive patching is required, then concrete overlays are the only way to cover up the imperfections.
pros
The most moisture-tolerant basement flooring
Requires the least amount of materials
It doesn't need a subfloor
Cons
Coldest of all options
Bad sound quality
Requires concrete contractors' installation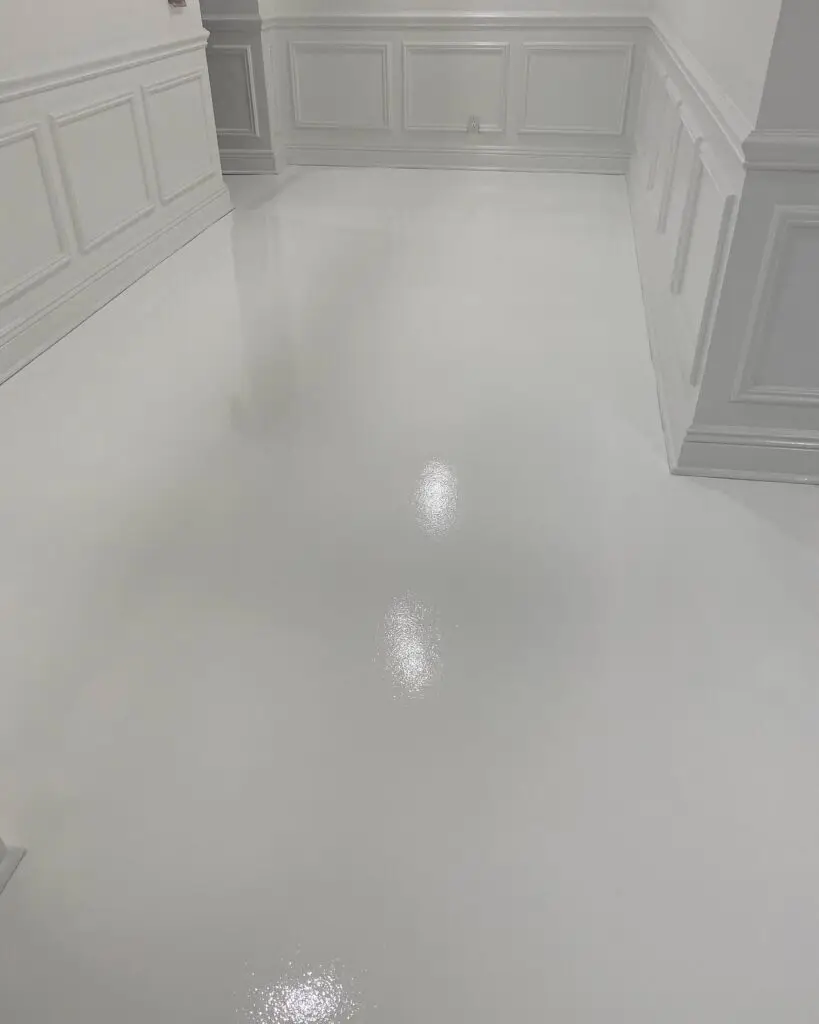 Epoxy Basement Floor
In fact, many customers choose to install a high-quality epoxy coating. Unlike conventional floor paint, epoxy basement floor coatings help to prevent cracks and hide all imperfections. Furthermore, Moisture control coatings help trap moisture in the concrete and from coming into the basement with the result of a drier, cleaner, less musty basement. Also, various colors of epoxy floor systems give endless design opportunities. Moreover, they are easy to clean and create beautiful, one-of-a-kind flooring in your basement.  Lastly, the epoxy basement floor is durable and low maintenance.
pros
Appearance, the most decorative option
Resistance, moisture tolerant, and protective
Durability extreme and wear-resistant
Cons
The coldest of all possibilities is a concrete
Sensitivity, If not done correctly, the flooring will not last
Requires professional epoxy flooring company installation
Finally, if you decide to go with any of these options, request a Free Estimate from your Flooring Contractors Near Me. Read more about Polished Concrete Floor in your basement or Commercial Waterproofing Services. DUOMIT is your proven service provider in New York City.