Pouring Concrete Over Plywood – Yes!
How to pour concrete over plywood? Many people are looking for chances to transform their existing plywood or hardwood subfloors into concrete floors. Unfortunately, the humidity and daily temperature make changes in the wood flooring to expand and move under stress. As a result, the joints between boards are increasing. Thus common gypsum or acryl-modified underlayments will crack along seams. Moreover, it will break the bond with lateral plywood movement.
In fact, most of the contractors will tell you that pouring concrete over wood can be a hard job to do. For example, plywood is notably hard to pour over since it won't allow the concrete to settle evenly due to a lot of porous. However, cementitious mixes exist that may provide the solution of mimic concrete's surface and durability. You can find these solutions on our decorative concrete page.
Flexible Thin-Layer Screed
As a matter of fact, most remodeling or new projects can be challenging when the subfloor is in bad shape by use through years of use. What's the benefit of reno vs. demo on projects like this? You can save a lot of cash when a load-bearing surface can be refit. We are familiar with the scenario, so we use concrete over plywood – an innovative solution with sound-dampening, fire-resistance qualities, and insulation in mind.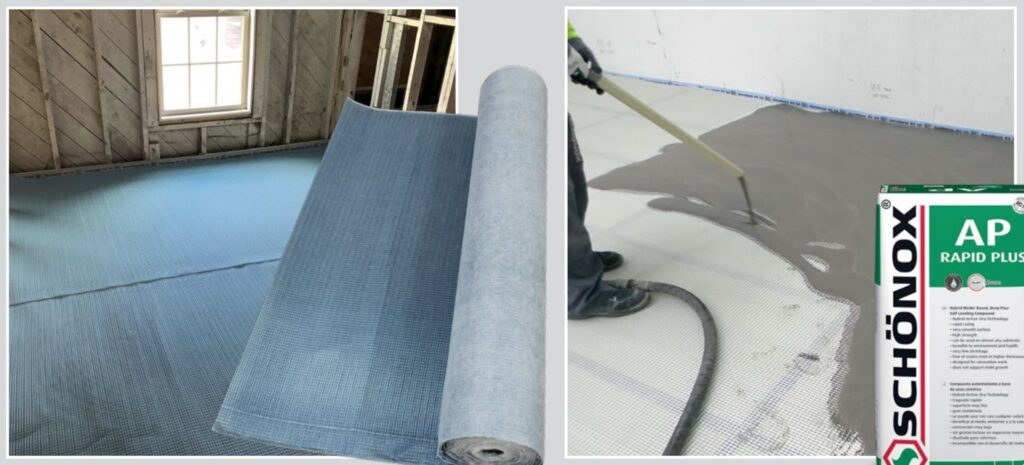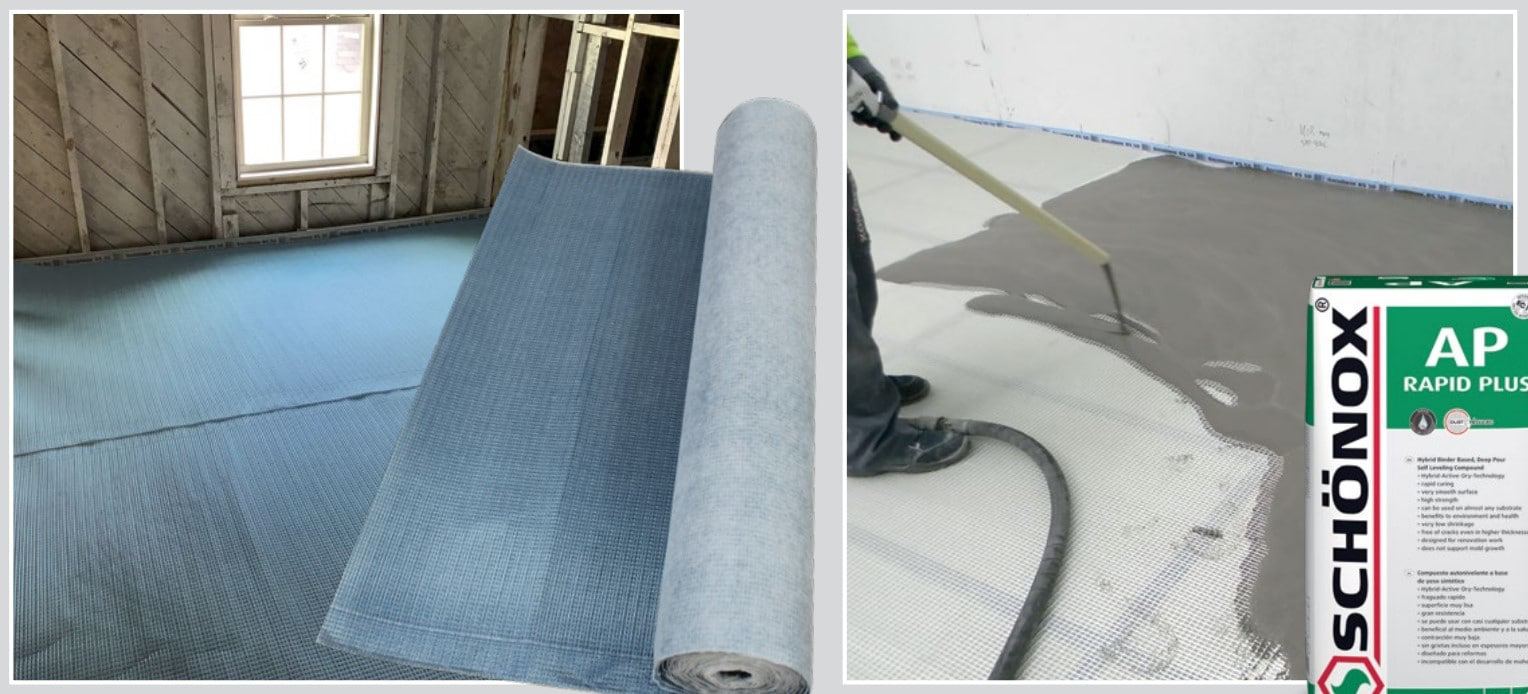 A Simple installation process, while Cost and labor efficient
Schönox Renotex 3D is a multi-dimensional glass fiber reinforcement fabric with a hybrid self-leveling compound – Schönox AP Rapid Plus. As a result, it dries fast despite climate conditions and works as a sound insulation layer over plywood. Also, it creates a floating structure that is UL classified.
The Renotex 3D System is highly efficient on a free of any debris wood subfloor. In new construction, you don't need any specific surface prep. If you do a reno, try to remove any existing floor covering and open a bare wood. No further prep is necessary.
If an existing covering is decent to be left on the floor, the installer may use the Schönox Renotex. If any damage to the wood surface, including voids, large cracks, or breakouts, you should fix them accordingly. This step will prevent the self-leveling Schönox AP Rapid Plus from flowing through the structure.
Epoxy Flooring: Durability and Elegance of your leveled office's subfloor. 
Transform your Commercial Spaces with Epoxy decorative overlay.
The insulation and sound sheet are put in place sheet-to-sheet on the plywood or other wood substrate. Minimize any joints or voids to a width less than 1/8" between the sheets. After that, cover the area with the insulating and sound sheet, and close all the gaps to the perimeter using the RS 50 foam tape to any verticals.
The foam adds sound insulation, while the self-sticking lip glues down to the sheet to prevent the AP Rapid Plus from flowing underneath. Thus, concrete over plywood is a great alternative!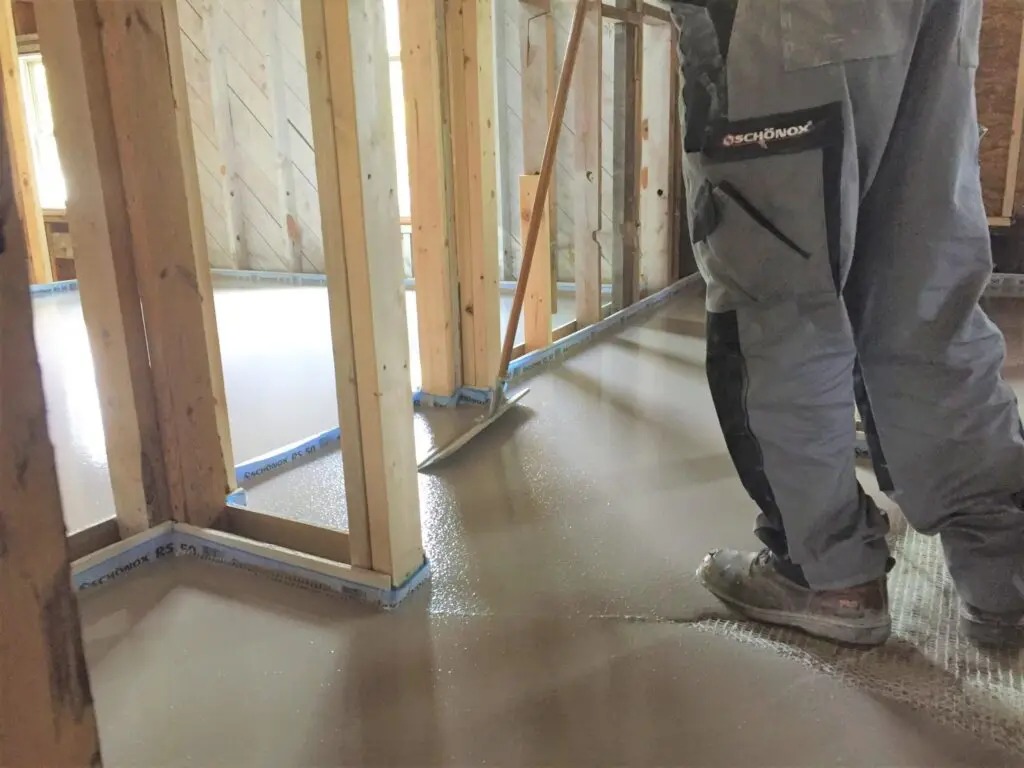 Self-leveling Concrete Over Plywood
As a matter of fact, this fire-rated subfloor solution is suitable for any wood subfloor in multi-family projects, student housing, apartment buildings, or senior living facilities. Also, you can use it on any wooden substrate in new construction or renovation:
No priming
Interior use only
Fast-track application over critical substrates
Low dust properties
Suitable on underfloor heating systems
Very low shrinkage
Suitable for casters' wheel loadings
Layer thicknesses from 1/8" to 3"
Concrete over plywood is good for filling, smoothing, and leveling substrates under flexible coverings or wood floors. It also works great on:
– cement and concrete surfaces
– gypsum surfaces
– old floors, such as terrazzo, ceramic tiles, rubber, and resilient floor coverings
– OSB board and plywood
Ready for covering installations after 12-16 hours at 1/2" thickness and after 48 hours at 2" thickness. Above all, it has compressive strength (ASTM C109): 6300 psi after 28 days and 2400 psi after the first day.
You could also read about the most innovative 3D flooring or Textured wood-looking concrete if you liked our post. Also, you can estimate how much concrete you will need for your next project and even use our modern floor design visualizer. Finally, request a Free Estimate from your Flooring Company near me.