Schonox Subfloor – 125 years of Flooring Experience
Subfloor issues could be challenging, Schonox Subfloor provides solutions with a full line of primers, repair mortars, floor leveling compounds, and adhesives. HPS North America specializes in manufacturing the most technically advanced subfloor solutions for renovation and new construction. Their innovative products include primers, subfloor repair products, moisture mitigation systems, self-leveling compounds, waterproofing materials and adhesives – all skillfully developed to be more cost and time-efficient.  
Schonox SubFloor Leveling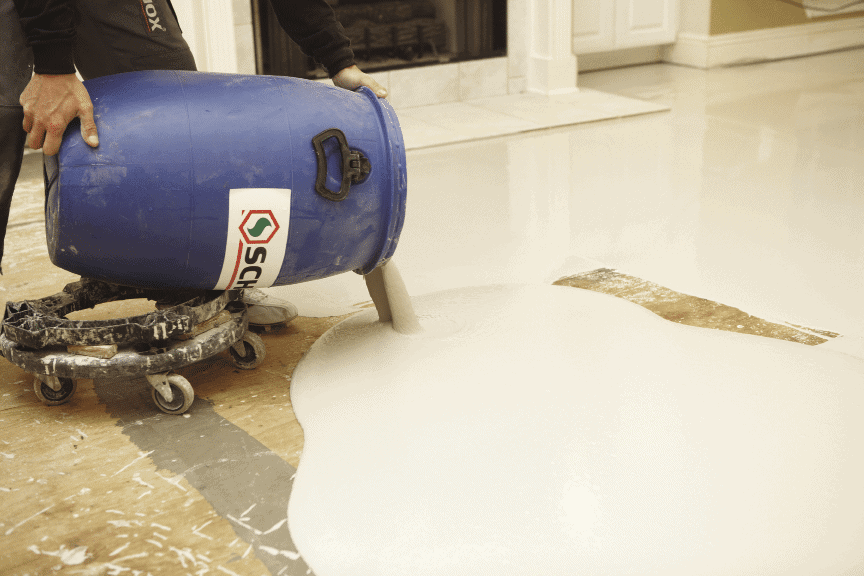 Primers & Moisture Systems
Schönox SHP – Ready-Mixed Acrylic Primer for use on sound, smooth, and non-porous substrates. Especially before use of Schönox underlayments on ceramic tiles, old vinyl, linoleum, plywood, OSB, and rubber coverings. Interior and exterior use.
Schönox EPA – Two-Part, Fast-Drying, Epoxy-Based Moisture Mitigation System and Migration Barrier suitable on porous, concrete slabs with residual moisture up to 100% RH or 25 lbs./1000 sq. ft./24 hrs. in interior or exterior areas before applying Schönox underlayments.
Schönox VD – Dilutable Acrylic Primer especially suitable for use prior to applying Schönox underlayments on porous substrates. Suitable for priming on walls and floors following the recommended dilution rates. Interior and exterior use.
Repair, Patching & Smoothing
Schönox PL – Cement-Based, Universal Repair Mortar suitable on all cement and gypsum-based substrates. Designed for rapid-drying patches and repairs in interior and exterior areas. Schönox PL can be installed up to 2″.
Schönox SL – Cement-Based, Rapid-Drying, Smoothing and Finishing Compound provides a smooth finish on a variety of substrates in interior areas. A true high-performance featheredge up to 1″. Does not require priming, unless over gypsum. Over gypsum, preferably, use Schönox AST with Schönox AP and APF synthetic gypsum self-levelers.
Waterproofing
Schönox HA – Ready-Mixed, Rollable Waterproofing and Crack Isolation Membrane for installation under ceramic tiles and stone in residential and commercial wet interior areas. Install as a crack-isolation membrane without waterproofing requirements, by applying one coat at the required thickness.
Pour it simply, we solve subfloor problems using Schonox.