Polished Concrete Floor in New York City
Why Polished Concrete Floor?
Polished concrete floors are the world's leading technology for upgrading offices or homes. The process has been refined over the years by experienced contractors, making it a structured and efficient solution. When properly installed, polished concrete is highly durable and can last for years.
Polished concrete creates a positive impression in various environments due to its evenness, durability, and easy-to-clean surface. It is commonly used in shopping centers, schools, museums, warehouses, factories, and other high-traffic zones. Before and after pictures demonstrate the transformation polished concrete can bring to any space.
Where Polished Concrete Floor Can Be Used?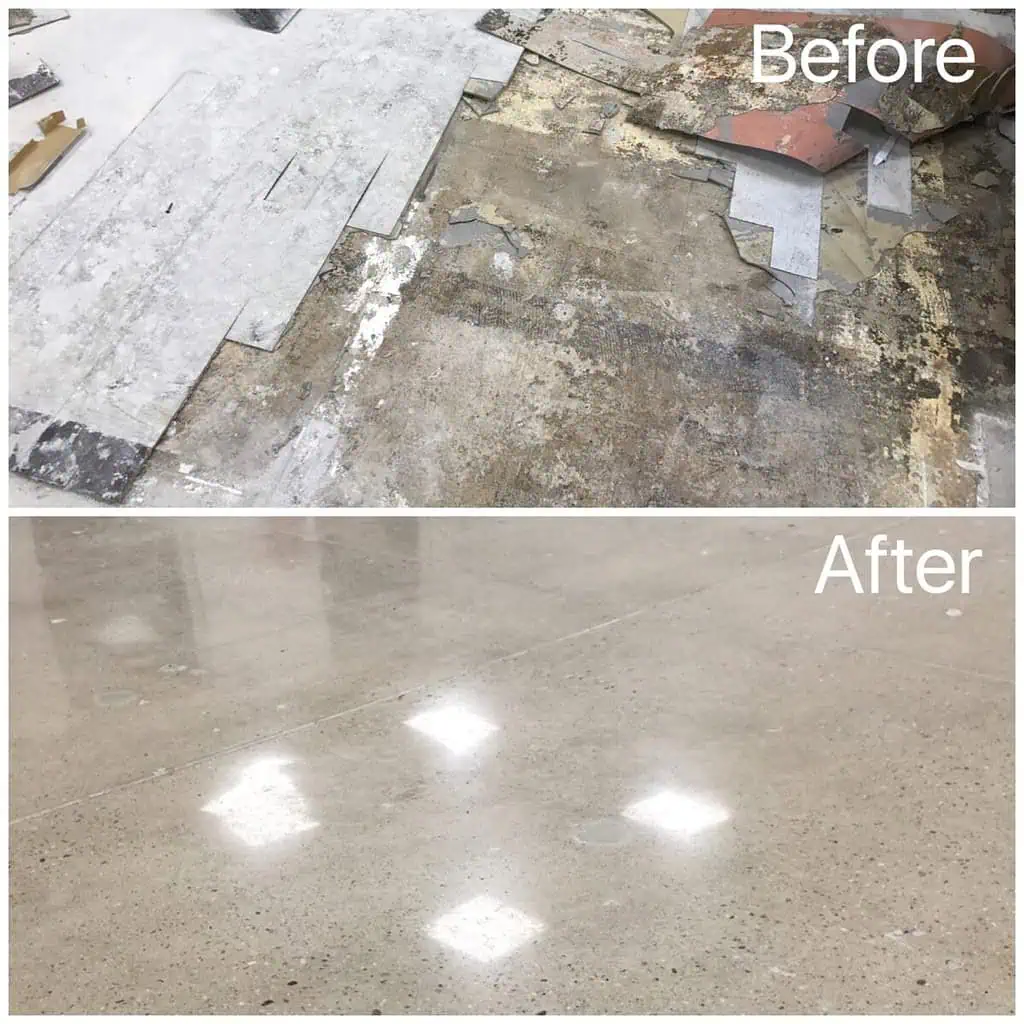 The most common areas of use are:
Industrial and warehouse environments
Public buildings
Shops and showrooms
High-end architecture
Residential and Houses
Maintaining the pristine condition of your floor surfaces requires consistent cleaning and diligent upkeep by adhering to a regular cleaning routine and implementing proper maintenance techniques. You can ensure that your floors retain their original luster and appeal.
Once you have completed the vacuuming process, it is advisable to employ a microfiber cloth to achieve a pristine polished finish and restore the surface's shine.
Drawing a comparison between polished concrete floors and ordinary floor paints is akin to likening a Dodge Ram pickup truck to a Bugatti Chiron sports car merely because they share the commonality of being automobiles.
What Is Polished Concrete Cost?
Opting for polished flooring can be a financially savvy decision in the short and long run. Its low cost per square foot makes it a favorable choice compared to other available flooring options.
You can find polished concrete flooring costs $3 to $8 per square foot. The cost will depend on the project's complexity and location.
If you're looking for a luxurious and high-end finish for your concrete floors, exposed aggregate concrete might be your choice. While it is the most expensive option for polishing, it is also the most visually stunning. This type of finish is popular since it can be ground and polished 5-7 days after casting. With its unique texture and natural look, exposed aggregate concrete will make a lasting impression.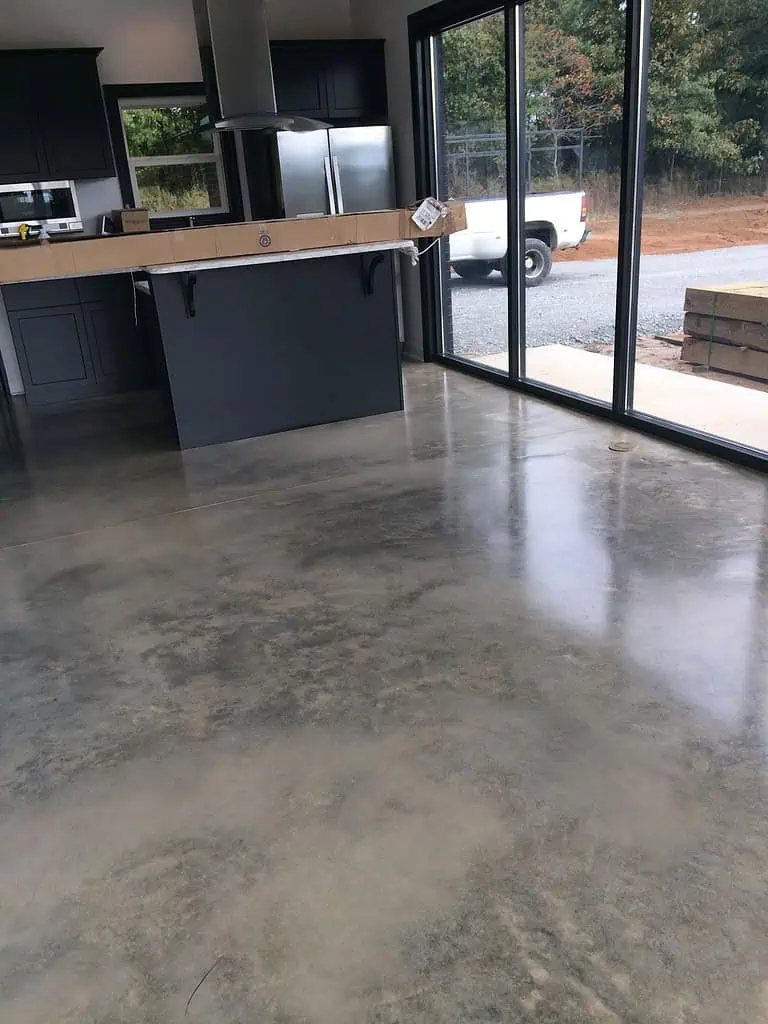 How does polishing work?
Industrial and commercial buildings are the ideal locations to achieve the highest quality of concrete polishing. Moreover, the flooring materials utilized in these settings are all environmentally friendly and comply with "Green" standards.
Our team employs a meticulous multi-step polishing process that involves increasingly finer diamond tools. This process allows us to mechanically hone and polish surfaces to a remarkable smoothness of up to #3000 grit. This approach ensures that each surface we work on achieves the highest shine and clarity possible.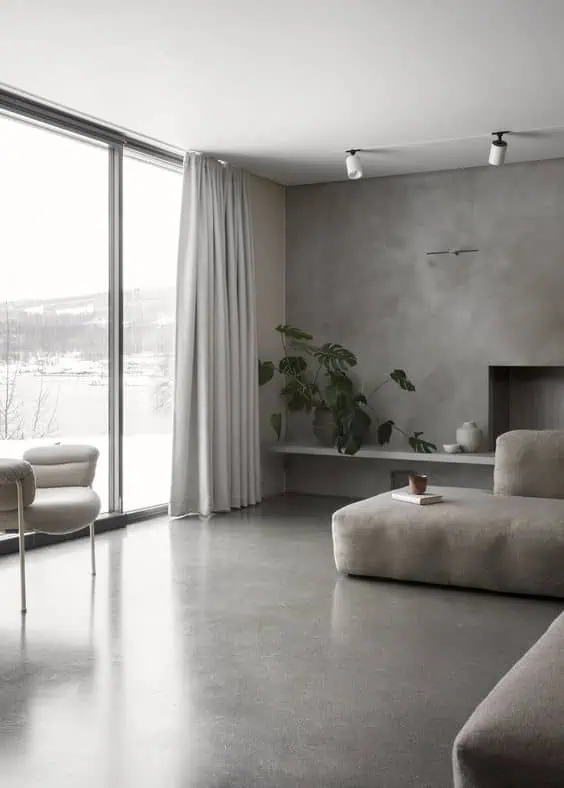 After carefully assessing the condition of the concrete, we meticulously choose the most appropriate penetrating densifiers and sealers to fortify any weakened or softened areas. We aim to create a dependable and secure working environment prioritizing safety and stability for you and your team.
Why Polished Concrete Floor is the Best Option?
This flooring option provides a supremely level and consistent surface for both walking and driving, and it also boasts impressive slip-resistant properties, ensuring optimal safety.
Impressively, it meets the most rigorous standards for handling electrical equipment, making it an excellent choice for facilities that prioritize safety. Furthermore, it's worth noting that this flooring option has the highest possible rating for fire safety, affording even greater peace of mind.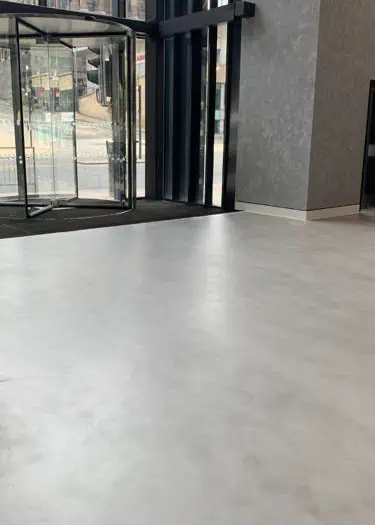 You can enjoy smooth and seamless operations with our advanced remote-controlled grinders and dust extractors. Our professional finishing techniques can make your cement floors shine, ensuring they last for over 20 years with regular maintenance and monthly deep cleaning. Trust us to provide you with the best service and equipment for all your flooring needs.
Polished Concrete Floor or Cement Overlay?
Our team utilizes state-of-the-art machinery to apply self-leveling concrete overlays that provide exceptional strength and a polished sheen without requiring additional coatings or wax treatments.
Polishing concrete overlay is becoming a popular choice for offices and retailers as an alternative to tile, VCT, or synthetic coating. Clients can also choose their preferred sheen level, from high-gloss to satin.
If you're dealing with a damaged floor exhibiting issues such as unevenness, cracks, and large holes, then concrete overlays might be the solution you're looking for. These overlays are designed to provide a durable, long-lasting fix that can help you avoid costly repairs or replacements.
With their smooth, even surface and ability to cover up imperfections, concrete overlays are a great way to restore the look and function of your flooring.
Indeed, this surface will give a higher level and even finish than the existing concrete polishing. Also, clients can add aggregate, colors/dyes, and saw cuts to get a more decorative or terrazzo-like finish.
Polished Concrete Floor is Your Right Choice
DUOMIT works with top GCs of New York City and its suburbs. We update our crew with cutting-edge technologies to provide superior floor installation services.
After all, our mission is to make New York City a better place, one polished or epoxy floor at a time. We take pride in our work. Where commercial floors require high-end surface finishes with long terms warranties. Please shoot us a message and request a Free Estimate.
If you are interested, know How much concrete do you need? Please don't spend any more time here and check our Concrete Calculator. You can also review our methods of damaged marble repairing and polishing—more about different Styles of Polished Concrete.
Pros
Great customer service, no delays.
Concrete Polishing

SUMMARY

I would recommend Duomit without any hesitation. Quality work, open communication, NO hidden costs, and I truly believe they take pride in every job.