Concrete Sealing – Dustless and Affordable, Enhanced Finish
A sealed concrete floor creates a surface's beauty by improving a natural color and adding sheen to an old floor. As any porous surface has to be protected from mechanical abrasion and stains, any concrete sealing procedures should be a must to extend a lifetime.
No decorative concrete floor installation is complete without a sealer application. Also, adding color stains or dye can get a different concrete design. Furthermore, taking the time to put down this final layer of protection not only prolongs the life of your floor but can also enhance and preserve its appearance. 
What is the difference between Sealed and Polished Concrete?
This makes it a sealed floor rather than a high-gloss polished surface. Some sealers prevent moisture intrusion under final coverings. Thus, sealing a floor is the best option for cheap, low-traffic areas.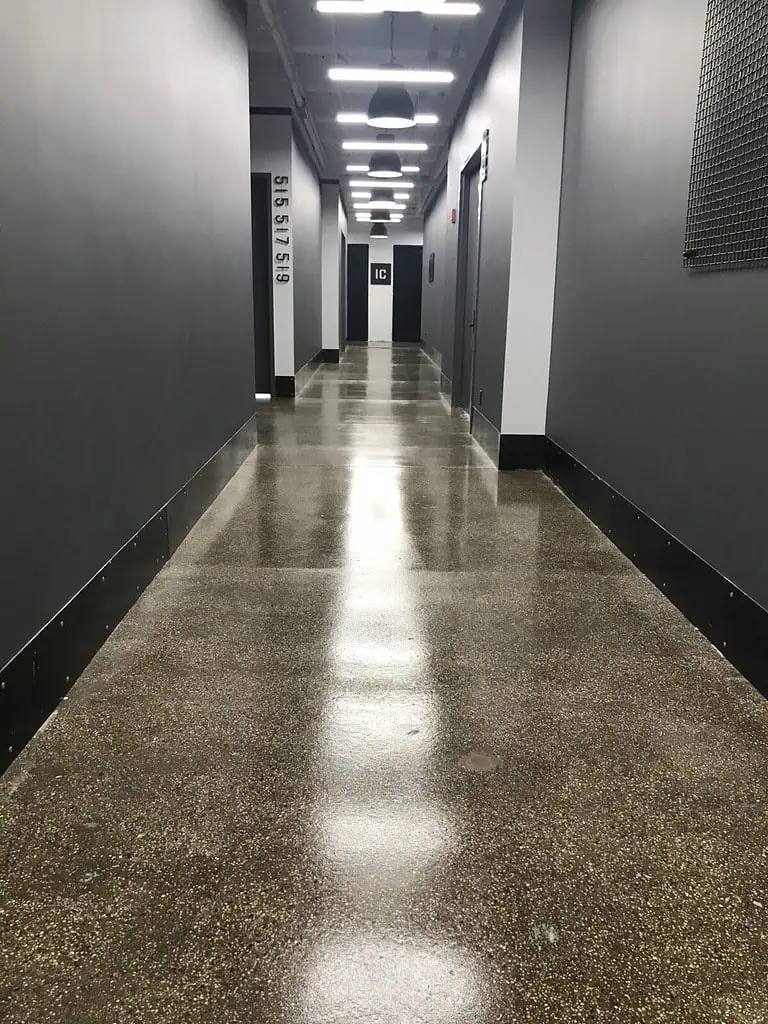 The problem with sealers is that they are easily damaged by moisture coming up through the slab and wear out quickly under heavy traffic on the surface. Each time something passes over the surface, it will erode the surface until the sealer wears off. Thus, concrete back to the bare slab, especially in high-traffic pathways, routes, or high-impact areas.
These surfaces need resealing regularly and never have the same clarity as polished concrete floors.
While polished floors may also use sealers, sealed surface differs in that the floor is not honed and treated to the same level of sheen as polished.
What is a Sealed Concrete Floor?
Sealed Concrete floor is a process in which a surface needs to be ground to a smooth finish and sealed clear. Installers can use various water-repellent sealers and coatings to seal the floor. An example is acrylic concrete floor sealer, polyurethane, or screed sealer.
The concrete surface requires at least a 120-grit finish for sealing when polishing is around 800 grit. The concrete grinding and sealing process needs fewer grinding passes. Therefore, it's more budget-friendly.
Our customers want to improve their Portland cement garage floor surface to a smoother surface and achieve the desired sheen. Solvent-based sealers can help prevent freeze-thaw issues in cold areas and work great for exterior purposes. Contractors could achieve the slip resistance effect by adding an aluminum anti-skid powder to the polyurethane sealer.
We have performed millions of square feet of slab sealing, including indoor floors, outdoor and stamped surfaces, natural stones, and driveways. Utilizing clear acrylic sealer or water-based epoxy, urethane clear coat, epoxy floor paint, etc.
How Long Do Concrete Sealers Last?
If you expect a longer sealer life, choose the right system and maintain it properly. Surely, epoxies and urethanes deliver the best long-term performance and can last years before the need for reapplication. You get what you pay for when it comes to concrete floor sealer.
Depending on the traffic level, you can get similar performance using a urethane or epoxy system, which commonly lasts 5 – 10 years. Acrylic Water-based sealers withstand the shortest performance life – 1 to 3 years.
Sealers Compatibility with Different Finishes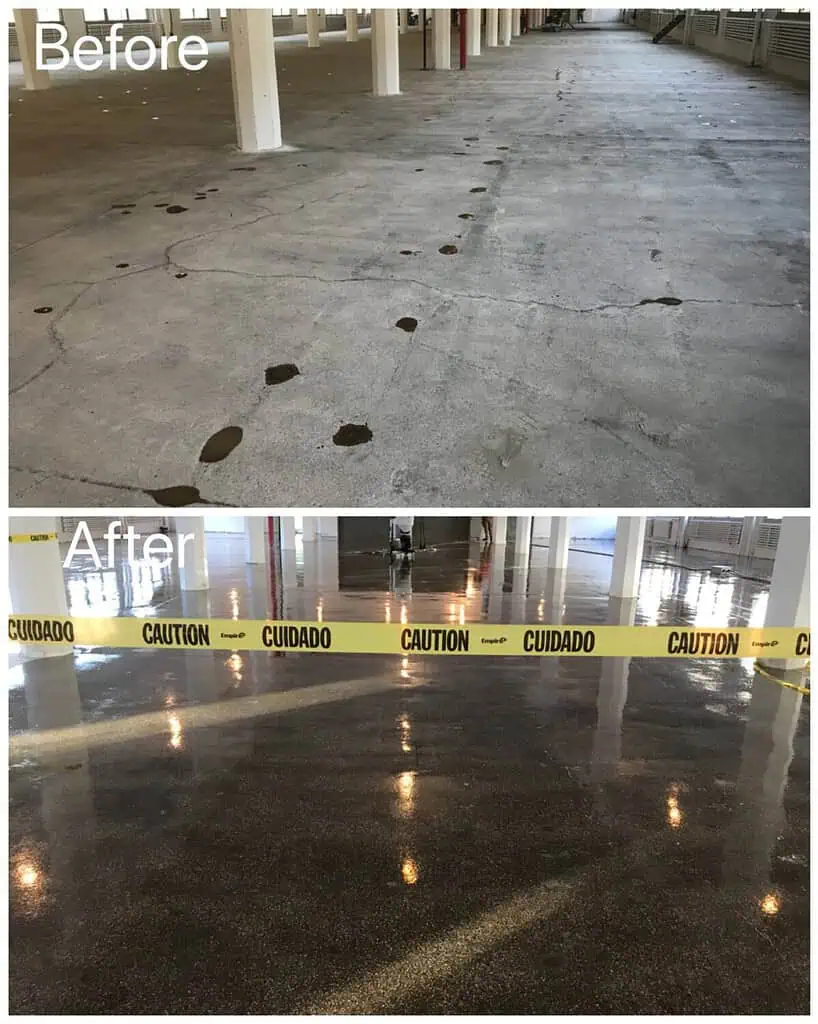 Most sealers work great on acid-stained floors. However, a no-odor water-based acrylic sealer with floor wax works best if you have an interior space. If it is a commercial shop, epoxy with polyurethane would be the system.
When it comes to a stamped slab, we use either water-based or solvent-based acrylics—also, methyl methacrylate (MMA) shows the best performance for this application.
The choice of sealer for the stamped concrete will depend on the customer's wish to achieve a "wet look" effect. You might consider the higher the solids content, the greater the gloss.
Different types of liquids will provide this effect:
solvent-based acrylics
glossy polyurethanes
Choose a film-forming coating with a matt or flat finish for a natural stone look. You could also use a fully penetrating sealer that will leave the natural look of the unchanged surface.
How to Clean Sealed Concrete Floors?
As a result, the best possible application and regular cleaning will guarantee the best appearance and long-lasting protection. A good practice will be resealing the surface after several years of use in high-traffic areas. Most of the time, customers think the color is fading on their decorative surface when all that is happening is that the sealer breaks down and needs a refresh.
In the case of outside work, a final seal coat helps minimize exterior concrete spalling. On top of that, the most effective way is to inspect the sealer every six months and reapply each year. Again, this final topcoat is the sacrificial coat. Sealers are no such thing as a maintenance-free floor.
Resume 
Sealing burnished concrete is a robust way to enhance its beauty while also increasing its lifespan. The great thing is that you could easily do a floor sealing project by yourself. If you're not especially assured with your DIY skills, your smart decision will be to hire a pro.
Get in touch with DUOMIT and request your Free Estimate now! You might be interested to read about Textured Concrete or Concrete Stain Colors. Learn what microcement flooring is.