Stained Concrete Floors for Your Home or Business
Stained Concrete floors bestow a luxurious richness that any other coloring method can't achieve. Therefore, stains permeate the concrete, infusing it with translucent tones varying on different application techniques and surfaces.
In fact, the results can mimic everything from natural stone or polished marble to tanned leather or even stained wood. Stained Concrete floors are known on the market as Acid Stain Concrete or Water-based Stains.
A well-known fact, both types of stains are easy to install on old and plain or new, integrally colored concrete. They are especially effective for revitalizing dull surfaces. Most dyes have excellent wear resistance and UV stability, permitting their use on exterior or interior concrete.
How to Stain Concrete?
As a matter of fact, all Concrete Dyes and stains are easy to apply on any cementitious surface, including concrete overlays, self-leveling, or polished concrete. However, they are not working like paints that cover the surface. Because, Dyes and Stains penetrate the concrete, enhancing the character, not hiding it.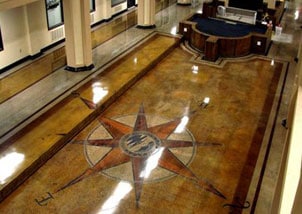 A contractor can use a combination of dyes and stains to create custom floors with a natural stone appearance. Also, a more colorful artistic appearance. The result is a marbled look. Once you apply the stain, you can seal the floors with water-based sealers, epoxy, and high-performance urethanes.
As a result, we provide these techniques for staining concrete floors for commercial facilities or residential homes. Indeed, as experienced stained concrete contractors, we know the importance of properly preparing a surface and completing a beautiful job.
We have completed many retail stores, restaurants, office buildings, showrooms, and other locations.
After all, stained concrete can enhance and beautify both exterior and interior concrete stains. Additionally, concrete staining can be a very cost-effective solution to other types of flooring.
Acid Stain Concrete
The age of the slab and concrete conditions are essential for the successful acid staining process. When determining whether your slab is a good candidate for acid staining, keep these questions in mind. The concrete slab must be free of dirt, oils, paint, drywall mud, debris, adhesive, or sealers. Otherwise, an Acid stain cannot react properly with the concrete if these conditions are present.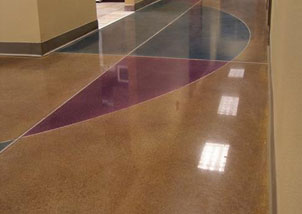 The slab should not have waterproofing additives, cleaned with heavy tri-sodium phosphate or muriatic acid. The acid stain chemical reaction cannot occur on surfaces treated with these products.
We are applying concrete stains with a vast array of colors and stain choices. This is amazing in that it boosts almost any concrete surface. Also, we work to get the expected finish and color of the decorative concrete floor you want.
Finally, you can add custom graphics with stains, subtle hints of color, and bolder design accents. Tints are applied to existing or new concrete floors and work equally well with concrete overlays. Besides, because concrete stains penetrate the surface deeply, they produce permanent fade-resistant color. Unlike with a coating or paint, the color will not peel away or flake off. See our photo gallery.
There are endless decorative effects that you can achieve with water-based or acid stains. Firstly, the best approach is to use just one stain color in a hue that will complement your design. Secondly, you can be more daring and use multiple stain colors to create custom looks. Although shades of gray and brown are the most popular stain colors for concrete floors, especially exterior concrete stains.
Concrete Staining Costs
Stained Concrete Floor costs are comparable to other flooring types, such as carpet or tile. But the misconception is that Stained Concrete is cheap. A simple stain and sealer application costs less than $3 per square foot. And for larger commercial jobs, expect to add more if prep work requires concrete grinding. Surface Prep work includes crack repair, edge grinding, and fixing blemishes. Extra requires additional knowledge, skill, materials, time, and expense.
Medium Design Stained Concrete – Average market price is up to $7 for a stained and dyed floor with multiple colors and a bare floor design.
Advanced Design Floor – Depending on the design level, it can go up to $14 per square foot. Most expensive stained concrete floors are found in retail stores where curb appeal is part of the brand.
The prices above are guidelines. Every floor is different. Many factors can affect pricing.
Decorative concrete floors are easy to clean and maintain. Use a mild dishwashing soap or plain water for everyday cleaning. Or you can clean the floor using a power wash. Cleaning detergent can be sprayed using a pump sprayer. Avoid using steam cleaners or chemical solid detergents as they can damage the wax finish.
Read more about Concrete stain colors and Best Exterior Concrete Paint. Find out modern flooring ideas for your home office. Read about different Styles of Polished Concrete. Request a Free Estimate now and let DUOMIT know more about your project needs.