Ameripolish Smart Floor Concept for Concrete Maintenance
Ameripolish was hosting a day of hands-on training class for Ameripolish Certified Installers. The event occurred on August 21, 2018, at the APE Companies, Bristol, PA.
DUOMIT specialists have learned about new Ameripolish® products for polished concrete and techniques from Ameripolish's experienced Technical Support team.
Received Ameripolish Academy Certificate
Met the Tech Support Team & Sales Team
Hands-on, Interior & Exterior Applications
Learned about brand new products & experienced techniques
The SmartFloor concept is designed to provide the floor owners with an easy and economical way to maintain polished concrete and a high aesthetic floor utilizing existing personnel and standard janitorial equipment. SmartFloor Pad System consists of DOI Inserts for daily maintenance and Stain Remediation Inserts (SRI) for remediating etches and stains from polished concrete floors.
SmartFloor Pad System is made of unique diamond agglomerate technology that maintains a highly refined floor without ongoing stock removal and successfully remediates etches and stains.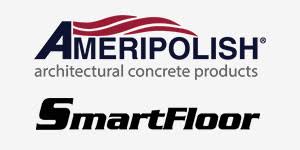 Features
Easy to use pad system, including pads for stain remediation (SRI) and daily maintenance (DOI)
Each complete pad consists of a backer pad and diamond tools
Designed for use under auto-scrubbers and floor machines
The daily cleaning process will maintain and improve the aesthetics, especially the clarity of a concrete floor (DOI)
Innovative and patented diamond technology
We recognize that it takes only the highest-quality products to ensure the best result. DUOMIT is proud to use the best quality supplies and tools every time. Please call DUOMIT – your flooring contractor in the Greater New York area.