MMA Flooring – Overnight Installation Without Stop of Business
Methyl-Methacrylate MMA Flooring – is the modern flooring option for fast applications in low-temperature conditions. MMA flooring is a fast-curing material that perfectly works in the food and beverage industries.
In fact, they are chemical, water, and slip-resistant. In addition, MMA flooring is highly aesthetical and available in a wide range of colors that can improve the look of your existing floor.
Moreover, if this is what you are looking for, continue reading about the benefits of MMA flooring and the environment in which they are suitable.
Why your floor will benefit from MMA?
Quick Installation:  MMA resins installation time is faster than most urethane systems. They are ready for full operations 1 hour after application. That means saving critical time on new projects and less downtime for your running business.  
Extremely Low VOC: Flooring will reduce the number of dispersed toxins, being a more environmentally-friendly solution.
High chemical resistance: High chemical resistance of MMA systems prevents quick floor damage. They protect the concrete from splashes and spills from alkalis, solvents, acids, etc.
Water and Slip Resistance: High traction to prevent slipperiness is beneficial property of MMA. They come in various textures and colors specifically to reduce slippage on the concrete. MMA flooring also protects concrete from possible damage and reduces water penetration into the floor.
Low Temperatures: Freezers and coolers – are extremely cold zones and require flooring that can withstand up low temperatures of the environment and the harsh. MMA resins provide rapid cure times in temperatures as low as 0°F.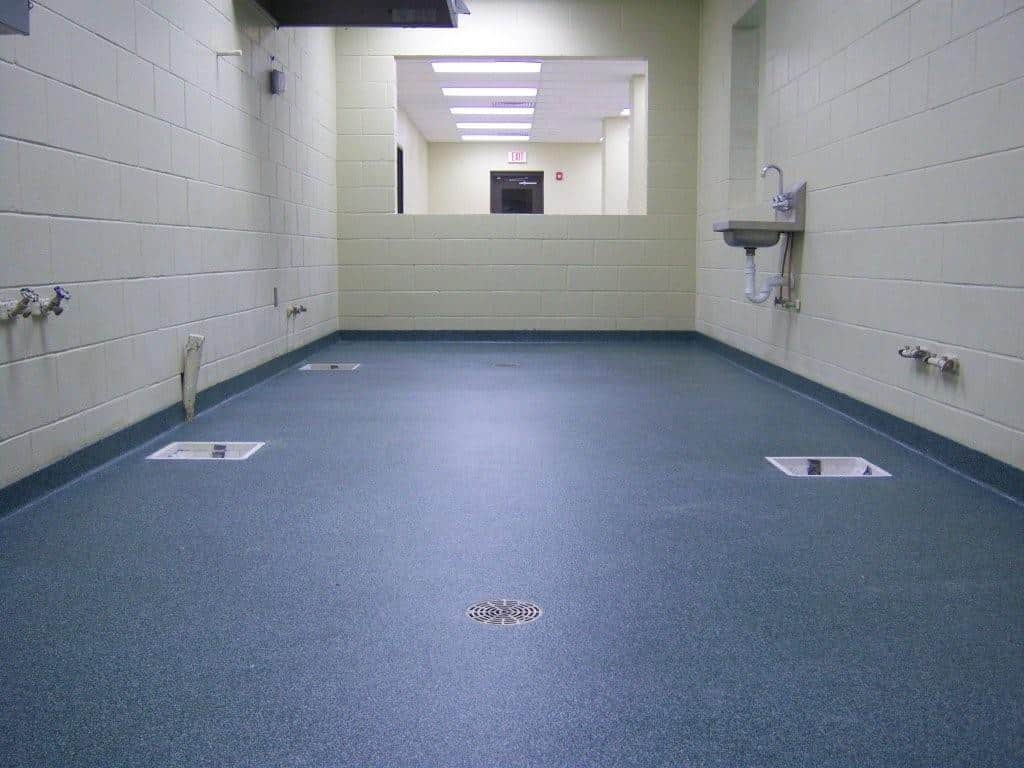 Where you can use MMA flooring?
Hospitality: Restaurants and hotels always require a quick turnaround of the floor applications that will save their revenue. Working time will minimize their business downtime with a 1-2 day or night installation.
Food Processing: Beverage, dairy and food processing facilities are always use a hot water cleaning with extreme temperatures. This makes impossible to use certain epoxy flooring types. The MMA flooring can cure in extreme lows or highs and withstand extreme cleaning.
Institutions: Universities and schools can not stop for necessary flooring repairs. By using the MMA flooring you will be able to accomplish any work over the weekend or overnight. And students can return to learning facilities asap.
Entertainment and Sports: You might be sure with slip-resistant MMA flooring to avoid any potential falls and injuries of your guests in the auditorium or gym. MMA floors provide a variety of finishes and colors that fit your aesthetic and design. 
MMA Systems precautions
DUOMIT is responsible for the proper installation of the materials to provide an excellent finish product. The details are essential for a successful result and correct floor installation. The installer should carefully inspect the surface before application to determine the correct system for the area.
As a matter of fact, you need to know – the age of the building, the condition of the slab, and the use of the space. Relative Humidity testing of the moisture content in the concrete slab is crucial. From the tests and site visits, you can then choose the right preparation method. Most often, this includes shot blasting or diamond grinding.
Furthermore, if a concrete slab has contamination with oils, you might consider de-greasing to achieve a proper adhesion level. However, surface prep is the most important process to ensure the coating properly bonds to the surface. 
Lastly, the normal application varies from raking and rolling to screeding and troweling the materials. Quartz sand broadcast is part of the MMA quartz flooring. A waterproofing, cove base, drain, etc., all other details are subject to discussion before choosing the right system.
This will be possible if you use a good quality MMA system and a professional installation team with a huge experience. 
 Cleaning MMA Flooring
MMA floorings are easy cleaning and maintenance seamless coatings. However, every client and environment has its own specific standards and requirements to meet. Therefore, we work with customers directly to provide the right cleaning solution for the specific environment.