Do you want to know how much will a concrete grinder remove? Here are the answers along with other commonly asked questions.
The beauty of choosing a full exposure aggregate of polished concrete for your space – whether residential, retail, or industrial. Is that you got a truly unique floor.  No two concrete floors are the same, as it all comes down to concrete quality, technique, and amount of aggregate.
However, most people don't know how to obtain that shiny and refine style. Aggregate exposure levels range from zero to minimal to open-stone exposure depending on the depth of the rocks inside the concrete and the amount of grinding in the concrete.
How Much Will a Concrete Grinder Remove?
Firstly, a concrete grinder can basically remove as much concrete as you wish, but its limitations are:
the concrete hardness,
diamond tooling type,
the amount of time you spend on the floor.
A softer concrete will be easier to grind. Especially, if you use highly aggressive PCD tooling for concrete layer removals like glue, black mastic, or other imperfections.
In general, you might consider that a concrete grinder with common grinding tools will remove around 1/16" of the concrete in 1-2 passes. Moreover, you might be able to take off more – like 1/8'' by using a heavier concrete grinder and more aggressive tooling kind of Cup Wheel.
In fact, the more pressure you put on the grinder, the more wear you put on the diamond tools. Also, if you need to remove a thicker layer of concrete faster, you may require an extremely soft bond grinding pad. Finally, concrete grinding is often seen as a finishing or refinishing procedure. If you have too much concrete to remove, contractors may suggest removing the concrete and re-pouring it instead.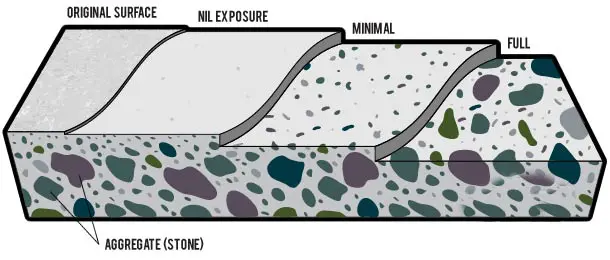 How Long Does Concrete Grinding Take?
The time concrete grinding takes really depends on a few factors:
How big is the surface?
Whether the area is quite open, or it consists of a lot of small spots?
What kind of finish do you expect – concrete polishing or grind and seal?
How much exposure of aggregate do you want to see?
What kind of shine do you desire?